Hyundai Sonata Rental Sixt Rent a Car
The Hyundai Sonata has an ideal balance of features that make it a great rent a car option. With a comfortable interior and a smooth ride it can be the right choice for anyone.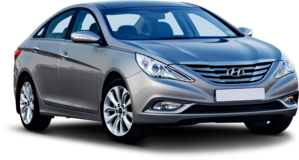 Doors
4
Seats
5
Transmission
Automatic
Air Conditioning
Yes
Minimum Age
21 Years
Luggage
2 Suitcases /
2 Bags
Advantages Of Renting a Hyundai Sonata
The Hyundai Sonata allows drivers to feel comfortable and in control. It?s got a perfect combination of power and fuel economy plus modern amenities. When looking for a relaxed ride and reliable rental car the Hyundai Sonata is easily a top candidate. Here are some of its top features:
Security on the Road: The Sonata excels in this area with its traction and stability control, front-head restraints, and anti-lock brakes, which earned it a five star rating on government crash tests. In addition to these features, full-length side curtain airbags and front-seat side curtain airbags make the Sonata a sensible choice for those traveling with multiple passengers.
Innovation in Tech: The Sonata features intuitive interior control systems. A high-resolution touchscreen dash provides the portal to all of the vehicle's vital systems. Navigation and specific environmental controls make the driver feel at one with their surroundings.
Performance: The Sonata can go from 0 to 60 in under 7.9 seconds while carrying a 2.4-liter engine, the Sonata averages an impressive 24 miles per gallon in the city and 35 miles per gallon on the highway.
Renting a Hyundai Sonata from Sixt
Sixt is proud to offer its customers quality car rental services at affordable rates at more than 4,000 locations worldwide. Browse our website to find out about our latest deals and discounts and check the availability of your selected rent a car in your chosen location. You can book ahead online or by directly contacting our team. Include useful upgrades to your car rental or take advantage of our significant prepay discount. We are happy to go the extra mile to provide an easy and hassle free rental experience. Sixt cannot guarantee you a Hyundai Sonata, however, we can guarantee for an equivalent rent a car in the same category.