Hyundai Santa Fe Rental Sixt rent a car
Sixt rent a car offers the chance to drive a Hyundai Santa Fe at a great price. Whether you taking a vacation or taking care of business a Hyundia Santa Fe can be an ideal rent a car option.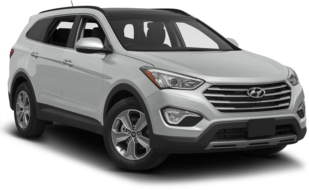 Doors
4
Seats
5
Transmission
Automatic
Air Conditioning
Yes
Minimum Age
25 Years
Luggage
4 Suitcases /
3 Bags
The Advantages of Renting a Hyundai Santa Fe
A spacious interior and superb handling make the crossover Hyundai Santa Fe a great car rental choice for just about anyone and for any purpose. No matter what your budget might be, Sixt has a number of deals and discounts to make renting a Hyundai Santa Fe affordable. With a Hyundai Santa Fe car rental you will have the chance to make your next road trip into a road adventure. Here are just some of the benefits:
Best Seller: As Hyundai?s best selling model in the USA, you can rest assured you will be getting a top of the line Hyundai rental car.
Dynamic Driving: With a highly responsive, powerful V-6 engine that provides a smooth driving experience, you will be very happy in your Santa Fe rent a car.
Luxurious Interior: The Santa Fe includes high-end seats for ultimate comfort on both long and short drives as well as plenty of passenger and cargo space so you can pack up and pile in without leaving anyone or anything behind.
Renting a Hyundai Santa Fe from Sixt
When considering car rental with Sixt take advantage of our special deals and discounts. You can find many money saving coupons on the Hyundai Santa Fe as well as other rental vehicles by browsing the Sixt website..We recommend to make your reservation in advance online or by directly contacting our team. When you prearrange you can also can take advantage of our significant prepay discount. Sixt cannot guarantee you a Hyundai Santa Fe, however, we can guarantee for an equivalent rent a car in the same category.