Hyundai Accent Rental Sixt rent a car
Sixt is happy to have the Hyundai Accent, one of the most popular subcompacts in the US, on offer for car rental. For those planning a city trip, the Accent can be the perfect choice for a rent a car.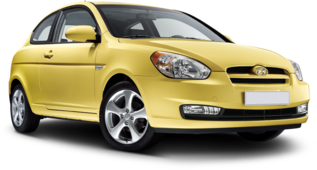 Doors
4
Seats
4
Transmission
Automatic
Air Conditioning
Yes
Minimum Age
21 Years
Luggage
1 Suitcases /
1 Bags
Rent a Hyundai Accent in the USA with Sixt
Excellent Mileage: Its 11.4 gallon tank provides superb fuel performance: 37 miles per gallon on the highway and 28 miles per gallon in the city.
Unexpected Power: The current Accent boasts one of the most impressive four-cylinder engines on the market, giving it more power than expected from this class.
Safety Recognition: The Accent has one of the best safety ratings among subcompacts and offers a wide range of safety features, including side and rear air bags.
Amenities for Everyone: Subcompact often means a barebones feature set, but this isn?t the case with the Accent, and you can expect a variety of modern amenities.
Experience a Hyundai Accent with Sixt rent a car
Since 1995, the Hyundai Accent has been keeping its reputation as one of the best-built and best-performing economy cars on the road. It?s outfitted with strong safety features and a handsome styling. Sixt cares about customer choice, which is why we have offered you this excellent rental car along with a variety of other similar and very different choices.