Chevrolet Corvette Stingray Rental
Sixt is proud to offer the Chevrolet Corvette Stingray, a pinnacle of American sports car design, for car rental. This super car is a stunning example of a high performance vehicle and will certainly turn any trip into an unforgettable journey.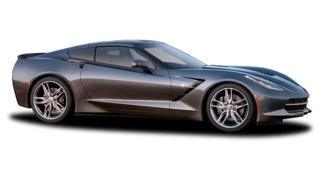 | | |
| --- | --- |
| Seats | 2 |
| Doors | 2 |
| Body type | 2-door Coupé |
| Transmission | Automatic |
| Engine | 6.2 LT aluminum V8 |
| Horsepower | 460 HP |
| Class | Sports Car |
| Minimum age | 25 years old |
| Luggage | 2 Suitcases / 2 Bags |
Advantages of a Corvette Stingray Car Rental
Style: The Corvette Stingray features an exterior with a highly sculpted, beautiful elegance. It is impossible to drive and not get noticed.
Handling: Built with light carbon-fiber, the Corvette Stingray rent a car has a lower center of gravity and can maintain an optimal weight distribution for precise handling. You are in for the ultimate driving experience with electronic stability, traction control and ABS brakes.
Power: The Stingray has a supercharged 6.2L aluminum V8 engine, delivering at least 425 horsepower and 460 lb.-ft. of torque.
Safety: The Corvette Stingray is fully equipped with all the latest safety features and precise handling. For emergency situations, the Chevrolet Corvette Stingray has plenty of airbags, a panic alarm and immobilizer.
Other Luxury Cars Available
Renting a Chevrolet Corvette Stingray with Sixt
You can find the incredibl, luxury Corvette Stingray at our Fort Lauderdale and Miami locations. Drive in utmost style and experience a rental car like no other on your next trip to Florida. Sixt offers you excellent customer service and great deals for an easy rental experience. Optimize your Corvette Stingray car rental with useful upgrades or extras.