Rent a Car with Sixt in Beverly Hills
Click to jump to: Traffic Information |  Sixt Sightseeing Tips
We provide a diverse fleet of rental vehicles at our Beverly Hills location, from affordable compact cars and sedans to luxury vehicles and sports cars. As Beverly Hills has a Mediterranean climate throughout much of the year, a convertible might be the perfect choice for soaking up a bit of that Californian sunshine. Those traveling in larger groups can check out our selection of SUVs and minivans, perfect for a weekend away with friends or a family vacation. When you rent a car in Beverly Hills with Sixt you can also customize your experience with useful add-ons. Include a GPS to stay on course or find alternative routes to the busy Los Angeles freeways or tack on additional coverages or protections for more peace of mind. Child seats for babies to small children are also available to facilitate your travels.
What to Do in Beverly Hills in Summer 2019
During a summer trip to high-end Beverly Hills you will find average temperatures in the mid-80s. You can rent a luxury vehicle, crank up the air conditioning, and do some celebrity spotting while shopping at luxury boutiques. You can take a walking tour from the Beverly Hills Visitor Center, or simply walk around and look at the luxe houses and goods for sale. If you are staying at a hotel nearby, it likely has a pool, which will be crucial for cooling off in the hot summer sun. The Beverly Canon Gardens has a concert series that is family friendly. You can also visit the Greystone Mansion & Gardens for a stroll, or for one of its events like Music at the Mansion.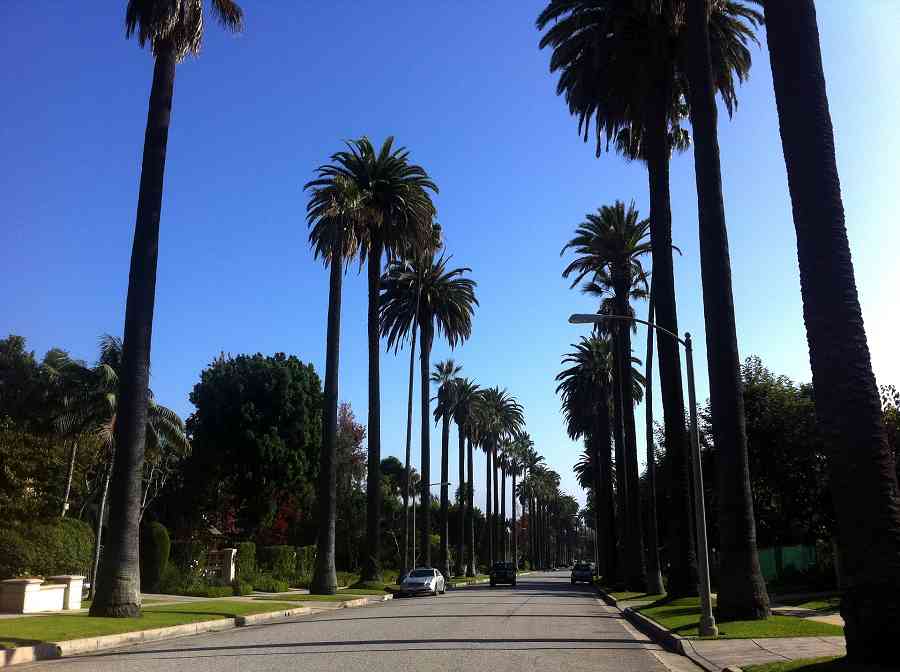 Beverly Hills Traffic Information
When you rent a car in Beverly Hills, you will be able to explore the city at your own pace and on your own schedule. If arriving into Los Angeles at LAX you can reach Beverly Hills via the 405 North and exit at Santa Monica Boulevard. This main thoroughfare also gives you access to other parts of LA as you can drive Santa Monica Boulevard all the way west to Santa Monica or head east to hip neighborhoods like Silver Lake and Echo Park. You can also use Santa Monica Blvd to link you the main roadways such as the I-405 and Hwy 101.
While Beverly Hills is relatively easy to navigate, it's important to know where you can park your car, as parking enforcement in the area is quite strict. Along the street, there are meters that typically cost $1 per hour and downtown there are several public lots that offer free parking for a limited time. However, if you are going out and about for a longer period of time it might be cheaper to leave your car in a parking structure.
Sixt Sightseeing Tips
Beverly Hills is surrounded by some of LA's most beautiful neighborhoods, like Bel Air and West Hollywood. While in Beverly Hills, make sure to take a ride along the famous Rodeo Drive, one of the most luxurious streets in the whole of the United States. Browse the luxury boutiques and pay a visit to the Walk of Style, which commemorates those who have made important contributions to fashion. A place to see and be seen, keep your eyes open as you can surely spot some celebrities while cruising around. Besides driving around to admire the fabulous homes of Beverly Hill you can also visit the iconic Greystone Mansion. Inspired by English gardens, the estate is a vision of Tudor Revival architecture and has been used in numerous Hollywood films.
Additional Sixt services in Beverly Hills