Sixt rent a car welcomes visitors to its Heathrow Airport Terminal 5 facility! We offer affordable, premium rental car to satisfy a range of mobility needs. Choose from our up-to-date fleet of compact cars and sedans, sports cars and convertibles, and SUVs from top brand manufacturers. You can opt for upgrades as well when you book ahead online or over the phone. We have great deals on useful add ons such as unlimited mileage, additional drivers, coverages, child seats, GPS and more. Our team is ready to help you get a first class driving experience with our rental services at Heathrow Airport Terminal 5.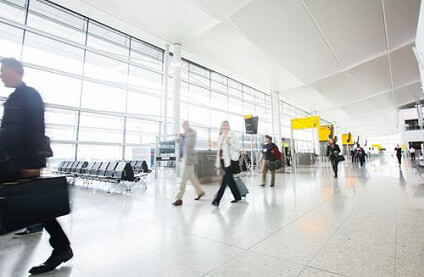 Copyright: Heathrow Airports Limited
Renting a car at Heathrow Airport Terminal 5
Heathrow Airport Terminal 5, also known as the T5, represents the newest of the Heathrow Airport (LHR) terminals. Heathrow Airport is Europe's busiest airport handling an estimated 68 million passengers per year. The T5 terminal opened in 2008 and was designed to handle approximately 35 million passengers a year. With its five floors, T5 offers travelers a wide range of services that includes restaurants, hotels, parking, and rent a car facilities. Our rent a car counter is found inside the Sofitel Hotel where you can pick up your car rental and then drop it off at the hotel car park. Central London is approximately a 45-60 minute drive from the Heathrow Terminal 5, which is close to the A3044 Road and accessed by a motor Spurway connecting to the M25.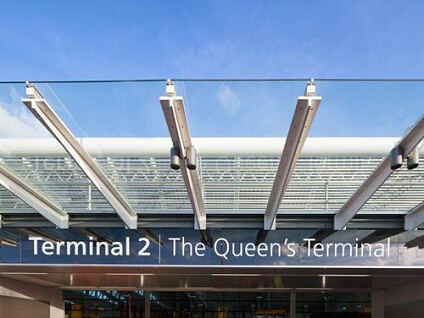 Copyright: Heathrow Airports Limited
Places to visit with a rent a car in London
London has endless destinations to explore and with a car rental you can get to them all with more ease. You can move about at your own pace and check out the attractions as you please. Tour around and take in iconic landmarks like Westminster Abbey or spend time in Kensington Park. You can also venture further afield to explore other historic parts of the United Kingdom and take scenic drives around the region.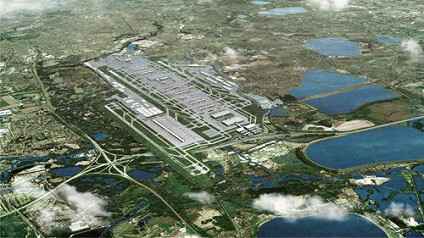 Copyright: Heathrow Airports Limited