Geneva Car Rental with Sixt
Our Service
 |  
Traffic Information
 |  
Sixt Tips
 |  
Sightseeing Destinations
 |
Business Travel
|  
FAQs
The branch menu provides all the key details for our three branches for car rental in Geneva. Just click on the drop down menu to the right of the branch listing to see information on that branch's address, return times and opening hours. You will also see a listing of the types of rental vehicle available at that site. If you are unfamiliar with the area, you can click on the right-hand tab for a Google Maps view of our branches. If wanting to rent a truck, click on the truck icon on the sidebar on the left to book from our Geneva Vernier branch. Please be aware that reservations can be guaranteed for the chosen car category only as specific vehicle models are subject to availability.
Our Service
Whether you are visiting Geneva for business or pleasure, with friends, colleagues or family, we have the perfect vehicle to enjoy on your trip. An economical city car could provide affordable driving, while a prestige sedan might be suited to a business trip. Our sports cars and convertibles can match the glamour and sophistication of Geneva, while an SUV is the ideal choice for a weekend skiing in the beautiful alps. You can book easily online or using our iPhone app and a simple price comparison could surprise you with the premium vehicles available to you.
To help you get the most from your car rental, we also offer a comprehensive range of options to help tailor your reservation. Many of our vehicles come with unlimited mileage, free cancellation and winter tires as standard. You can also choose from our additional coverage options to boost your protection. A GPS navigation system is a good idea if you are new to the area and additional driver cover helps you share driving time if you are driving long distances. Snow chains are a sensible option if visiting in winter and a ski rack is extremely useful if you are heading for the slopes. A range of child seats is available to cater for smaller family members.
Traffic Information
If you are arriving in Geneva by air, you will be pleased to find the airport just five miles or so to the north of the city center. The fastest route is usually to take the Rue de Lyon, which will take around twenty minutes to cover the four miles. Alternative routes in times of heavy traffic include the Avenue Louis-Casai and the Route de Pre-Bois. These should add just a few minutes to your journey. There is an excellent motorway network connecting Geneva to other Swiss cities and on to France and Italy. The E62 runs northeast to Lausanne and on to Montreux, while Route 1 runs south to connect with the A40 to France and Italy.
As you are touring around with your car rental in Geneva you might need to some advice on how to best enjoy driving around the city and its surrounds. Here are some parking guidelines and rules of the road to take into consideration:
In downtown Geneva parking is free in blue zones for one hour, while white zones offer limited parking times and usually costs about 2.80CHF per hour. From 7pm to 7am parking is free in both white and blue zones as well as all day on Sundays and bank holidays. Unlimited parking can be found in numerous garages around the city.
Speeding in Geneva is controlled with stationary radars that automatically catch those driving more than 5km/h over the posted limit or running red lights.
Drivers need to purchase a vignette toll sticker for motorways and these can be bought online or obtained from most gas stations, tourist offices and post offices.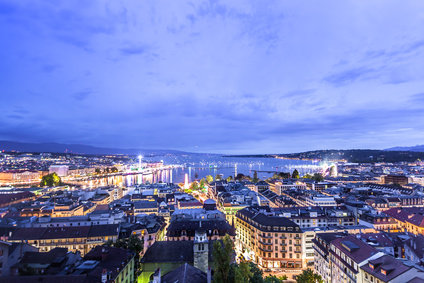 Sixt Tips
Geneva's lake fountain, or Jet d'Eau, is an icon of the city and if you are a little adventurous and don't mind getting wet, you can walk right up to it on the fountain pathway. A visit to the Cathedrale St-Pierre is a great way to learn about the history of Geneva on one of the excellent tours. There is also a superb museum here and if you have the energy to climb the towers you will be rewarded with breathtaking views of the city and lake below. A walk through the old town will reveal lots of interesting little antique shops in the narrow streets, while those interested in architecture will be fascinated by the Quartier des Grottes, where buildings have been constructed without any straight lines. The 13th century castle ruins at Tour de L'lle are also worth a visit. Geneva is also famous for its green spaces and the Parc des Bastions has beautiful statues and giant chessboards to play on.
Not far from Geneva are other worthwhile attractions and if you have the time be sure to put them on your itinerary. You can drive to Lausanne at the northernmost point of Lake Geneva and get inspired by a visit to the Olympic Museum. From there head off on a road trip through the UNESCO World Heritage listed region of Lavaux. Rarely exported, most people do not know about the fabulous Swiss wines produced in this scenic landscape of terraced vineyards that cover over 800 continuous hectares. Use your trip to Geneva as an opportunity to sample these special wines, mostly made from the Chasselas grape, while experiencing the beauty of the area. Get a closer view and stretch your legs with a hike or walk along any of the thousands of footpaths found throughout the hillsides. Or you can brave the narrow, steep drive up Mont de Gourze for some stunning panoramic views from the Tour de Gourze, a medieval lookout tower.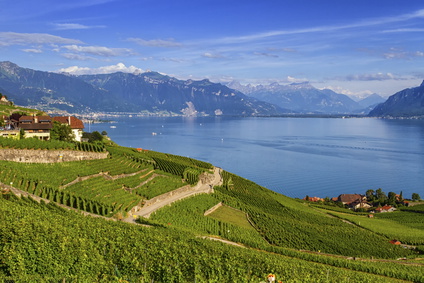 Sightseeing Destinations
Nyon is a pretty and historic town just sixteen miles or so to the northeast of Geneva on the A1 and is a pleasant drive when you rent a car in Geneva. There will be tolls to pay on this route but it takes you along the shores of Lake Geneva, with some stunning views. Once you arrive, you can visit Nyon Castle, a 12th century fortress with a good history museum. There are also superb views of Lake Geneva from the castle terrace. Soccer fans can see all of the European cups at the UEFA HQ in the town and there is also a pretty park with interesting soccer memorabilia. The town's Roman ruins are also a popular tourist attraction.
Distance to Nyon
From Geneva International Airport: 15 miles, about 20 minutes
From Vernier: 16 miles, about 28 minutes
From Geneva City Center: 17 miles, about 33 minutes
There is no doubt that the area around Geneva has some spectacular scenery and it is worth seeking out viewpoints to make the most of it when you rent a car. One such viewpoint is from the Saleve cable carriage, or Téléphérique du Salève. Take the cable car to the high mountain ridge and look back for possibly the best views of Lake Geneva and Mt. Blanc. It's just a short drive south on the A1.
Distance to Saleve cable carriage
From Geneva International Airport: 12 miles, about 22 minutes
From Vernier: 11 miles, about 22 minutes
From Geneva City Center: 6 miles, about 24 minutes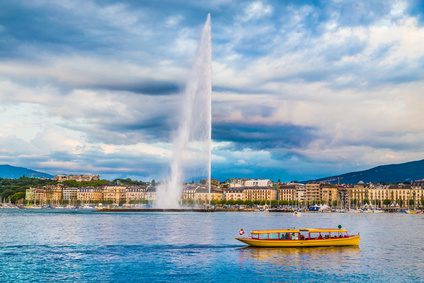 Business Travel
Geneva is an important international city and many international organizations are headquartered in the city. Major industries include finance, watchmaking, biotech and pharmaceuticals. The city also attracts lots of major conferences and events. Many of these take place at Palexpo, Switzerland's premier convention and exhibition center. Events include the famous Geneva International Motor Show and the Tennis Federation Cup.
Distance to Palexpo
From Geneva International Airport: 1 mile, about 2 minutes
From Vernier: 4 miles, about 7 minutes
From Geneva City Center: 4 miles, about 20 minutes

FAQS
Below are the quick answers to some of our most frequently asked questions. Please be reminded that every country has slightly different rules and regulations, so for the most specific and detailed information pertaining to your desired rental please visit rental information for more information.
Which documents are needed to pick up a rental car?
What is included in the rental charges?
Can I rent a specific car model?
Can I change my booking and do I have to pay a cancellation fee?
Can I cross borders with my rental car?
Can I rent the car at one place and drop it off at another station?
What is Sixt's refueling policy?
What add-ons are available and how much do they cost?
Can I rent a car with unlimited mileage?
Does Sixt deliver and/or collect rental cars?
Do I have to pay a security deposit?

Additional Sixt Services