Car rental with Sixt Sicily in Italy
Our Service
|
FAQs
|
Tips for the Region
|
Important Cities
|
Climate, Cuisine & Travel with children
With branches at major transport hubs it is possible to start your road trip in Sicily immediately on arrival. Our simple online booking service gives you a fast and efficient way to reserve your rental car. On this page we will tell you more our favorite Sicilian city destinations Palermo, Catania and Taormina, as well as tips on the region's cuisine, climate and natural sights. On the second tab of the branch menu you can find a handy overview of all our pick up locations on Google Maps.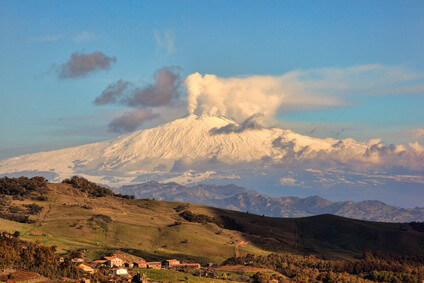 Our Service
Our car rental deals in Sicily offer you flexible and affordable transportation with a wide variety of car categories available. Besides our attractive rates we give offer great deals on an array of useful add-ons as well. Car rental for a road trip in Sicily can be further customized by including any combination of our extras to your rental vehicle as you book online.
Optional features available with car rental in Sicily:
Additional drivers and coverage protections
baby and child seats
GPS
Which vehicle class is right for my trip?
Compact cars are ideal in Sicily's more populated cities and for narrow country roads.
Our larger sedans are perfect if you need plenty of room for a family or group, and also ideal for longer distance trips.
Our SUVs and station wagons will hold more luggage and give you plenty of legroom, while our minivans can seat up to 8 passengers.
Driving license
If you are coming from outside the EU, you will need an international driving permit to drive your car rental in Sicily.
Minimum age and additional drivers
The minimum age to rent a car in Sicily is 21 and drivers must be in possession of a valid driving license for at least one year. Any additional drivers must show their valid, original driver's license upon pick-up.
Refueling
Your rent a car in Sicily will be provided with a full tank of gas, please return your vehicle with a full tank to avoid extra charges. See our useful prepaid gas option on the online booking page. With this option you can prepay for fuel at local prices and avoid the hassle of refueling before returning your rental car.
Accidents
In the event of an accident please contact the police immediately and report any damages to the car rental directly to Sixt. Use the accident report form that is enclosed with the vehicle documents. You can use the European emergency number 112 to connect with the emergency services.

FAQs
What time periods does Sixt offer with car rental?
What documents do I need to rent a car?
Can I pick up a car and return it somewhere else?
Do I have to pay a deposit?
Can I rent a car with unlimited mileage?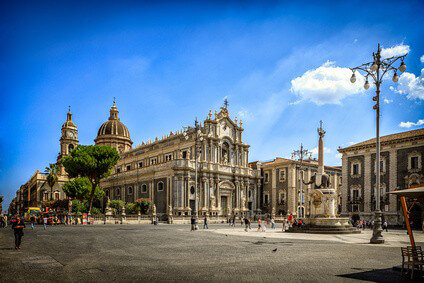 Tips for the Region
Sicily is the largest island in the Mediterranean Sea and a number of archipelagos make up the Sicilian region. From the Valley of the Temples in Agrigento to Sicily's 218 coastal towers, there is an unparalleled wealth of archeological and UNESCO World Heritage Sites on the island. These range from some of the best-preserved buildings of Ancient Greece to the dramatic volcanic Aeolian Islands and Mount Etna, the tallest active volcano in Europe.
Stunning beaches and geological formations are to be found throughout the region that caters for many types of vacation. Those in search of a beach holiday will be spoilt for choice by the crystal clear waters and the dry sunny climate. We highly recommend the "Sicilian Caribbean" of San Vito Lo Capo, a stunning white sandy beach flanked by mountains. Hikers are attracted to Sicily's volcanic landscapes and rich fertile countryside. Mount Etna and the rugged Aeolian Islands are obvious choices for walking. The lush green landscape of the Riserva Naturale dello Zingaro, with trails starting at the picturesque hamlet of Scopello are also worth a visit. Those with architectural and historical interests will also be pleased with the amount to see, some highlights include:
The Roman mosaics in the Villa Romana del Casale.
The late Baroque towns of the Val di Noto.
The ancient tombs in the Necropolis of Pantalica, Syracuse.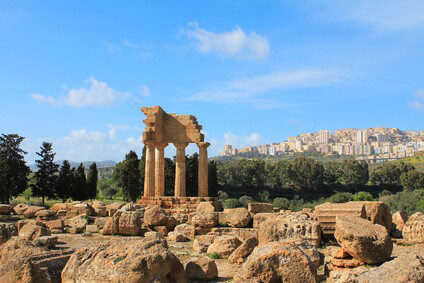 Important Cities
Catania
Set against the dramatic backdrop of Mount Etna and facing the Ionian Sea, Catania is the largest metropolitan area on the main island and also a major transport hub. The cities importance as an artistic, cultural and political center in the Renaissance period is evident, while the huge number of Baroque buildings has given the city center UNESCO world heritage status. Catania also has a large number of Roman thermal structures, the vast remains of the Achillean baths are particularly impressive.
Trapani
While not much remains of Trapani's ancient past, its later medieval Baroque architecture is abundant. Architectural highlights include the Ligny Tower, the 12th Century Castelo di Terra along with the magnificent Madonna of Triponi originally constructed in 1315. We also recommend the cable car ride up to Mount Erice that gives you fantastic views across the Mediterranean. Erice itself is a pretty historic town with cobbled streets and a medieval castle.
Palermo
Palermo is an architectural feast with hundreds of churches that span from the Norman to Gothic and Baroque. Palermo cathedral is a vast complex and a UNESCO site that over the last 800 years has incorporated many different architectural styles. As if its architectural beauty is not enough, the city also has a unique geography. Mountains surround the city and separate some of districts themselves! Mount Pellegrino is perhaps the most famous, its cliffs were described by Goethe as the most beautiful promontory in the world.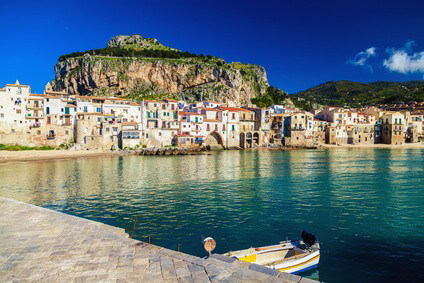 Climate, Cuisine & Travel with Children
Climate
With scorching hot summers and coasts affected the African currents, for some Sicily offers the most ideal Mediterranean climate. It is also a region of dramatic seasonal variations, with some inland and mountainous areas getting particularly cold in the winter. Rainfall is highly variable but the summers are mostly sunny and dry, all our rental cars come equipped with air conditioning to help you in the heat.
Cuisine
Each part of Sicily has its own specialties and the island is nicknamed "God's Kitchen" for its wide variety of culinary delights. We highly recommend trying the Cannoli, a delicious fried pastry filled with an often Ricotta based creamy filling. Arancini is also a Sicilian classic and originated on the island when it was under Arab rule in the 10th century.
Traveling with Children
A car rental in Sicily is a fantastic way to get around the island with the whole family. Considering tacking on a child or baby seat to your rental so that you can travel lighter and leave yours at home. In the height of the summer take care in the heat, also be aware that while many beaches have shallow bathing areas, at others the water is very deep after only a few meters out. However, there is plenty on the islands to keep your children enthralled from the flamingos on the Vencari coast to Sicilian puppet shows and the many castles.