Rent a car in Cyprus with Sixt
Click to jump to: Our Service | FAQs | Driving Tips | Places of Interest | Crossing Borders
Our Service
Cyprus offers majestic backdrops to much ancient history that you can explore with your car rental. With Sixt car rental in Cyprus you can expect a well-maintained vehicle that is safety checked and reliable. Built from world class car manufacturers our fleet consists of diverse car categories featuring models from top brands such as BMW and Mercedes-Benz among others. Our compact cars and sedans are a great option if you are looking to economize, whereas SUVs and minivans give you more leg and luggage room. If traveling with a bigger group, no problem, we have vans that will accommodate up to 9 passengers. Every customer has different mobility needs so we offer a broad range of add-ons that help you customize your rental car to suit your trip.
Extras available with car rental deals in Cyprus:
Internet To Go
Additional drivers
Baby and child Seats
Loss Damage Waiver
GPS
What to Do in Cyprus in Winter 2019
Sitting in the Eastern Mediterranean, Cyprus is a good place to visit for some winter sun. The small island has a variety of winter weather. In the mountains it is cold and wet with snow, while in Nicosia, the capital, temperatures can be in the 50s and 60s. You can take a tour to winemaking villages in the winter or go to the ancient city of Kourion. If you are into skiing, head to the Troodos mountain chain. The only mountain ski resort on the island is here and open January to March. If you are going to the mountains, an SUV rental is a good idea, while a premium sedan is recommended for the rest of the island. Be sure to check the availability of winter tires and ski racks if you need them.
FAQs
Driver's license
If your driving license is printed with a non-Roman Alphabet (Arabic, Japanese, Cyrillic, etc.), it must be complemented by an International driving license. When you pick up your rental vehicle you must show a valid driving license along with a passport or valid ID card.
Age restrictions
To rent a car in Cyprus you must be over 21 and have been in possession of a valid driving license for at least 3 years. The maximum age for driving is 75. For drivers aged 21-25 and 71-75 a surcharge applies.
Payment Methods
We accept payments from internationally recognized credit cards such as MasterCard, Visa, Diners Club and American Express. Please note, however, debit and prepaid cards such as VISA electron are not accepted.
Accidents
If you have an accident please inform the police immediately even if rental car is only slightly damaged, the accident was self-inflicted or if no other vehicles were involved. Do not move your vehicle until the police have arrived. In addition, any damage to the rental vehicle must be reported directly to Sixt during the rental period. There is an accident report form enclosed with the vehicle documents for this purpose. In Cyprus you can dial 199 or 112 for the police, ambulance or fire service.
Tips for driving in Cyprus
Driving in Cyprus is very similar to all other European countries, the biggest difference being you drive on the left side. As such you overtake on the right except when the car in front is turning to the right, and at intersections give way to your right You may notice a more relaxed attitude to regulations from some drivers, but that doesn't mean it is not worth being in the know on the important rules of the road.
Cyprus has three main highways that all merge together and which will take you to all big cities. The A1 is the longest route running from Nicosia, the capital, to Paphos. Make sure to slow down before turning off any of these major highways. Some highway exits are rather short while others end in 90 degree turns.
More driving tips
Speed limits are posted in miles while distances are in kilometers.
Speed limits are 50 km/h in built up areas, 65 km/h on country roads, 80 km/h on national roads and 65 -100 km/h on highways.
Don't use your horn unnecessarily or at night between 10 pm and 6 am.
The maximum legal level of alcohol in the blood is 0.05%, police are allowed to impose random breath tests on drivers.
On the spot fines are in force, these are not paid on the roadside but at your local municipal office.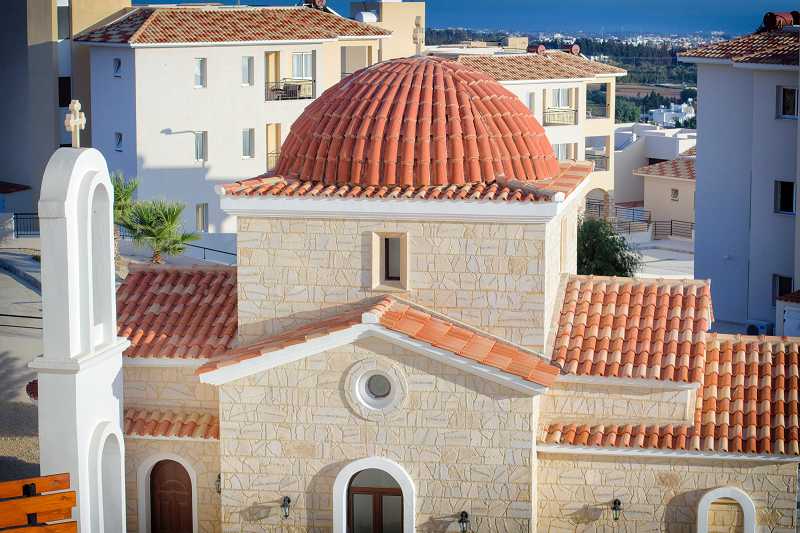 Places of Interest
Top 4 Architectural Sights
Kato Paphos Archaeological Park
Nicosia Old City
Amathus ruins
Kolossi Castle
The Kato Paphos Archaeological Park is the major part of this ancient Greek and Roman city. The site is still in a process of excavation but has so far uncovered amazing mosaics, the House of Theseus and the incredible Odeon Theatre. Surrounded by Venetian walls the Nicosia Old City offers the best of the city's 5000 year old history with a plethora of museums, churches and mosques in close proximity. Amathus in Limassol is another extraordinary ancient city. While many of the archeological finds have been housed in museums the site still offers ancient structures with their towering marble columns. Kolossi Castle is also in the Limassol district, the current structure dates from the 1400s with the 3-story keep in fantastic condition.
Top 4 Natural Sights
Aphrodite's Rock (Petra tou Romiou)
Mount Olympus, Troodos
Nissi Beach, Ayia Napa
Akamas National Park, Néo Chorio
It is easy to understand why Aphrodite's Rock, or Petra tou Romiou, was chosen as the mythological birthplace of Aphrodite. Perched on the edge of the sea on a beautiful beach, the area is a tourist hotspot and the origin of many great legends. Mount Olympus, not to be confused with the many other mountains with the same name, has a terrific ski resort on its slopes and is the highest peak on the island. It was said by the late BC geographer Strabos, that a temple to Aphrodite lays on one of its ridges. The perfect island paradise experience replete with soft, white sand and azure water can be found at Nissi Beach in Ayia Napa. Activities in the Akamas National Park, also known as the Akamas Penninsula, include golfing and hiking. The area has beautiful scenery that offers a different kind of experience to the many beaches and resorts. It is an area of high biodiversity and contains both the Androlykou and Petratis Gorges.