Munich Airport Car Rental
Customer Reviews About Sixt





| 15.06.2015 14:49
| 09.06.2015 07:34 Good experience all round
| 05.05.2015 13:43 The rental agent was helpful in locating alternate models in my reserved class (intermediate), ultimately offering an upgrade for the same rate. It was a nice surprise to drive a VW Scirocco with a diesel engine and manual transmission.
| 14.04.2015 01:57 This was the second time I've rented a vehicle from the Sixt Munich Airport location. Each time I've been thrilled with the entire experience. Sixt's prices are reasonable, the employees are absolutely wonderful and the vehicles are first class. The process of picking up and returning a Sixt vehicle at the Munich Airport is smooth as...
| 06.03.2015 14:08 Great car, brilliant staff!
| 08.02.2015 04:10 Renting a car from Sixt was very convenient and hassle free. There were no hidden charges and the car was in very good condition.
| 08.02.2015 00:56 The staff , the pick up and delivery location is great .
| 18.01.2015 11:08 You simply get the experience that Sixt is going the extra step.
| 05.10.2014 04:44 The Mini Cooper is very good and easy to drive, which made my journey convenient. The return process is also quite simple to make it.
| 27.09.2014 15:53 our experience with Sixt was great.nice clean car,friendly people.
| 19.09.2014 13:02 I would like to thanks all of you for having such a great trip
| 14.09.2014 19:29 The trip by car that very enjoyable and the car is very beautiful and comfortable and I would recommend all my friends to go to Sixt when they want to rent any cars
| 14.08.2014 10:29 I booked a Mercedes-C from AVIS and did it 1 month in advance. But when I came to the airport late at night, they gave me a Volkswagen and said "it is the same as you booked"!Thank you very much, SIXT, that your personnel was friendly and helpful to find me a proper car. And thank you for having a good fleet of cars available for your...
| 05.08.2014 01:49 Very satisfied with car equipment, service and price.
| 31.07.2014 19:59 Very happy with the whole service. After previous nightmare experiences with other rental car companies, I will most definitely be using Sixt again. Keep up the good work!
| 25.06.2014 05:12 I was very satisfied with the whole process.
| 10.06.2014 16:46 the company is perfect
| 22.05.2014 22:50 It was very good and nice employees
| 22.05.2014 12:16 Simply the best experience I've ever had in renting a vehicle. Service agents were friendly and very helpful in answering all my questions and concerns. I will use Sixt for all my car rental needs in the future and recommend to my friends and family. Thank you, Sixt!
| 16.05.2014 13:26 Free mileages convinced me to rent a car at sixt
| 16.05.2014 10:50 Thanks for the professional work
| 10.05.2014 15:27 It was a great experience and certainly will be repeated with you.Thank you for your commitment and high end treatment.
| 02.05.2014 11:22 Very friendly staff, nice and easy procedure and the vehicle was great.
| 28.04.2014 16:39 Also,sixt.de is the best website for car rental.
| 25.04.2014 09:52 The lady at the hire desk was very efficient in locating the perfect vehicle for me and really went out of her way to make sure everything was okVehicle was perfect for what we needed it forVery pleasant experience
| 24.04.2014 09:38 vielen Dank für das Upgrade und die unkomplizierte Abwicklung!
| 16.04.2014 09:53 Great staff, quick and efficient process at the service desk, easy drop-off process.I also appreciated not being charged extra for being 24 years of age!Thanks Sixt :)
| 05.04.2014 21:16 Very smooth operation, will use your services again!
| 20.03.2014 03:50 Everything is perfect
| 15.03.2014 06:21 Everything was flawless.Surely the next detention It will be with you.Thank you
|
| 26.02.2014 11:52 Vehicle exceeded expectations . Price was fair and clear - no surprises.At Munich airport the office counter is too far from arrivals/parking.
| 13.02.2014 11:10 Nice experience and very simple. Nice offer for upgrade the car.
| 10.02.2014 11:55 Overall a very good experience. Quick rental process (both the online reservation and the pick-up), clearly stated fees, excellent car value for the price.
| 20.11.2013 10:08 Everything was very good indeed, especially the advice from the lady at check-in who advised about the vignette required for driving in Austria.
| 29.10.2013 15:09 This was my first time renting other than Budget Rentals, and was more than pleasantly surprised. Granted I was spoiled by getting an upgrade vehicle, but the whole check in process was A+.Thank you
| 20.10.2013 05:02 it was perfect i was very happy about ur service
| 10.10.2013 21:44 We were first offered a 2 door Opel which, while in the category we had chosen, was really too small for our needs when we first attempted to fit our bags in it. Our expectation had been that we would be offered a 4-door car. When we then expressed our disappointment with the car's capacity, your staff immediately offered a 4-door VW...
| 10.10.2013 04:38 It was a beautiful experience as i mention simplicity professionalism is what will drive me back to you again thank you very very much .Best regards to all personal of Sixt
| 06.10.2013 10:09 In most cases the service is excellent and cars are really good with excellent equipmnet. The cars should be in some cases cleaner
| 05.10.2013 21:06 The only thing was that it was the second time of renting a car from sixt that the " parkscheibe" was missing in the car.
| 04.10.2013 18:13 The car we requested was not available when we arrived so we were given an upgrade which made everything very nice. The people at the arrival desk were very helpful and pleasant. We have used your company before when we visited Europe and have always been very pleased with the results.
| 03.05.2013 00:00 Thank you for good service
| 02.05.2013 00:00 I want to give warm compliments to the sixt employee who helped us at the platinum desk. She made our weekend!
| 29.04.2013 00:00 Cost taken from credit card before car given back as I wanted to pay cash, also price offer was 156 € but invoice was 191 € , lady corrected the price after I ask.
| 29.04.2013 00:00 The organization to take and return the car was extremely Professional thanks a lot.
| 29.04.2013 00:00 I have asked for a vehicle with a Diesel engine and received a vehicle with a gas engine.
| 08.04.2013 00:00 Upon arrival at Munich airport, the woman who assisted me with my reservation was very helpful and courteous. She did a very nice job.
| 22.02.2013 00:00 I'd recommend Sixt to all my friends and colleagues. The very professional and polite attitude of all Sixt employees makes it a comfortable and pleasing experience. I'm always overwhelmed by the variety of the Sixt car park. Thank you!!!
| 19.01.2013 00:00 Thankyou for a great rental experience, I look forward to using your service again.
| 10.01.2013 00:00 Thank you!
| 10.01.2013 00:00
| 03.01.2013 00:00 Honestly, I think Sixt is the BEST. We have been renting cars from Sixt on our annual Christmas trip to Germany & we are totally satisfied! Thank you for your hard work to keep your customers happy:)
| 27.12.2012 00:00 Fantastic service and great car !
| 20.12.2012 00:00 Erittäin hyvä ja nopea palvelu
| 13.12.2012 00:00 We are very satisfied from sixt company. We travel a lot. It is sure that we are going to use sixt company for a rental car.Thanks a lot once more
| 13.12.2012 00:00 I was very pleased with my experience at Sixt. Thank you! The vehicle was clean and new and the service was polite and pleasant. Return was easy and hassle free. I will certainly use Sixt on my next trip. Danke.
| 05.12.2012 00:00 I had a fantastic experience. That said, the service I recieved was outstanding. And the car was super!
| 03.12.2012 00:00 Thank you , Thank you so much for the great service and the great car . Sixt made my honeymoon the best .. New car with nice feature and great staff at Munich Airport .. I will never choose another company and I will recommend it to all of my friends and family . Thank a lot ..
| 15.11.2012 00:00 THANK YOU VERY MUCH
| 15.11.2012 00:00 Great experience, thanks a lot
| 10.11.2012 00:00 thaaaaaaaaaaaaaaaaaaaank you very much
| 09.11.2012 00:00 Process is very fast, nice car - we are very satisfied.
| 06.11.2012 00:00 Thank you! I liked the car and the service. Pick-up was easy and quick.
| 05.11.2012 00:00 Excellent service. Will rent from Sixt again.
| 31.10.2012 00:00 Excellent, swift and easy service. Appreciated the free upgrade.
| 25.10.2012 00:00 Very professional operation. This was my first rental from Sixt. I will be looking for your company more in the United States.
| 25.10.2012 00:00 Nice car and we were pleasently surprised to have the GPS unit in the car. That made it all worth it.
| 18.10.2012 00:00 Keep your outstanding service, great cars and great prices!! We will highly recommend you to our friends!!
| 16.10.2012 00:00 Very good
| 11.10.2012 00:00 It was first time to rent from Sixt and like every thing and the price was good, next time I will chose Sixt again for sure .
| 11.10.2012 00:00 first class service
| 11.10.2012 00:00 No, comments. Went perfectly!
| 09.10.2012 00:00 i loved that you could rent top end cars for so cheap. thanks
| 04.10.2012 00:00 Thanks for the knowledgeable and friendly staff. Very accessible and comprehensive answers to my questions.
| 21.09.2012 00:00 Quick and efficient service.
| 20.09.2012 00:00 Thank you for your friendly and very helpful agents at the counter. They are always a delight to speak with and willing to answer any questions. SIXT is the best!!
| 20.09.2012 00:00 I have enjoyed with your service
| 13.09.2012 00:00 Wonderful company and the staff are very kind and politeThe car was new and an excellent all my next travels I will deal with Sixt I want to make membership with you if possibleThank you very much
| 13.09.2012 00:00 Everyone at Sixt was extremely helpful. Thank you for making the rental car portion of our vacation so easy!
| 06.09.2012 00:00 Great service and vehicle selection!
| 06.09.2012 00:00 I have always used Avis, Budget, Dollar or Hertz in the past. This was my first experience with Sixt and I have to say that this was the best rental car experience ever for me and makes the decision easy with which company to go the next time!Thanks to the Sixt team!
| 06.09.2012 00:00 Everything was perfect.
| 30.08.2012 00:00 Ich wunsche Sie alles gute
| 23.08.2012 00:00 This was the best car rental experience I have ever had. The check-in process was quick and easy. They didn't try to sell me any add-ons. The car was clean and in great condition. Good price, too.
| 17.08.2012 00:00 Ich möchte mich auf diesm Weg bei der professionellen Abwicklung, von der Buchung bis zum erhalt der online Rechnung, bedanken. So stellt man sich als Nutzer einen Service vor. Vielen dank an ihr Team und allen einen schöne Urlaubszeit.
| 16.08.2012 00:00 Your staff at Munich Airport is the best in addition to being helpful, courteous and friendly, they are quite lovely.
| 16.08.2012 00:00 The lady and gentleman that helped us at checkin were very nice and helpful.
| 09.08.2012 00:00 employees who are working at Munich Airport Sixt office are always very kind and helpfull
| 06.08.2012 00:00 Congratulations
| 04.08.2012 00:00 EXCELLENT COMPANY KEEP UP THE GOOD WORK
| 30.07.2012 00:00
| 19.07.2012 00:00 Thanks youYou make my journey unforgettable :)
| 12.07.2012 00:00 Brilliant service, great car. Would highly recommend Sixt in Munich Airport.
| 09.07.2012 00:00 Always very happy with the service.
| 05.07.2012 00:00 Thank you for a nice, clean car that worked perfectly. I appreciate your dependability.
| 08.03.2012 00:00 The staff were excellent & most helpful as I required an English speaking Tom Tom, overall excellent
| 30.01.2012 00:00 - Staff at Munich desk were exceptionally friendly, happy and polite. Made me leave with a smile.- Car was high quality, new, and great to drive. Really enjoyed it. My girlfriend loved it because she felt safe.- Drop-off experience was fast and pleasant.All around very happy with the service, thankyou!
| 26.01.2012 00:00 Fantastic service. Completely trouble-free collection & return. The vehicle was in excellent condition. Thank you.
| 15.12.2011 00:00 Excellent customer service. Friendly staff. Efficient check out and check in procedures. Keep up the good work.
|
|
Location Details
Address:
Terminalstr. Mitte/MWZ
85356 München DE +49-1806-252525
Location:
airport
GDS - Code:
MUC
SIXT #:
11
Opening Hours
Mo. - Su.
05:30 - 24:00
Bank holiday
05:30 - 24:00
24 h pickup
24 h return

Welcome to Munich Airport Sixt rent a car
Welcome to Sixt Munich Airport. You do not just rent a car from us - you get the Spirit of Mobility. Would you like to visit Oktoberfest or the Hofbräuhaus, Munich Trade Fair or Business Meeting, we will help you with any questions. Of course, we also know what is important for a trip to Austria - try our car hire service, you will be amazed. My team and me at Munich Airport look forward to your visit and wish you a safe journey with your rental car.
Diane Schnorr ( Branch Manager )
Sixt Car Rentals at Munich Airport, Germany
Sixt rent a car in Munich Airport offers top of the range premium vehicles from BMW to Mercedes-Benz, Renting a car in Munich is best way to be able to see the beautiful region of Bavaria. Many visitors that visit Germany consider Munich to be the very heart of German culture. When many individuals from abroad think of Germany, they consider the beer production at the heart of their industry, and nowhere is more famous for celebrating it than the annual Oktoberfest festival. Of course, there is much more to Munich than simply beer, and taking everything in can make car rental in Munich an essential part of any travel plans. Visitors will no doubt also want to take in the Allianz Arena, home of Bayern Munich, Germanys most successful football team and the Deutsches Museum which stands on an island in the Isar. It is one of the oldest science museums in the world and must visit for anyone who has the time.
Copyright: Munich Airport
Sixt rent a car in Munich
Car rental in Munich is made simple by the easy access to a Sixt desk within Munich Airport itself. The desk is extremely customer friendly, featuring both Quick Check-In and Mobile Check-In facilities at its central location between terminals 1 and 2. As would be expected, the range of car rentals in Munich are heavily German influenced, with dozens of the latest models from the likes of BMW, Mercedes and Volkswagen.Sixt rent a car in Munich Airport makes it easy to get around to see what Munich has to offer.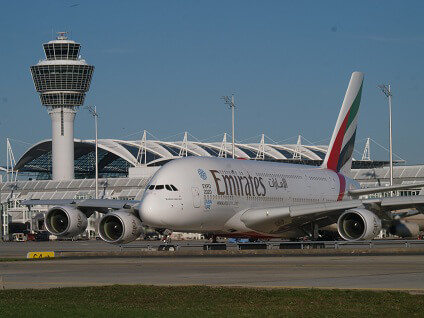 Copyright: Munich Airport
Sixt in Munich Airport
In addition to one of the widest ranges of car rentals in Munich, Sixt also offers a range of additional features and services to all customers at the airport desk. This includes the options like GPS, additonal driver, and baby seats. . Sixt rent a car hope you enjoy your visit to this glorious city and benefit from the top service when you rent a car at Munich Airport!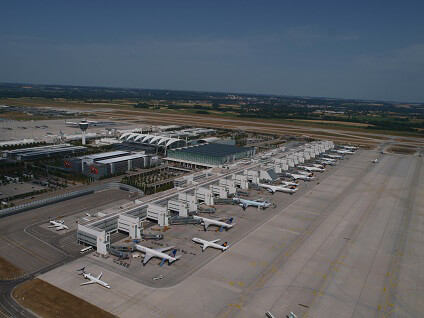 Copyright: Munich Airport
Location details
Opening Hours
| | |
| --- | --- |
| Mo. - Su. | 05:30 - 24:00 |
| Bank holiday | 05:30 - 24:00 |
Contacts / Lost & Found
SIXT # Munich Airport MUC
Terminalstr. Mitte/MWZ
85356
München
48.353920, 11.787290
+49-1806-252525
+49-1806-2229300011
SIXT # Munich Airport MUC
Terminalstr. Mitte/MWZ
85356 München
Phone no.
+49-1806-252525 *
Fax
+49-1806-2229300011 *
* 0.20 ¤/call from german landline network, 0.60 ¤/call from german mobile network
Location plan - how to find us
From Augsburg:
From Augsburg over the A8, A99, A92, gateway Munich Airport. From Passau: From Passau over the B388 or the A94 and the FTO.
QuickCheck-in, MobileCheck-in and the Diamond Lounge:
The key safe is located directly at the Sixt counter in the Central Area, between Terminal 1 and 2. Your way to the Sixt Diamond Lounge: Visit our rental counters located at Terminal 1 where a Sixt employee will escort you to the Diamond Lounge. You can also reach the Sixt Diamond Lounge on your own by going up to Level 4 right at Terminal 1. Use the escalators opposite to the Deutsche Bahn (German Rail) counter or the elevator behind the Central Information Desk. Opening hours: Mon-Fri 05:30-24:00 /Sat, Sun & bank holiday 09:00-17:30
From Nürnberg and Regensburg:
From Nürnberg and Regensburg over the A9 und (motorway interchange Neufahrn) the A92, gateway Munich Airport.
From Deggendorf, Dingolfing and Landshut:
Over the A92, gateway Erding and the FTO East or over the A92, gateway Freising Mitte.
From Munich:
Over the motorway A9 and (at motorway interchange Neufahrn) A92 towards Deggendorf, Gateway Munich Airport or over the B11 or B13 at the Mittleren Ring and the A92.
Outside open hours - pick-up & return
Out of hour pickup possible.
Pick up key at night porter.
Out of hour return possible.
Please park in the car rental return area and return the key to security guard in the car rental centre.
Sixt Express Counter - the fast way to the rental car
The Online-Check-In desk is located directly at the Sixt Counter in the Centra l Area (Z) of Munich Airport.
Different address for returning vehicles
Terminalstr. Mitte
85356 München
Categories and services at this location
Compact Cars & Sedans
Sports cars & convertibles
4x4 / SUV
Select vehicle for pick-up using iPhone
24 h pickup
24 h return
Express counter
More deals from Sixt Munich Airport
At this station, you can also rent premium vehicles. Are you looking for an exotic car?
SIXT luxury cars
makes it possible!