Van and Truck Rental with Sixt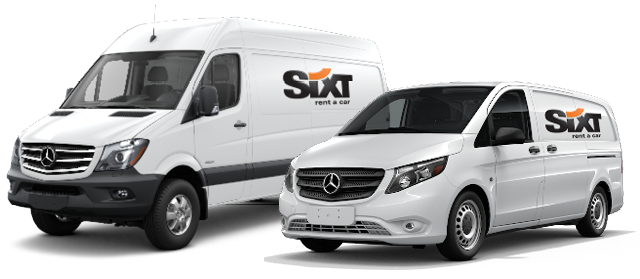 Find the right van and truck rental for your tasks from the top quality fleet offered by Sixt rent a truck. Whether needing a cargo van for personal or commercial use, we have a variety of trucks to help you get the job done. With our flexible rental arrangements and payment options you can organize a rental truck that can accommodate your budget and transportation needs. From one day rentals to affordable long term truck rental, including monthly truck rental, you can achieve anything from making a quick haul to getting your business performance to the highest level.
Regardless of your van rental needs, Sixt rent a van services offers a wide selection of vans and trucks to rent with some great deals at all of our van rental locations. Whether you're moving or transporting big cargo, Sixt rent a truck is here to make your truck requirements convenient and simple. With predominately Mercedes-Benz models that are often replaced every 6 months, Sixt makes it easy, comfortable and safe to get everything you need from point A to B in one simple trip.
Where to Rent a Truck or Van
Truck rental is ideal for moving around a larger and/or heavy load. Take care of the haul yourself, and have full confidence on it arriving on time and in the same condition. We can also provide accessories to help you load and secure your cargo in your van rental.
Rent a truck when moving house and avoid the extra cost and stress of hiring an outside team. Rent a truck one way, or arrange a truck rental with unlimited mileage to cover the distance and have the ability to make as many trips as you like in your van rental.
A small truck rental is perfect for those undertaking a home improvement project or organizing a special event. The proper amount of space in our van rentals for materials means not worrying about damaging your own vehicle by trying to fit too much inside.


Ask Yourself: What Size Truck Rental Do I Need?
11 ft. Truck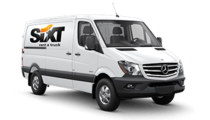 14 ft. Truck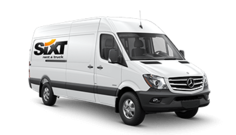 16 ft. Truck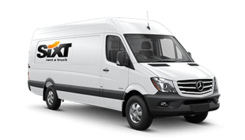 Small Business and Commercial Truck Rental
Besides relocating and other personal utility, van or truck rentals are great for all sorts of commercial use. We have a range of trucks that are suitable for a variety of professional purposes. Helpful for those working full or part time, renting a truck is especially practical for seasonal jobs or when business increases during specific times of the year.

Our truck rental deals are ideal for those who are self-employed or running their own firm. A truck provides plumbers, electricians, construction workers and others with ample room for tools and co-workers.
Photographers and those working in other creative fields can take advantage of a spacious truck to work on larger scale projects.
Seasonal deliveries and special occasion set-up or decorating jobs are made possible with our flexible truck rental arrangements.
Truck rentals can help out during important events like Miami Art Basel and Miami Fashion Week. Rent a van to securely shuttle your cargo to and from the major fairs and expos in Miami and the surrounding area.
Easy Small Business Rent a Truck Solutions
Our commercial truck and van rental services make it possible for small to medium size business owners to say yes to more opportunities with less hassle. With flexible billing and rental periods you can rent a van with terms that work for you and easily get back to work. Here are some of the ways we facilitate commercial truck rental:
We give you access to an up-to-date fleet of top quality trucks and cargo van rentals without having to disclose information regarding your financial situation. That means NO CREDIT CHECKS on truck and van rental.
Our flexible time period offerings on truck rentals provide affordable solutions that cater to your needs. With long term truck rental you generally pay less as extended rentals typically come with a lower daily rate. That means when you rent a truck or van for a week, month or longer you can actually save on costs.
With deals on useful add-ons you can upgrade your truck rental and equip it with what you require for the ride. Unlimited mileage, additional driver coverage and insurance protection are just some of the extras available when you rent a van to enhance and customize your experience.
Van and Truck Rental Options at Sixt
Mercedes-Benz Metris 9 ft.
Preferred for small deliveries or amounts of cargo, the Mercedes Metris cargo van rental is sure to get the job done. With easy handling and the reliability of the Mercedes-Benz brand, choose this small truck rental for your next job! Vehicle Specifications.
Mercedes-Benz Sprinter 11 ft.
This small truck rental is ideal for those moving items and furniture from a studio or small apartment. The 11 ft. Mercedes Sprinter is available in regular height as well as an extra high roof version to fit your tall items. Vehicle Specifications.
Mercedes-Benz Sprinter 15 ft.
This medium truck rental is perfect for larger loads and the standard items contained in a one bedroom apartment. Rent this Mercedes-Benz Sprinter cargo van for a spacious, safe and comfortable drive. Vehicle Specifications.
Mercedes-Benz Sprinter 16 ft.
Whether needing a truck for personal or commercial use, the Mercedes-Benz Sprinter is the perfect solution. This cargo van handles like a dream and can fit all the items you need to transport. Vehicle Specifications.
Chevrolet Silverado Crew Cab
We offer the classic Chevrolet Silverado pickup truck to rent when you need to haul large loads and trailers. This multi-purpose truck rental makes it easy to transport people or belongings.
Tips for Driving a Truck
Driving a truck is not hard but can require a bit of extra attention. Our team can gladly walk you through how to best handle your truck before you get behind the wheel. Here are few important guidelines for a van rental:
Check the

dimensions

and how heavy your load is against the interior cubic feet and weight capacity of your desired truck rental. That way you avoid renting a truck that is too small or one that cannot carry your cargo.
It is also a good idea to note how wide truck doors open to confirm you can load your haul. Remember, many of our van rental models have sliding doors!
Keep the size of your truck in mind and be aware of the

height restrictions

of your van before driving under bridges or into parking garages.
Trucks have a longer stopping distance so be sure to keep a safe distance between you and the vehicle in front of you.
Be careful when reversing as you might have limited vision in a van rental. It is recommended to have someone guide you when backing into a parking space or into traffic.
Services available when you rent a truck with Sixt
Our team members strive to provide all our customers with the best experience with our affordable rates, premium van models and comprehensive services. With deals on useful add-ons you can upgrade your truck rental and equip it with what you require for the ride. Include an additional driver when you rent a van so you can share the wheel or a GPS so you don't risk getting lost en route.