Sixt rent a car in Manchester
Our Service
|
Traffic Information
|
Sixt Tips
|
Sightseeing Destinations
|
Business Travel
|
FAQs
Use the drop down branch menu to gather the necessary details of our Manchester branches. Scroll through to see about the opening hours, addresses, and the variety of rental cars on offer. A second tab open an overview of all our Sixt rent a car Manchester locations on Google maps. Choose which branch suits your plans best and then book online. Before finalizing your reservation you can make a price comparison of our vehicles. With our attractive rates you just might be able to rent a car in Manchester from luxury brands such as BMW and Mercedes-Benz. Please do note, however, that while we guarantee reservations for the selected car category, we cannot guarantee a specific model will be available.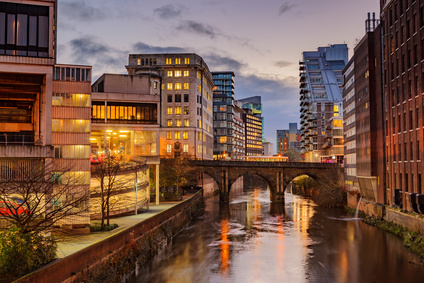 Our Service
Besides our up-to-date compact cars and sedans we offer a range of sleek and fun-to-drive sports cars and convertibles. For those traveling with more travel companions or cargo we also have minivans and SUVs to make your trip as convenient and comfortable as possible. Those needing a van or truck rental can make use of the services of our Manchester Piccadilly and Manchester Trafford Park branches.
In addition to a premium car rental fleet, we offer a choice of useful options to tailor your car rental to your precise needs. Roadside protection covers the cost of common mishaps such as running out of fuel or locking keys inside the vehicle. It will also get you on the road again should you experience a flat battery. A navigation system makes it easy to find your way around and an additional driver allows you to share time at the wheel.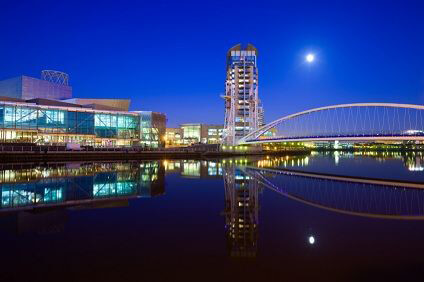 Traffic Information
When you rent a car at Manchester Airport you can make your way into the city center via the M56 and the A5103. This route is around 9 miles and takes 25 minutes. When this gets busy during peak hours, the A56 provides an alternative and is only slightly longer at 11 miles and 30 minutes. Trafford Park is only a 20 minute drive from the city center and just over 4 miles away by either the A56 or Ordsall Lane.
Manchester is ringed by the M60. This provides access to Liverpool to the west and Leeds to the east. There is also an Inner Ring Road, which serves most of the districts in the city. The main north to south route is the M6, which runs all the way from Scotland in the north towards London on the south. The only toll road in the area is the M6 toll, which starts around 70 miles south of Manchester at Cannock. It is a good alternative to the M6 if traveling south at peak times. There are lots of multi-story car parks around Manchester and some cheaper open air ones in the city center at Piccadilly.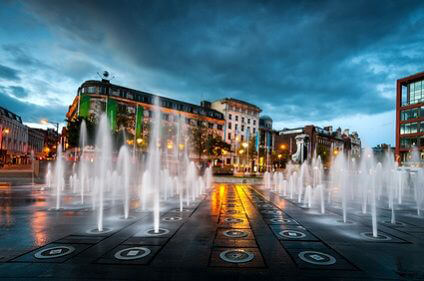 Sixt Tips
Manchester is a cosmopolitan city and the center of England's industrial northwest. It was one of the world's earliest industrial cities as a result of the textile industry. Many of these industrial buildings can still be seen, now converted to trendy offices and apartment buildings, especially in the Salford area. With two of the UK's largest universities, the city has a buzzing nightlife and this has been enhanced in recent years by the creation of MediaCityUK at Salford Quays, which brought the BBC and ITV media networks to the city. The city's Chinatown runs between Faulkner Street and George Street and has lots of restaurants and karaoke bars. The Rusholme district houses Manchester's Curry Mile and is the place to go for a good curry. The Village at Canal Street is the center of the city's LGBT community and is also known as Gay Village. The city is also famous for its soccer teams and there are regular stadium tours at Manchester United's Old Trafford and Manchester City's Etihad Stadium.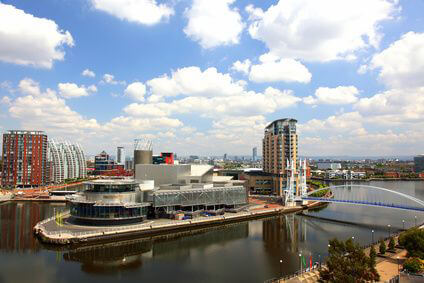 Sightseeing Destinations
Once you have seen everything Manchester has to offer, a short drive in your rental car will take you to some other interesting destinations. Liverpool was home to the Beatles and has a number of attractions for music fans, such as the famous Cavern Club and the Abbey Road studios and pedestrian crossing featured on the Beatles album of the same name. There is also a Beatles Story museum in the city. It is around 35 miles west of Manchester city center on the M62.
Distance to Liverpool
From Manchester Airport: 36 miles, about 1 hour 3 minutes
From Manchester Piccadilly: 35 miles, about 1 hour 20 minutes
From Manchester Trafford Park: 41 miles, about 1 hour 19 minutes
To take a break from the city and enjoy some beautiful English countryside when you rent a car , the Peak District National Park is just a short drive to the south. The A6 to Taddington will take you to the heart of the park.
Distance to Taddington
From Manchester Airport: 30 miles, about 1 hour 13 minutes
From Manchester Piccadilly: 34 miles, about 1 hour 40 minutes
From Manchester Trafford Park: 38 miles, about 1 hour 40 minutes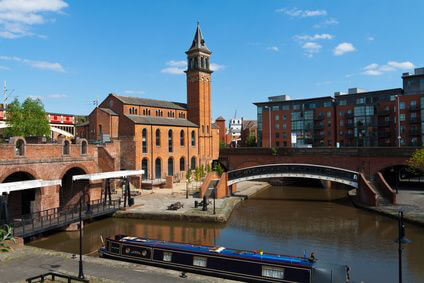 Business Travel
Manchester is the center of Northwest England's industrial heartland and the new Northern Powerhouse developments. MediaCityUK is one of the most visible signs of the city's commercial renaissance and has brought a number of jobs in the broadcasting and creative industries to the city. The central location of the city on the UK's road network, along with good rail and air connections, also attracts many conferences and events to Manchester, with EventCity being a major conference and exhibition venue.
Distance to MediaCityUK
From Manchester Airport: 12 miles, about 36 minutes
From Manchester Piccadilly: 4 miles, about 30 minutes
From Manchester Trafford Park: 3 miles, about 10 minutes
Distance to EventCity
From Manchester Airport: 9 miles, about 25 minutes
From Manchester Piccadilly: 5 miles, about 25 minutes
From Manchester Trafford Park: 1 mile, about 4 minutes

FAQS
Below are the quick answers to some of our most frequently asked questions. Please be reminded that every country has slightly different rules and regulations, so for the most specific and detailed information pertaining to your desired rental please visit rental information for more information.
Which documents are needed to pick up a rental car?
What is included in the rental charges?
Can I rent a specific car model?
Can I change my booking and do I have to pay a cancellation fee?
Can I cross borders with my rental car?
Can I rent the car at one place and drop it off at another station?
What is Sixt's refueling policy?
What add-ons are available and how much do they cost?
Can I rent a car with unlimited mileage?
Does Sixt deliver and/or collect rental cars?
Do I have to pay a security deposit?