Car rental with Sixt in Abu Dhabi
Our Service
 |  
Traffic Information
 |  
Sixt Tips
 |  
Sightseeing Destinations
 |
Business Travel
Use our drop down branch menu above to gather all the information you need about our services for each location in Abu Dhabi. You can see about our opening hours and available car categories at each branch on open the first tab. Clicking on the second tab displays our branches on Google Maps. Whichever Abu Dhabi branch you decide to rent a car from you will have your pick of affordable, top quality vehicles that can suit a range of mobility needs. Head to our booking page and make a quick price comparison between models before reserving online. Please note we can only guarantee you to receive a vehicle in your selected car category as specific models are subject to availability at each Sixt rent a car Abu Dhabi location.
Our Service
Sixt has great offers on both luxury and economy car rentals. We have compact city cars, sedans, sports cars, convertibles and SUVs at all our car rental in Abu Dhabi locations. Whichever car category you choose air conditioning will be included. Be sure to check out all of our extras on the bookings page, as our deals on add-ons give you an affordable way to tailor your vehicle to suit your needs.
Some of our optional features are
GPS
Baby and child seats
Additional Driver
Personal Accident Protection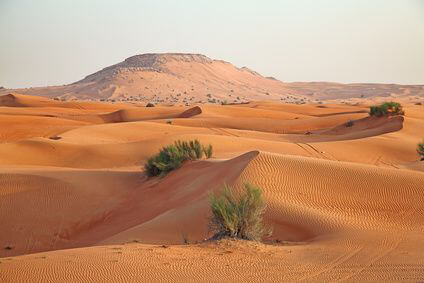 Traffic Information
Most of Abu Dhabi was built in the last 50 years, so while the road system is quite new there are some traffic problems. The city's geography is totally unique with the center based on an island surrounded by smaller interconnected islands and the mainland. It was designed for a much smaller population, meaning there can be a lack of parking spaces and congestion at peak driving times. Don't expect all drivers to obey the rules in Abu Dhabi, be aware of people changing lanes at random, speeding drivers and risky overtaking.
If you are picking up at the airport it's only about six miles on the E10 or E20 to the islands Zone 1. Here you have the central business district and major tourist attractions such as the Sheikh Zayed Grand Mosque. If your rent a car location is Abu Dhabi Industrial City then you can take the E30 and reach the island in just under four miles. Be prepared to pay tolls on many major routes. If you are traveling into the desert around Abu Dhabi you might want to consider renting a more robust SUV.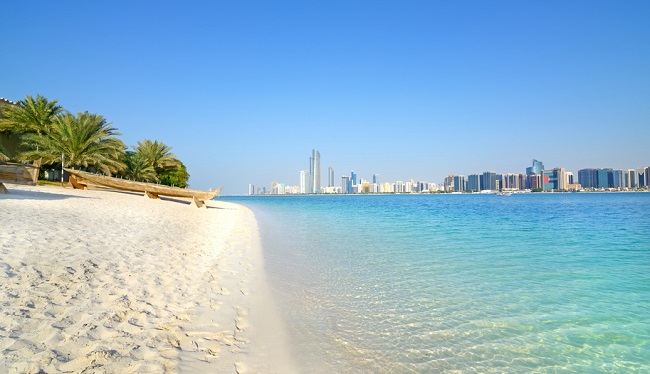 Sixt Tips
With part of the city situated on an island, Abu Dhabi has a massive seafront and its sandy white beaches are an attraction for tourists and locals alike. The promenade next to the beach can be cycled around or you can explore sections with your rental vehicle. The opulence of Abu Dhabi is reflected in its architecture replete with grand skyscrapers and gigantic malls that offer quite a unique shopping experience.
In general you might want to keep in mind that cultural customs are often more traditional in Abu Dhabi in terms of dress, gender roles and alcohol consumption. If you are ever unsure about what is allowed or culturally appropriate, we suggest to do further research or ask the staff where you are staying. Places like the Sheikh Zayed Mosque, the largest in the UAE, require visitors to dress modestly. Borrow something from the Southern entrance or check the guidelines beforehand. Nearby the Grand Mosque is Khalifa Park which is also worth a visit. There is a museum on site gives some historical background to the city, an aquarium and childrens' playgrounds.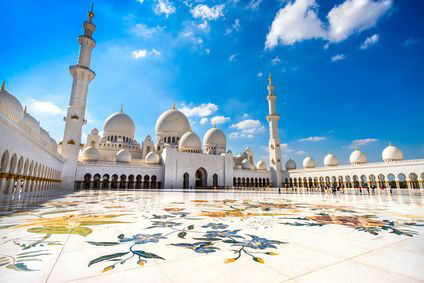 Sightseeing Destinations
Abu Dhabi is surrounded by beautiful desert. We don't recommend taking your rental car or SUV and driving out into the dunes but there are plenty of companies offering tours and desert safari trips. The Empty Quarter stretches south from Abu Dhabi and is around the size of France. If you take E11 out of Abu Dhabi and then the E65 south you'll start to see the serene and seemingly endless dunes.
For thrill seekers with a love of fast cars try the Ferrari World Theme Park on Yas Island. They have many activities for younger children and rides including the new Flying Aces with the highest loop in the world. If overheated by the idea of an 80 mph rollercoaster, you can cool down in Yas Island's Waterworld, though there are still plenty of rides to get your adrenaline rush including a free fall speed water slide. The island is also home to a world class motor sports race track, and a stunning golf course for those in search of gentler pursuits.
Distance to Yas Island
From Abu Dhabi International Airport via Al Raha Blvd: 9 miles, about 17 minutes
From Abu Dhabi Industrial City via E30/E10: 20 miles, about 26 minutes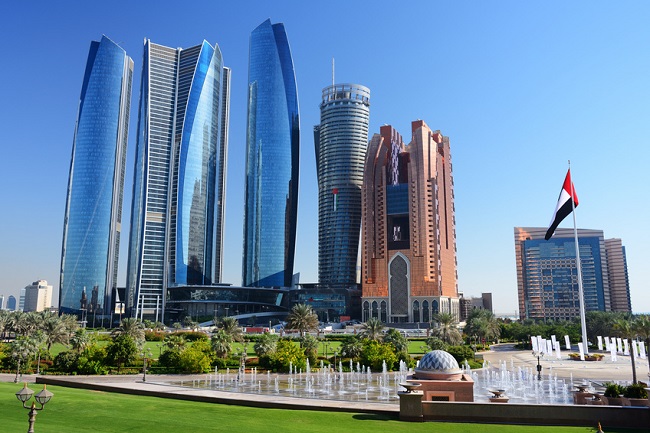 Business Travel
Much of the UAE's hydrocarbon wealth is concentrated in Abu Dhabi and the city has one of the highest GDP per capita worldwide. The city is still building with huge developments such as Saadiyat Island where many multimillion hotels and museums are under construction. The Abu Dhabi National Exhibition Centre hosts many of the city's major business exhibitions. ADNEC has a diverse events calendar with over 100 events per year.
Distance to Abu Dhabi National Exhibition Center (ADNEC)
From Abu Dhabi International Airport via E20: 15 miles, about 19 minutes
From Abu Dhabi Industrial City via E30: 12.5 miles, about 20 minutes