Sixt rent a car in the United Arab Emirates
Click to Jump to: Our Service | FAQs | UAE Driving Tips | Places of Interest
We offer car rental in the United Arab Emirates from a number of branches conveniently located at major cities, airports and tourist destinations. Renting a car makes traveling easy and seamless so that you can see much more whether staying in Abu Dhabi or Dubai. Choose from an up-to-date fleet of premium rental vehicles, whether its a luxury sedan, full-sized SUV or something else, Sixt will have you covered.
What to Do in the United Arab Emirates in Summer 2019
Know that if you visit the United Arab Emirates in the summer, it will be very hot. The good news is that most indoor places you visit will be air conditioned. The average temperature in July in capitol Abu Dhabi will be the mid-90s, and you will likely encounter much warmer conditions. That being said, you can visit the Burj Khalifa or the Sheikh Zayed Grad Mosque (be sure you look up the dress code before going). Or do as the locals do and get out of the heat at an extravagant shopping complex like the Dubai Mall. Head out of the cities somewhere like the Hatta Water Dam where you can cool down by canoeing on the water. There are beaches to be found to take a dip in the water too, including Al Mamzar Beach Park or Jumeirah Beach in Dubai. And there are tons of water parks throughout the country to cool down if you are not near a beach. Just remember to rent a vehicle with air conditioning!
Our Service
The United Arab Emirates is a diverse, cosmopolitan destination, with sophisticated cities, wild desert landscapes and beautiful beach resorts. You can join Dubai's crowds of upmarket vehicles in one of our stylish sports cars or convertibles. Alternatively, you might want to explore the countryside in a capable SUV. A prestige marque sedan offers superb levels of comfort and luxury, while a minivan solves the mobility needs of larger groups. Once you have found your perfect rental car, you can use our extensive extras to customize your rental to your precise preferences. You can increase your protection with one of our enhanced coverage options, share driving duties with our additional drivers or specify a navigation system to make it easier to find those exciting sights. Remember to book online in advance to access the best car rental deals in United Arab Emirates.
FAQs
Driver's license
Both the renter and driver need to be in possession of a valid driver's license. Standard US licenses are acceptable. You will need to present a copy of your driver's license, together with the original. You will also need a copy of your passport along with the original as proof of identity when you collect your vehicle.
Age restrictions
To rent a car in the United Arab Emirates with Sixt, you need to be at least 21 years of age and to have held your license for a minimum of one year. Certain models in our fleet have additional age restrictions and these will be highlighted by the booking engine during the rental process.
Payment Methods
Sixt accepts all major credit cards, including American Express, Diners Club, Mastercard and Visa. We are unable to accept any prepaid or debit cards.
Accidents
If you have an accident while driving in the United Arab Emirates, you must inform the police, even if no other vehicle was involved in the accident. The police can be contacted on 999. You must also report to Sixt immediately any damage to the rental vehicle and complete the Accident Report Form that was provided with the car.
Crossing Borders
Cross border rentals to Oman are available upon request. Charges apply. Please contact the local branch where you will rent a car in the United Arab Emirates to discuss your plans at least 48 hours prior to leaving the Emirates. Further information is available here on our Rental Information page.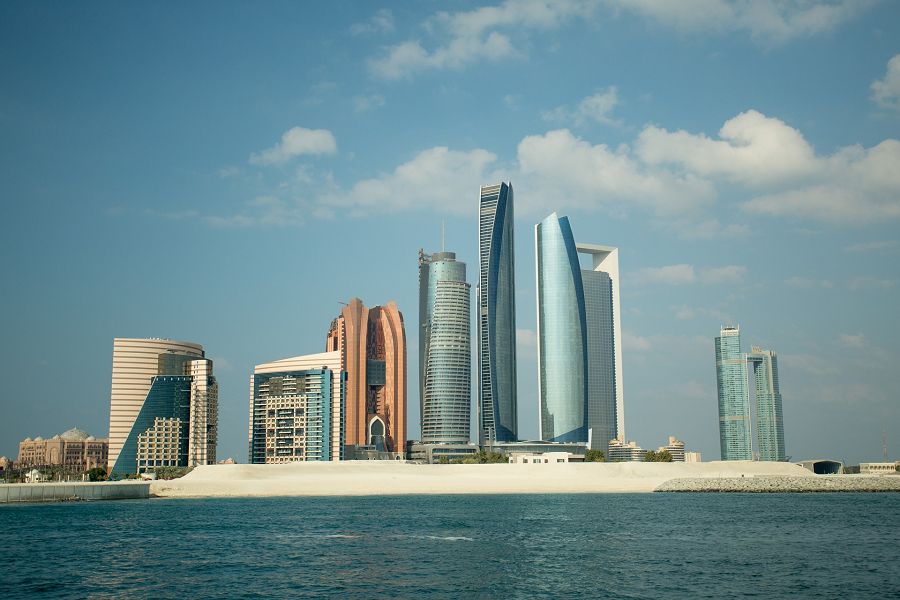 UAE Driving Tips
The United Arab Emirates has a modern road network, most of which is in good condition. New roads are being added all the time, however, so do expect some roadwork and new junctions appearing. Distances between destinations are generally not too far so you can pack your itinerary with things to see and do. However, be aware that locals drivers quite fast so don't be alarmed if another car tries to overtake you.
Additional driving tips
Speed limits are generally 50 mph in urban areas and 60-75 mph on motorways.
In United Arab Emirates driving is on the right, overtaking on the left.
All drivers and passengers must wear seat belts.
Talking on a mobile phone while driving is illegal without a hands-free kit.
There is zero tolerance policy for drinkign and driving.
Places of Interest
Top 4 Architectural Sights
The Burj Khalifa in Dubai, designed by Adrian Smith, has become an icon of the city. It is the world's tallest building at a height of 2,722 feet and the outdoor observation deck on the 124th floor offers spectacular views. The Sharjah Museum of Islamic Civilization was opened in June of 2008 and houses an astonishing collection. Exhibits include rare Islamic artifacts and pieces on Islamic faith, science and culture. The Al Badiyah Mosque at Fujairah is the oldest functioning mosque in the United Arab Emirates, supposedly dating from 1446 AD. With four domes, the unusual mud brick and stone building has become a popular tourist attraction. The Manarat Al Saadiyat, an arts and culture center, in Abu Dhabi is a stunning modern building with three main galleries hosting permanent and temporary exhibits. Its gleaming roof structure recalls the shape of sand dunes, bringing the drama of the desert into the city.
Palm Jumeirah Island on the coast of Dubai is an artificial archipelago shaped like a palm tree. It is the smallest and first of the three palm islands and features a mix of stunning residences, hotels, and shopping malls. Jebel Hafeet at Al Ain is the highest mountain in the United Arab Emirates at 4,090 ft. You can drive in your rental car to the top to enjoy stunning views over the area. The mountain is also the site of more than 500 tombs dating back 5,000 years. Al Mamzar Beach Park in Dubai has five sandy beaches with swimming pools, barbecue areas, cabanas, and playgrounds. Hata Heritage Village in the mountain region of Hata dates back to 1,000 BC and has been extensively restored to provide a great glimpse into the historic past of the Emirates. Exhibits include a number of houses, a fortress and a castle as well as traditional weapons and other ancient artifacts.