Sixt car rental in Istanbul
Our Service
 |  
Traffic Information
 |  
Sixt Tips
 |  
Sightseeing Destinations
 |
Business Travel
Besides our Istanbul Airport locations we have two other well-placed locations. You can rent a car in Taksim at the Hilton Hotel which puts you right at the heart of the modern side of the city, as well as from our Sixt branch at the Alkent Shopping Center not far from the Etiler metro station and close to lots of great shopping. Make use of the drop down branch menu to find out more about our car rental in Istanbul. You can see about opening hours and car categories at each branch and if you click on the second tab you can open a Google Maps overview to become more familiar with where we are situated. For those wanting more flexibility with their travels take advantage of our 24 hour pick-ups and returns provided at our Istanbul Ataturk Airport and Istanbul Sabiha Gokcen Airport branches. Decide which locations suits you best and then head to our bookings page to make your reservation online and do a quick price comparison of the rental cars on offer. Please be aware that as specific cars are subject to availability we can only guarantee you to receive a rental vehicle in the car category you selected.
Our Service
All our branches offer a premium fleet of up-to-date rental cars from leading brand manufacturers. With our attractive rates you can get behind the wheel of a BMW or Mercedes-Benz sedan for less than you might expect. At our Istanbul Ataturk Airport location you also have the ability to rent a minivan like a BMW X3, which can sit up to five and offer ample leg and luggage room. We also provide the chance to optimize your rental experience with deals on a range of useful add-ons. Include extras like child seats, GPS, additional drivers and coverage options. Other optional features include Theft Protection and Tire- and Windscreen Coverage.
Traffic Information
Driving in Istanbul can be challenging for newcomers to the city. Besides the often congested traffic, locals tend to not hold fast to road rules and regulations. It is a good idea to book at GPS to avoid the many one way streets you will otherwise encounter. Parking can be limited as well, so make sure your hotel has designated parking spaces or look into ones that have valet services. While out and about you can look for covered or open air parking lots, especially in business and commercial districts like Taksim.
The main roadways are the O-1, O-2, O-3, and O-4. The O-1 is an inner ring which crosses the 15 July Martyrs Bridge, popularly called First Bosphorus Bridge, which connects Ortaköy on the European side to Beylerbeyi on the Asian side. The outer ring, O-2 crosses the Fatih Sultan Mehmet Bridge, or Second Bosphorus Bridge, and spans the Bosphorus Strait. A Third Bosphours Bridge, Yavuz Sultan Selim Bridge, connects the two continents from near to the Black Sea and Beykoz on the Asian side. Getting between both halves of the city is also possible with the Eurasia Tunnel connecting Kazlıçeşme and Göztepe. Be aware that most bridges are tolled routes and only accept electronic payments. The European E80 runs through Istanbul as well.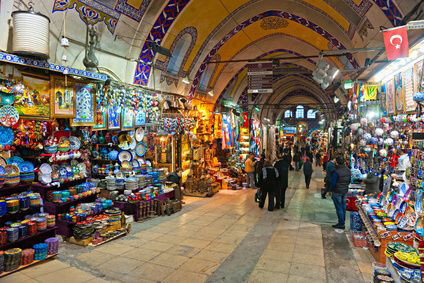 Sixt Tips
When you rent a car in Istanbul you can set off to freely explore at your own pace. Tour around this vast city, visiting the attractions found on both its European and Asian sides. Soak up the rich culture and history while you enjoy the plethora of shopping and dining destinations. You can visit fantastic museums like the contemporary art at the Istanbul Modern or spend time in lavish historic palaces. There are also an abundance of churches and mosques to marvel at like the Hagia Sophia and the Blue Mosque. You can also take day trips from Istanbul with your car rental to escape the hustle and bustle of this very vibrant city. Grab some fresh air and a bit of quiet at the Black Sea or in the nearby forests.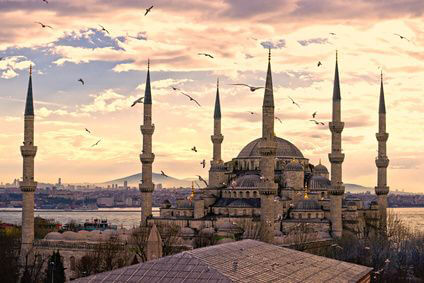 Sightseeing Destinations
Emirgan Park and Sakıp Sabancı Museum
Get great views of the Bosphorus while enjoying some fresh air in the large Emirgan Park. This beautiful public park offers a perfect way to spend the day outdoors. Along the walking paths you can see wonderfully restored Ottoman mansions plus enjoy the park's decorative ponds, flora and fauna. While in the area you can also visit the Sakıp Sabancı Museum, which houses an impressive collection of calligraphic works.
Distance to Emirgan Park
From Istanbul Ataturk Airport via E80: 21.7 miles, about 35 minutes
From Istanbul Sabiha Gokcen Airport via E80: 27.6 miles, about 36 minutes
From Istanbul Taksim via Yeni Riva Yolu: 20.4 miles, about 50 minutes
Anadolu Kavağı
For a relaxed weekend or a day trip to escape the Istanbul crowds head to the idyllic seaside village of Anadolu Kavağı. En route stop off at Yuşa Hill, the highest hill in Istanbul, and a place believed to host the grave of the prophet Joshua. Once in the village check out Yoros Castle before a meal of fresh fish along the water.
Distance to Anadolu Kavağı
From Istanbul Ataturk Airport via E80: 53 miles, about 55 minutes
From Istanbul Sabiha Gokcen Airport via E80: 33.5 miles, about 50 minutes
From Istanbul Taksim via Büyükdere Cd.: 13.8 miles, about 35 minutes
From Istanbul Etiler: 5.8 miles, 23 minutes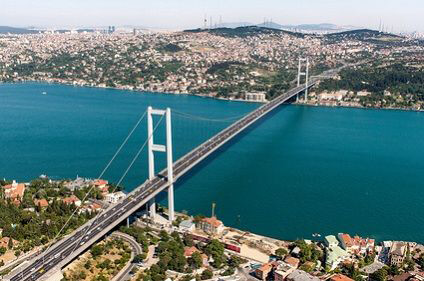 Business Travel
Istanbul is a big player in the Turkish economy. It is home to the sole stock exchange entity of Turkey, the Borsa Istanbul, found in the İstinye quarter of the Sarıyer district. Levant and Maslak, both on the European side of the city, are two of the main business districts and compete with each other for the tallest skyscrapers. The city is host to three major shipping ports as well. Istanbul's tech and e-commerce sector is ever-growing and has been dubbed the Digital Bosphorus. Its startup scene already has its success stories such as Yemek Sepeti, an online food ordering platform. There are three clusters in the city where big industry events take place: the Airport and Exhibition District, the Business and Finance District, and Conference Valley.
Distance to Istanbul Convention & Exhibition Centre (ICEC)
From Istanbul Ataturk Airport via D100: 15.6 miles, about 35 minutes
From Istanbul Sabiha Gokcen Airport via E80: 27 miles, about 40 minutes
From Istanbul Etiler via Barbaros Blv: 3.4 miles, 17 minutes
Distance to WOW Convention Center
From Istanbul Ataturk Airport: 2.4 miles, about 10 minutes
From Istanbul Sabiha Gokcen Airport via E80: 36.2 miles, about 1 hour
From Istanbul Taksim via D100: 13.7 miles, about 40 minutes