Rent a Car in Thailand with Sixt
Click to jump to: Our Service | FAQs | Driving Tips | Places of Interest
Our Service
At Sixt, our fleet offers a large selection and wide array of car categories so you can find the perfect model for your travel. We offer affordable rates on leading brand compact cars and sedans, SUVs, sports cars, convertibles and more. To ensure the safety of your rental vehicle in Thailand, Sixt rigorously follows standardized international regulations regarding the age and quality of our vehicles. Any of our car rental deals in Thailand can be customized according to your requirements. There are numerous add-ons which can be included as you book online. Extras like additional drivers, navigation systems, coverage protections and child seats can help secure you an optimal drive.
FAQs
Driver's license
All renters and drivers must present a valid driving license and a valid passport upon collection of their Sixt car rental in Thailand.
Age restrictions
Drivers 23 years old and up can rent a car in Thailand with Sixt.
Credit card payments
Paying with a major credit card is the preferred method of payment and Sixt accepts all major credit cards. The payment method must be valid, issued in the name of the driver and be presented at the time of vehicle pick-up. We do not accept any prepaid cards or debit cards.
When booking a prepaid rate, your credit card will be charged before the start of your rental. Any extra costs that occur during the car rental will also be charged to your credit card.
Accidents
In the event of an accident, you can reach the Thailand tourist police 24-hour national call center by dialing 1155. To call the police for a general emergency, dial 191. For ambulance and rescue services, dial 1554. If any damages occur to the rental vehicle fill out the accident report form enclosed with the vehicle documents and immediately alert Sixt during the rental period.
What to Do in Thailand in Winter 2019
Traveling to Thailand in the winter is when you will find the best weather. This is where to go to get some winter sunshine! The famous beaches in places like Phuket and Ko Samui will be busy, as will destinations in the north like Chiang Mai where you can see elephants. Be sure to check when the Chinese New Year falls, as that is a very busy time for visitors. You can pack lightly when visiting in the winter, as temperatures hover between the 70s and 90s with little rainfall, depending on where you are in the country. If you are visiting Bangkok, we recommend renting a small car because of limited parking. Elsewhere, a convertible is a great way to soak in the sunshine!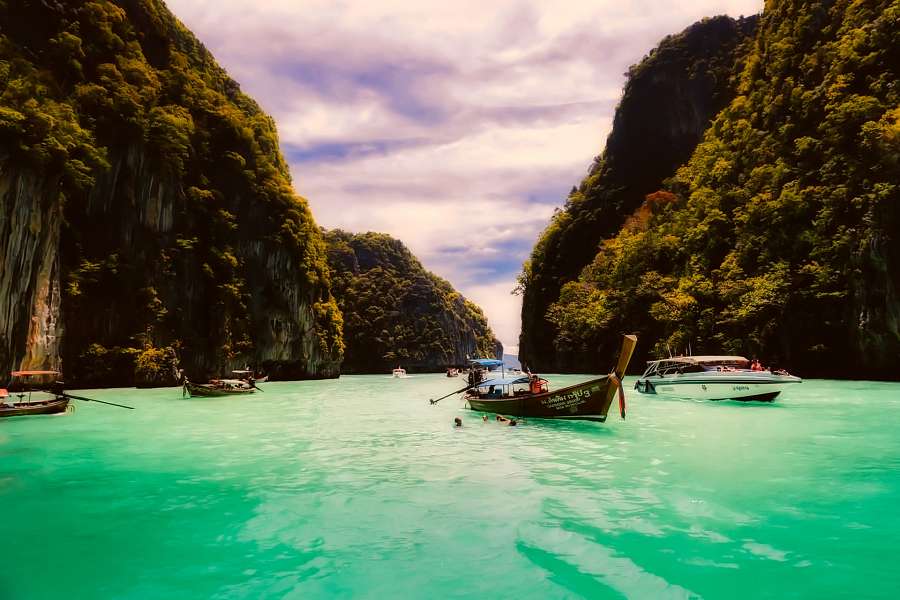 Driving Tips
National highways connect regions, provinces, and districts and generally are very well-maintained. However, local roads are often filled with unpredictable traffic patterns and motorists so keep a watchful eye on your surroundings and other motorists. If your rent a car Thailand is damaged at all during your trip, you will be responsible for the cost of all repairs. As such, it is recommended to avoid unpaved or unofficial roadways.
Car rental in Thailand driving tips
Driving is on left hand side of the road, like in Britain.
Speed limits are posted in kilometers per hour.
It is very difficult to find parking spaces in large Thai cities. Fortunately, most parking signs are in English.
Motorcycles are a common form of transportation for locals. Be aware that they may zip in front of you and cross between cars at a moment's notice.
Locals often honk their horns when passing shrines or religious areas.
The right-of-way is often given to the largest vehicles.
Motorways/express ways connect areas directly in the vicinity of Bangkok, such roads are very congested and require tolls. Be sure to have smaller denominations on hand or pay tolls with M-Pass, an electronic payment system.
Traffic rules and regulations
The legal blood-alcohol limit for drivers who have had their license for over 5 years is 0.5 grams per liter of blood.
Drivers and front seat passengers are required to wear seat belts.
The speed limit on highways is 120 km/h, while towns and cities adhere to a 60 km/h limit.
It is illegal to use your mobile phone when driving.
It is illegal to park beside red, yellow or a white painted curbs.
Places of Interest
Top 4 architectural sights
Wat Phra Kaew, Bangkok
The Great Buddha of Thailand/The Big Buddha, Ang Thong
Phimai Historical Park
Old Town Chiang Mai
Bangkok's Wat Phra Kaew, or the Temple of the Emerald Buddha, is known as the most sacred temple in all of Thailand. The Great Buddha of Thailand is regarded as the ninth wonder of the world and is the tallest statue in the country. The Phimai Historical Park houses one of the most sacred temples in Thailand and boasts classic Khmer architecture. The Old Town of Chiang Mai is a completely walled in city with markets, hotels and temples to explore.
Top 4 natural sights
Thi Lo Su waterfall, Umphang
Nam Nao National Park, Chaiyaphum
Ko Samui
Limestone landscape, Krabi
Umphang's Thi Lo Su Waterfall, located in the Umphang Wildlife Sanctuary, is the largest waterfall in Thailand. Nam Nao National Park is a pristine forest with over 100 species of birds and beautifully preserved jungles and grasslands. The island of Ko Samui produces lush rainforests and sandy beaches, and is perfect for a spa day or a relaxing dip in the Gulf of Thailand. Krabi's limestone landscape consists of breathtaking views, famous cave systems and underground streams.