Malaga, Spain - an European destination that travelers delight in exploring
Our Service
|
Traffic Information
|
Sixt Tips
|
Sightseeing Destinations
|
Business Travel
On our branch menu you can find lots of information about our Sixt car rental in Malaga services. This includes details of opening hours and branch addresses, along with a description of the types of cars available at each location. Both our branches allow you to return rental cars around the clock, providing you with maximum flexibly for your travels. Clicking the right-hand tab will reveal a Google Maps view, giving you a better idea of where our branches are situated. When booking your car, please be aware that as specific models are subject to availability we can only guarantee your car rental for the chosen car category.
Our Service
The diverse variety of rental cars in our fleet means that we are sure to accommodate your for your rent a car in Malaga. Choose a compact model for city travel or select a premium sedan from BMW or Mercedes-Benz to enjoy your visit in affordable luxury. Convertibles are available for those who want to take in as much Mediterranean sun as can and SUVs are on hand for when needing more room for cargo or companions. When you go to book online you can make a quick price comparison of the models on offer during your desired rental period and find the right rental vehicle for your budget and plans.
You can also customize your car rental in Malaga to tailor it to your mobility needs. Enhanced protection packages can eliminate excess charges in event of damage. Roadside protection means that you are covered should you run out of fuel, lock your keys in the car or suffer a flat battery. If visiting in winter and heading for the mountains, you can even specify ski racks and snow chains. Child seats are available for those with young families and a GPS is always a good idea to help you find your way around. You can also tack on an additional driver to share time at the wheel.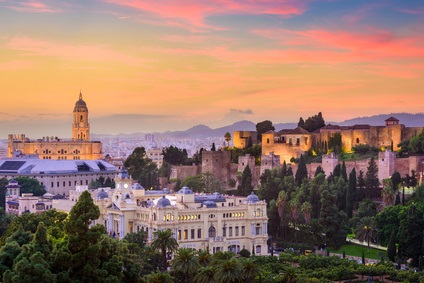 Traffic Information
Malaga Airport is just eight miles to the southwest of the city center and the journey should take around twenty minutes on the MA-20 in normal traffic conditions. An alternative in peak periods is to use the Avenue de Velazquez and the MA-21. This is a slightly shorter route at just seven miles but takes roughly the same amount of time to get to the city center. Malaga Train Station is just two miles from the city center via the Calle Hilera. Traffic sometimes means the journey could take fifteen minutes.
The A7 / AP7 are the main coastal highways and run east from Malaga to Almeria and all the way north to Valencia. To the west of the city it runs to the popular tourist resort of Marbella and on to Gibraltar. The AP 7, also known as the Autopista del Mediterraneo is the newer toll road, which follows essentially the same route as the A7. The other major route is the A-45, which takes you north to Cordoba. The streets of Malaga can be narrow and winding away from the major routes. Look out for the Avenue Fatima running north to south along the Guadalmedina River and Avenue de Andalucia running east to west. On-street parking can be busy but there are plenty of parking garages across the city and you can usually find a space.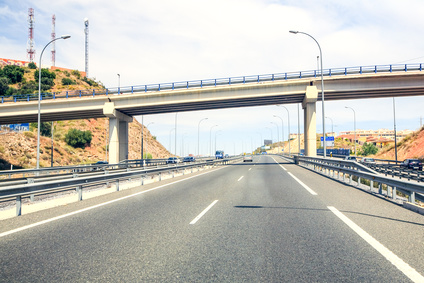 Sixt Tips
Malaga is a vibrant mixture of old and new and is considered to be one of the coolest cities in Spain. The city has enjoyed a renaissance since the opening of the Museo Picasso in 2003 (Picasso was born in the city). The opening of the cruise terminal in 2011 has also increased visitor numbers. Restoration projects have included the construction of the MAUS Art District (Málaga Arte Urbano Soho) with three new art museums in the area between the river and the port. The Old Town lies around La Alameda Boulevard and here you will find elegant squares and pedestrianized shopping avenues in the shade of huge weeping fig trees. Eastern Malaga runs into Pedregalejo and El Palo, which were once small fishing villages. Here you can still enjoy great seafood. The bullring of La Malagueta is just a few blocks inland.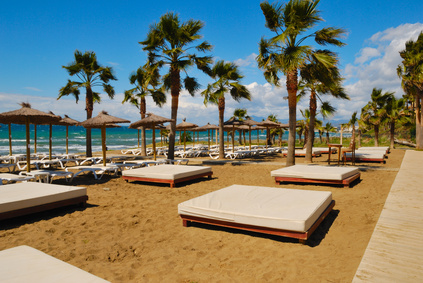 Sightseeing Destinations
Puerto Banus
Anyone who likes people watching should visit Puerto Banus, around 40 miles west of the city on the AP-7 and easy to reach when you rent a car. The harbor itself is full of the most luxurious yachts, some of them almost as big as cruise ships. There is upscale shopping along the promenade, where everyone loves to see and be seen. A meal in one of the seafront restaurants gives you a great vantage point from which to enjoy the endless stream of beautiful people and even more beautiful cars that pass by.
Distance to Puerto Banus
From Malaga Train Station: 41 miles, about 52 minutes
From Malaga Airport: 36 miles, about 41 minutes
Periana
The gorgeous whitewashed Andalusian village of Periana nestles in the hills above Lake Vinuela, with views down to the Mediterranean Sea. Only around 38 miles away from Malaga on the A-45 and A-356, but traveling here ransports you to a different world. There are some traditional bars and restaurants serving local food and wine and lots of narrow cobbled streets to get lost in. It's great for a weekend break or an interesting lunch stop for those taking the scenic interior route to Granada and the fabulous Alhambra Palace complex.
Distance to Periana
From Malaga Train Station: 35 miles, about 1 hour 2 minutes
From Malaga Airport: 38 miles, about 58 minutes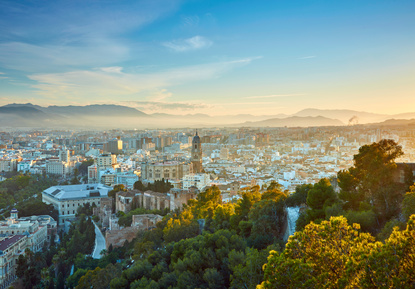 Business Travel
Malaga has long been one of the major Mediterranean port cities. It is the second largest port in Spain and is the import and export center for countless cargo ships from Europe and North Africa. These days the economy of Malaga is quite dependent on tourism, with its growth as a cultural center an important factor in attracting visitors. The Trade Fairs and Congress Center of Malaga (FYCMA) reflects the city's commercial importance, hosting many international events.
Distance to FYCMA
From Malaga Train Station: 3 miles, about 12 minutes
From Malaga Airport: 5 miles, about 12 minutes