Car rental in San Juan, Puerto Rico
Our Service
 |  
Traffic Information
 |  
Sixt Tips
 |  
Sightseeing Destinations
 |
Business Travel
|  
FAQs
We provide a diverse fleet of top quality rental cars at our San Juan Airport location. Browse our wide selection and then book easily online. You can do a quick price comparison of the models on offer for your desired rental period on our booking page. With so many leading brand vehicles in our fleet we aim have affordable rates on a variety of premium rental cars. Whether opting for a weekend car rental or longer you can get behind the wheel of a BMW or Mercedes-Benz for less than you might think. Please be aware, however, as specific models are subject to availability reservations can only be guaranteed for the chosen car category.
Our Service
Our selection of rental cars can meet just about any mobility needs. Choose a comfortable compact car or sedans for easy city driving. If planning on taking road trips around the island our selection of SUVs can make sure you have a vehicle with the right capabilities and cargo space. Tailoring your reservation with our useful add-ons is a great way to make sure you have a car rental in San Juan that meets all your requirements. You can include a child seat, GPS, or an additional driver for an optimal drive. It is also important to note that Third Party Insurance is mandatory in Puerto Rico unless you can provide written proof in English or Spanish that your credit card car rental insurance is valid in Puerto Rico for the type of vehicle being rented.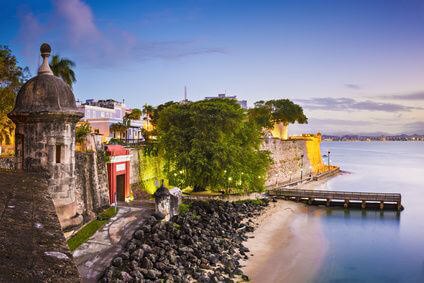 Traffic Information
The main road conditions in Puerto Rico are relatively good and the central highways are clearly marked and easy to use. When driving on smaller roads and side streets, we recommend using GPS as many of them can be without clear signage. Puerto Rico Highway 2 (PR2) connects San Juan to Ponce, and is the most widely used multi-lane highway on the island. Be aware that there are toll stops along the highways, many of which are between San Juan and Ponce, Puerto Rico's second biggest city. When planning your trips in and around San Juan keep in mind that many people working in Puerto Rico are based within the city. Therefore, it is possible you might encounter early morning traffic during the week. Congestion usually takes place between 6:30 am to about 9:00 am on the main roads going towards San Juan.

Sixt Tips
Taken by the Spanish in the 1500s, San Juan is known to be one of the oldest established European capital cities in the Americas. Puerto Rico's rich history has resulted in a landscape diverse architecture, influenced by the Spanish, and a population hailing from various backgrounds. In addition to Puerto Rico's cultural heritage, the island is also known for its breathtaking natural beauty. Having your own vehicle will afford you the freedom to get to know Puerto Rico beyond tourist attractions.
Before heading off to the beach, there is plenty to see and do in San Juan. The city's old town is renowned for its beautifully ornate buildings, which line the charming cobble stoned streets. To get a great view of the city, we recommend walking up to the Castillo San Cristóbal, a 16th-century fortress built by the Spanish in order to protect themselves from an attack on land. The fortress originally encompasses the city of San Juan, but today parts of it have been torn down in order to accommodate modern life. An afternoon at the Castillo San Cristóbal will take you through a maze of tunnels touched by 400 years of history, in addition to offering a bird's eye view of the Atlantic ocean.

Sightseeing Destinations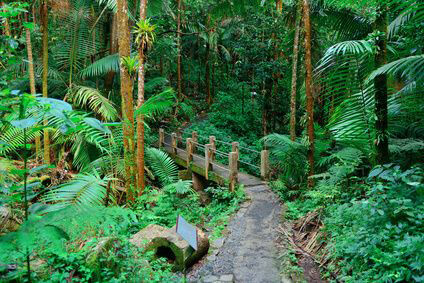 El Yunque National Forest
One of the most popular sightseeing destinations in Puerto Rico the idyllic El Yunque National Forest, which is located about an hour from the city in the northeastern part of the island. Located in the Sierra de Luquillo mountains it is the only tropical rain forest in Puerto Rico home to incredible waterfalls. Hiking trails will lead you through this beautiful environment and its diverse plant and animal life.
Distance to El Yunque National Forest
From San Juan Luis Muñoz Marín Airport: 30 miles, about 1 hour
Ponce
Take advantage or your rent a car in San Juan and head over to Ponce for the day. The second largest urban center in Puerto Rico, Ponce features many historic buildings and landmarks. Spend an afternoon at the Ponce Museum known for its vast collection of European and Puerto Rican art. Walk up to Serallès Castle an extravagant mansion overlooking the Ponce Pueblo that was the former home of Don Juan Eugenio Serrallés, an important figure in the sugar cane industry. Beautifully kept, the property also includes the Museo Castillo Serrallés listed on the National Register of Historic Places.
Distance to Ponce
From San Juan Luis Muñoz Marín Airport: 73 miles, about 1 hour and 30 minutes

Business Travel
For those who are in San Juan for professional reasons the city is ready for business. The Puerto Rico Convention Center Dr. Pedro Rosselló González (PRCC) can be found in Isla Grande. Not only is PRCC one of the Caribbean's largest convention centers, but it is also one of the Americas most technologically advanced.
Distance to Distance to Puerto Rico Convention Center
From San Juan Luis Muñoz Marín Airport: 10 miles, about 25 minutes

FAQs
Below are the quick answers to some of our most frequently asked questions. Please be reminded that every country has slightly different rules and regulations, so for the most specific and detailed information pertaining to your desired rental please visit rental information for more information.
Which documents are needed to pick up a rental car?
What is included in the rental charges?
Can I rent a specific car model?
Can I change my booking and do I have to pay a cancellation fee?
Can I cross borders with my rental car?
Can I rent the car at one place and drop it off at another station?
What is Sixt's refueling policy?
What add-ons are available and how much do they cost?
Can I rent a car with unlimited mileage?
Does Sixt deliver and/or collect rental cars?
Do I have to pay a security deposit?