Rent a Car in the Netherlands with Sixt
Click to jump to: Our Service | FAQs | Driving Tips | Places of Interest
Our Service
Our top quality fleet includes premium brands such as BMW, Audi and Jaguar. Select from a range of rental car categories and be assured whether you choose a compact city car or a luxury sedan, your rental vehicle has been regularly maintained and subject to rigorous safety checks. We offer both manual and automatic transmission rental cars at most of our branches so you can drive whichever your prefer and are most comfortable with. On the online booking engine you can also include a variety of add-ons to enhance your rental car. Choose from optional features such as roadside protection, loss damage waiver and tire and windscreen protection. We also have recommended extras such as GPS navigation, child seats and additional drivers which can help you personalize your car rental in the Netherlands.
Which car category will be best for my trip?
Compact city cars are great for weekend city breaks. Their smaller size is perfect for narrower city streets and makes parking easy.
Sedans are perfect for longer distances between cities as you get plenty of room for legs and luggage room.
Station wagons and SUVs are ideal for families or group travel. You have all the comforts and cargo space for a relaxed drive.
Convertibles are a perfect way to ensure a fun drive and you get to immerse yourself in your surroundings.
What to Do in Netherlands in Winter 2019
The Netherlands in the winter is cold and wet but festive, especially around Christmastime. In the second week of December you can see the city of Gouda go from pitch dark to light in the annual lighting of the candles. The Dickens Festival takes place in mid to late December in Deventer. The Palace Het Loo in Apeldoorn holds a Christmas festival every year from mid-December to the first part of January. In Amsterdam, Maastricht and other cities you can enjoy Christmas markets. For a true Dutch tradition, visit the Dutch Ice Sculpture Festival running from early December to early February. Be sure to dress warmly during your visit and rent a vehicle capable of handling well in snow and ice. We also recommend bringing your ice skates to take part in a true Dutch tradition!
FAQs
Driver's license
Driving licenses must be presented with a passport or valid ID. We accept non-EU driving licenses if no visa has been entered in the passport, or if you have a visa in your passport but have been in Europe no longer than 6 months.
Age restrictions
The minimum age to rent a car in the Netherlands is 21. Drivers under 25 will have to pay a surcharge, more information provided as you book online.
Payment Methods
We accept payments from all internationally recognized credit cards. We do not accept prepaid cards or debit cards such as VISA electron. Present your payment card when picking up your vehicle, your payment card must be in the name of the driver. A deposit of up to 3 times the hire price will be required on collection. The exact amount depends on your vehicle and will be calculated when you pick up your car rental.
Accidents
In the event of an accident, please inform the police immediately. In addition, any damage to the vehicle must be reported directly to Sixt during the rental period. Please fill out the accident report form enclosed with the vehicle documents. The emergency number in the Netherlands is 112 and connects you to either the police, ambulance of fire service.
Crossing Borders
You can cross borders into many countries including nearby Belgium and Germany with your Sixt car rental in the Netherlands. There are some restrictions on which EU countries you can travel to depending on the brand of vehicle. These restrictions are divided into 3 zones and you can find further information on our Rental Information page.

Driving Tips
The Netherlands is a flat country with excellent roads that so far have no tolls. Driving a car rental in the Netherlands will be mostly stress free and in the South you will find beautiful routes through the fens and forests. Parking can be a difficult in built up areas, to park in a blue zone you need to buy a permit at a gas or police station. On the spot fines are typical if you are caught committing a traffic offense.
Here are some important things to remember when driving in the Netherlands:
Driving speeds are variable so check the posted speed limits.
Trams have priority and in the Netherlands many cyclists and mopeds have right of way over cars. It is very important to pay attention to cycle lanes.
You should not use your horn unless there is extreme danger, as an alternative, flash your lights at night.
It is illegal to cross a solid white line even while turning.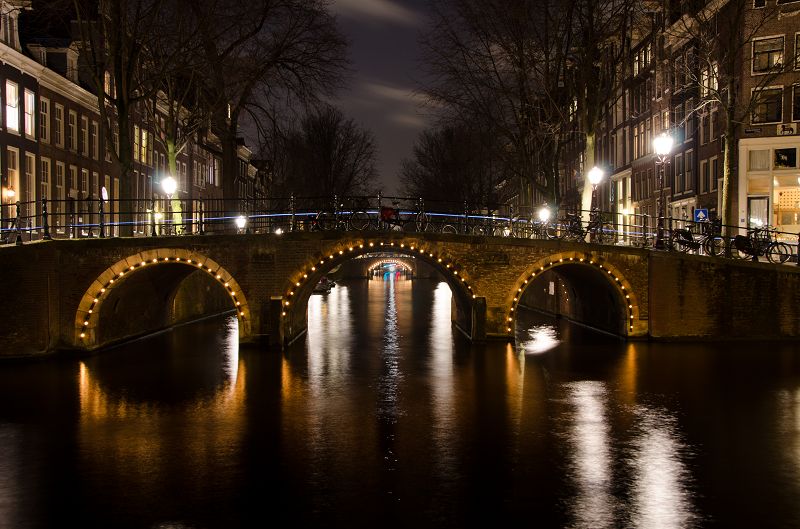 Places of Interest
Top 4 Architectural Sights
Erasmus Bridge, Rotterdam
Kinderdijk Windmills
Rijksmuseum, Amsterdam
Delft City Hall, Delft
Vrijthof, Maastricht
The impressive Erasmus Bridge is nicknamed 'The Swan' for its incredible light blue pylon which holds up the asymmetrical cables that suspend it. The bridge connects the north and south parts of Rotterdam. The Netherlands is famous for its windmills, some of the most iconic being in the village of Kinderdijk. You can walk around the serene waterways here to get the best views of the Kinderdijk Windmills. The Rijksmuseum in Amsterdam is the Dutch national museum, dedicated to art and history. Opening in 1885, the building itself is a wonderful blend of old and new with the addition of the Asian Pavilion in 2013. We also recommend The Delft City Hall in Delft that has been restored to its original Renaissance design, and of course the Vrijthof in Maastricht, a beautiful square surrounded by the cities most impressive buildings.
Top 4 Natural Sights
Hoge Veluwe National Park
Keukenhof Gardens
Canals of the Jordaan, Amsterdam
Wadden Islands
The Hoge Veluwe National Park is a beautiful landscape whose sand dunes and woodlands make for scenic walking and cycling, while also being home to the Kröller-Müller and Museonder museums. Located in southern part of the country near the town of Lisse are the Keukenhof Gardens, one of the largest flower gardens in the world, and a fantastic way to see the Netherlands famous tulip varieties. Amsterdam is the Venice of the north, the canals of the Jordaan neighborhood makes up the central part of the city and is named after its wonderful trees and flowers. The Wadden Islands are a stunning archipelago in the North Sea. Many of the islands have fantastic cycle routes across sandy wilderness areas that transport you between the island's many historic villages.