Sixt Car Rental in Montego Bay
Our Service
 |  
Traffic Information
 |  
Sixt Tips
 |  
Sightseeing Destinations
 |
Business Travel
|  
FAQs
The branch menu gives you more details about our Sixt rent a car Montego Bay services. You can see about the opening hours and car categories at each location. Clicking on the second tab opens a Google Maps overview which allows you to see exactly where we are situated. If renting a car at Montego Bay Sangster International Airport, an employee will meet you and lead you to our courtesy shuttle that takes you directly to our car rental station. A the Hilton Rose Hall Resort and Spa you can find us inside the hotel lobby.
Our Service
No matter if you are on a family vacation or an extended weekend getaway our fleet provides plenty of luxury and economy car rental options. We have comfortable sedans, minivans and SUVs to help you travel with more freedom and flexibility. Regardless of which you model you choose you can customize it to your needs with our useful add-ons. Great deals can be had on extras such as GPS, additional driver coverage or protections like Collision Damage Waiver. Child and baby seats can also be tacked on to your car rental in Montego Bay so you can leave yours at home and travel lighter. Head to our online booking page to do a quick price comparison of the rental cars on offer during your desired dates. Please be aware, however, reservations are only guaranteed for the car category and not to receive a specific model.
Traffic Information
To help you have the best experience with your Montego Bay car rental we want to share some tips for safer driving while in Jamaica. The often rugged terrain of the island means road conditions are not always ideal. Check your route before heading out on a longer road trip, especially in the rainy season from June through October. Be prepared as well to drive with caution as you will likely encounter potholes, winding roads, and people or animals that might suddenly cross your path. Driving is on the left hand side of the road in Jamaica.
From Montego Bay you have access to major roadways that will take you to other popular destinations. For example, the A1 is a 151 mile long stretch that runs along the coast from Montego Bay to St. Ann's Bay and then drops down to Kingston. On this route you can travel to hot spots such as Falmouth and Discovery Bay.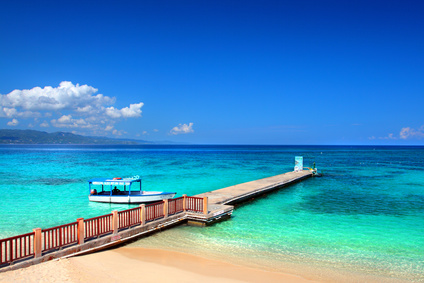 Sixt Tips
The second largest city in Jamaica, Montego Bay, is a great base from which to experience this part of the island. Whether looking to relax or looking for an adventure, with a car rental in Montego Bay you can take in the sights and soak up the sun. Although there are great attractions in Montego Bay, like the sunbathing and snorkeling at beaches along the Hip Strip, there is also a lot on offer just a car ride away. Make an excursion to Falmouth to check out the nearby Luminous Lagoon, home to millions of dinoflagellates. Here you have the unique opportunity to swim in this enchanting, glowing water by joining one of the nightly boat rides from Glistening Waters Marina. Or drive in the other direction, heading west on a scenic drive along the Caribbean to arriving in Negril, just about an hour away from Montego Bay. Here you can enjoy miles of white sand beaches, clear waters and watch some of the prettiest sunsets on the island.
While you can have a good time in Jamaica year-round there are a number of seasonal factors that could influence your trip. Special events take place during certain months, while cheaper travels can be had in others. Here are a few things to keep in mind when planning your Montego Bay getaway:
February to April is Carnival Season so come on down to join the party or wait until the crowds have dispersed.
October to December means nice weather and not as expensive fares on flights and hotels.
June to November is hurricane season so those who shy away from rain might want to plan a trip during the dryer months.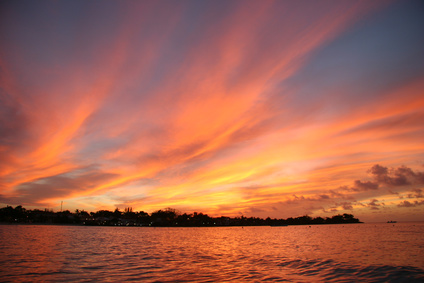 Sightseeing Destinations
One recommended road trip is to drive east along the North Coast to Ocho Rios. Not only is the scenery stunning en route, but once you arrive you are rewarded with even more beauty. While there you can climb waterfalls, swim with dolphins and visit the Shaw Park Gardens.
Distance to Ocho Rios
From Montego Bay Sangster International Airport via A1: 60.5 miles, about 1 hour and 30 minutes
From Montego Bay/Hilton Rose Hall via A1: 52.7 miles, about 1 hour and 20 minutes
Visiting the village of Nine Mile in Saint Ann Parish, is another great outing. This is the birthplace of Bob Marley and his family leads guided tours of local sights that influenced his music. End your tour by pay your respects to this brilliant musician at his mausoleum.
Distance to Nine Mile
From Montego Bay Sangster International Airport via A1: 62.3 miles, about 1 hour and 30 minutes
From Montego Bay/Hilton Rose Hall via A1: 54.4 miles, about 1 hour and 40 minutes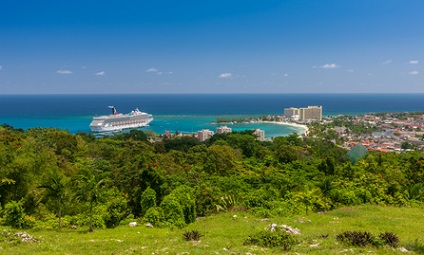 Business Travel
Montego Bay is one of Jamaica's main economic centers due to its large tourism sector. It is the headquarters of several international resort chains such as Sandals. The city has also become a BPO hub with call centers for many Fortune 500 companies and the Montego Freezone is dedicated to this activity. Besides downtown and the soon-to-be Barnett Tech Park the Fair View/Bogue district is also becoming a hub for business and is home to the Fair View Retail and Business Park. Industry events are often held at the Montego Bay Convention Centre.
Distance to the Montego Bay Convention Centre
From Montego Bay Sangster International Airport via A1: 7.4 miles, about 15 minutes
From Montego Bay/Hilton Rose Hall via A1: .07 miles, about 3 minutes

FAQS
Below are the quick answers to some of our most frequently asked questions. Please be reminded that every country has slightly different rules and regulations, so for the most specific and detailed information pertaining to your desired rental please visit rental information for more information.
Which documents are needed to pick up a rental car?
What is included in the rental charges?
Can I rent a specific car model?
Can I change my booking and do I have to pay a cancellation fee?
Can I cross borders with my rental car?
Can I rent the car at one place and drop it off at another station?
What is Sixt's refueling policy?
What add-ons are available and how much do they cost?
Can I rent a car with unlimited mileage?
Does Sixt deliver and/or collect rental cars?
Do I have to pay a security deposit?