Sixt rent a car in Budapest
Click to jump to: Our Service  |  Traffic Information  |  Sightseeing Destinations  | Business Travel
Whatever your preferred rental vehicle may be, our fleet of top quality, top brand rental cars has you covered. From compact city cars to large family SUVs, there's an affordable rental vehicle for all transportation needs. Our flexibility is your advantage, with durations for our car rental in Budapest ranging from an hour to a day or even a month. Please note that while we strive to provide customers with the vehicle they want, specific models are subject to availability at each branch.
Our Service
With an extensive collection of up-to-date rental cars, there's an option for every type of traveler. Large groups can choose from a selection of spacious minivans, city dwellers go for a compact car, and when in the mood for some luxury car rentals, opt for something flashy like a convertible sports car. Budget conscious renters will also not be disappointed, with a large array of affordable rental vehicles and a handy price comparison overview for selected dates that will help you find the best deals.
Booking is available 24/7 online or by calling our reservations hotline. And don't forget to check out all the extras and current deals you can choose from for an even better rental experience. Upgrades like child seats, GPS, additional driver coverage and more are readily available to make your Budapest adventure as comfortable as possible.
Some of our available extras:
Child seats for babies, toddlers and small children
Snow chains and ski rack
VIP Parking
Mobile WiFi
Loss Damage Waiver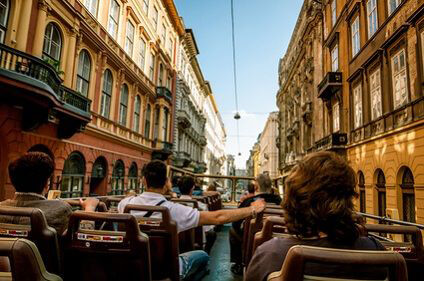 Traffic Information
Budapest functions as a major highway hub and many roads end within the city limits. Adding to an overall sense of overview, Budapest's road system is conveniently designed with several ring roads and avenues expanding out from the city center. Ring road M0 around Budapest is the focal point of traveling in and out of the city with, when finished, 66 miles of highway in length. From there you can take the M1 to beautiful Bratislava or go even further to imperial Vienna.
Avoid driving during rush hours from 8am to 10am and 4pm to 6pm, especially on the great boulevard Nagykörút. When it comes to parking, Budapest is just like any other major city and has its own rules to follow. Parking is divided into different zones with it generally being paid from 8am and 6pm from Monday to Friday. On-street parking is free on the weekends. More conveniently, Budapest has numerous parking garages scattered around downtown that are easy to access, safe and readily available.
Sightseeing Destinations
With its impressive natural scenery, Art Nouveau architecture, and vibrant culture, Budapest is pure magic. The Eastern European metropolis has two faces: Buda, with its glowing hills and enchanting castles, and the bustling Pest with all the hustle of shops, restaurants and bars you can think of.
'Taking the waters' has been a Budapest experience since the time of the Romans. How could you miss out? Whether you're seeking a cure for whatever ailment or are just in it for the fun and relaxation, Veli Bej Baths are the way to go. One of the oldest (1575) and most beautiful Ottoman-era baths in Budapest, with five thermal pools of varying temperatures, it's not as tourist heavy as the other hot spots and therefore definitely worth a visit.
Called the 'City of Living Art', Szentendre is a picturesque town that sits at the foot of the Pilis Hill, on the Danube bank north of Budapest. Due to its location close to the Hungarian capital, it's perfect for a daytrip with your rental car when you're longing for some country side.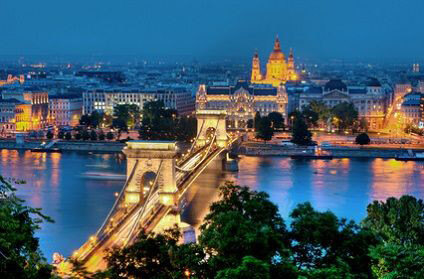 Business Travel
Budapest is a major economic hub that is classified as an Alpha-world city by the Globalization and World Cities Research Network. It is the second fastest developing city economy in Europe and is locally and internationally a focal point for banking and finance, real estate, retail, trade, transportation, tourism, media, advertising, legal services, accountancy, insurance, fashion and the arts. Budapest has also emerged as a technology and start-up epicenter with many start-ups calling the innovative city home, including Prezi, LogMeIn and Nav N Go. Testament of this thriving tech scene is the start-up community Mosaik in the heart of Budapest, acting as a platform for learning, connecting and growing within the industry. The perfect hot spot to connect, network and do business at.