Discover ancient Heraklion with a rental car
Our Service
 |  
Traffic Information
 |  
Sixt Tips
 |  
Sightseeing Destinations
 |
Business Travel
|  
FAQs
Use the drop down branch menu above to gather all the information you need about our Heraklion locations. On the first tap you can see about our opening hours and car categories at each branch. Click on the second tab to display our locations on Google Maps and see which is most convenient for your travels. Rent a car at Heraklion Airport or choose one of our city center locations. All our branches offer a wide range of rental cars, ensuring you can find a match for your budget and plans. Once you have decided which branch works best for you, head to our booking page where you can make a quick price comparison between our top quality models before reserving online. Please note we can only guarantee you to receive a vehicle in your selected car category as specific models are subject to availability at our Sixt rent a car Herkalion branches.
Our Service
Our fleet features reliable, top quality vehicles from world-class manufacturers. An array of up-to-date compact cars and sedans, sports cars and convertibles and SUVs are available at each branch. When you have chosen your car category include any combination of our affordable extras to help make your trip more comfortable, practical and secure. Our vehicles all come with air-conditioning to keep you cool in the Mediterranean summers. If you are traveling with a baby or small child you can tack on one of our appropriate child, baby or booster seats.
Available add-ons and protection options:
GPS
Personal Accident Protection and Collision Damage Waiver
Theft Protection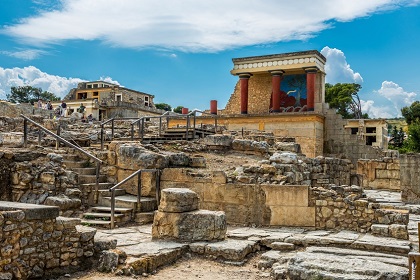 Traffic Information
Roads are generally of excellent quality in Crete which make traveling around the island with your rental car rather easy. Signs are posted in both Greek and English with internationally recognized traffic control and stop signs in use. There are many mopeds about used by tourists and locals alike, so be aware of their presence in cities and on highways. You might encounter some traffic in the city center but the main routes outside the city are generally free of congestion.
With Heraklion's large port you have major ferries connecting the city to other Greek islands and the mainland. The European route the E75 comes through Heraklion making highway connections with Chania, Agios Nikolaos and Rhethymno. The airport is only three miles east of the city on the Ikarou main road, the journey will take you about ten minutes.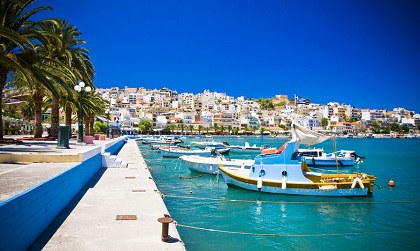 Sixt Tips
A stunning aspect of Heraklion is its Venetian era architecture. The Venetian Fortress of Rocca Al Mare still stands in the port, it is remarkably preserved and an iconic feature of the city. From the fortress you can walk or drive half a mile into the city center in around ten minutes. The center is still defined by the Venetian walls of the city which we highly recommend taking a walk around, the whole length will take you about an hour. At the heart of the center is the famous Lions square, like many squares in the city its Venetian fountain is superbly well preserved.
With a rapid expansion in size and historic shifts in the political landscape Heraklion can seem like a modern urban sprawl, but look harder and you will find it is filled with sights where its amazing history shines through. Another fine example of Venetian architecture is The Loggia, a Venetian city hall that has been restored to its former glory, now an ancient building with a modern use. We also recommend a visit to the Archealogical Museum where you can see art from Europe's earliest civilization, the Minoans. The museum is revered worldwide for its collection that has a chronological span of 5,500 years.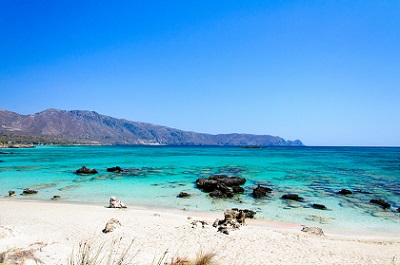 Sightseeing Destinations
There are many archeological treasures on this beautiful island but Knossos has to be the most important. It is considered to be Europe's oldest city and the capital of Minoan Crete. The ruins were discovered in the early 1900s and since then parts of the complex have been restored to give an impression of some aspects of Minoan life. In Greek mythology, King Minos was supposed to have instructed Daedalus to construct a labyrinth to hold his Son, the Minotaur! The maze-like ruins of Knossos animate these legends.
Distance to Knossos
From Heraklion Airport via VOAK/A90/E75: 5 miles, about 14 minutes
From Heraklion city center via Leof. Knosou: 4 miles, about 16 minutes
Beautiful beaches line the coast of Crete but there are also places of staggering beauty inland. Around 50 miles southeast of Heraklion and over 2600 feet above sea level is the Lasithi Plateau. The drive itself is awe inspiring but on arrival you get a magnificent view across the plateau that gives a different perspective to life on this island. The land is extremely fertile and dotted with small white sailed windmills that pump water, which is a local design. Although you should expect that few people in the area will be able to speak English you can expect to find your way to a comfortable spot to enjoy the great locally grown wines and delicious fresh food.
Distance to Tzermiado Village, Lasithi Plateau
From Heraklion Airport via KOAK/E75: 35 miles, about 1hr 5 minutes
From Heraklion city center via KOAK/E75: 36 miles, about 1hr 8 minutes

Business Travel
Crete has a longstanding and robust agricultural industry along with its strong services industry due to the increase in tourism. Heraklion's port has been in use for hundreds of years and is still centrally important to the Cretan economy. Additionally, Crete's hotels and resorts provide a wide range of luxury business venues for meetings, conferences and accommodation.

FAQS
Below are the quick answers to some of our most frequently asked questions. Please be reminded that every country has slightly different rules and regulations, so for the most specific and detailed information pertaining to your desired rental please visit rental information for more information.
Which documents are needed to pick up a rental car?
What is included in the rental charges?
Can I rent a specific car model?
Can I change my booking and do I have to pay a cancellation fee?
Can I cross borders with my rental car?
Can I rent the car at one place and drop it off at another station?
What is Sixt's refueling policy?
What add-ons are available and how much do they cost?
Can I rent a car with unlimited mileage?
Does Sixt deliver and/or collect rental cars?
Do I have to pay a security deposit?