Discover ancient Heraklion with a rental car
Click to jump to: Our Services  |  Traffic Information  |  Sixt Sightseeing Tips
Rent a car at Heraklion Airport or choose one of our city center locations. All our branches offer a wide range of rental cars, ensuring you can find a match for your budget and plans. Booking online or in our mobile app is easy and you can see which vehicle categories are available for your chosen dates. Please note we can only guarantee you to receive a vehicle in your selected car category as specific models are subject to availability at our Sixt rent a car Herkalion branches.
What to Do in Heraklion in Winter 2019
Heraklion is an ancient city on the island of Crete and winter is a great time to visit. Prices are half of that during hotter months and crowds are much smaller. The weather during winter is pleasant, in the mid-50s to low 60s between December and April, and for surfers the waves on the island can reach 10 feet. With the weather still nice, Heraklion remains an amazing place to simply walk around and admire the ancient structures. In winter, the rainy season, the rivers and gorges are again filled with water, making an excursion to them very popular. If it rains you can head to the Castello del Molo, a fortress on the water, or the cathedral St. Mina. A rugged SUV is advised to see as much of the entire island as possible.
Our Services
Our fleet features reliable, top quality vehicles from world-class manufacturers. An array of up-to-date compact cars and sedans, sports cars and convertibles and SUVs are available at each branch. When you have chosen your car category include any combination of our affordable extras to help make your trip more comfortable, practical and secure. Our vehicles all come with air-conditioning to keep you cool in the Mediterranean summers. If you are traveling with a baby or small child you can tack on one of our appropriate child, baby or booster seats.
Available add-ons and protection options:
GPS
Personal Accident Protection and Collision Damage Waiver
Theft Protection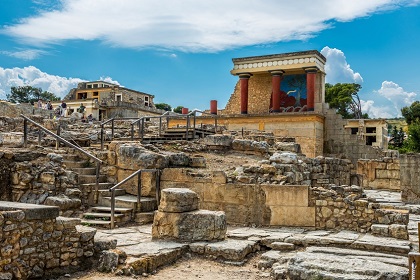 Traffic Information
Roads are generally of excellent quality in Crete which make traveling around the island with your rental car rather easy. Signs are posted in both Greek and English with internationally recognized traffic control and stop signs in use. There are many mopeds about used by tourists and locals alike, so be aware of their presence in cities and on highways. You might encounter some traffic in the city center but the main routes outside the city are generally free of congestion.
With Heraklion's large port you have major ferries connecting the city to other Greek islands and the mainland. The European route the E75 comes through Heraklion making highway connections with Chania, Agios Nikolaos and Rhethymno. The airport is only three miles east of the city on the Ikarou main road, the journey will take you about ten minutes.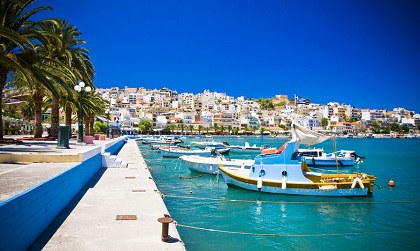 Sixt Sightseeing Tips
A stunning aspect of Heraklion is its Venetian era architecture. The Venetian Fortress of Rocca Al Mare still stands in the port, it is remarkably preserved and an iconic feature of the city. From the fortress you can walk or drive half a mile into the city center in around ten minutes. The center is still defined by the Venetian walls of the city which we highly recommend taking a walk around, the whole length will take you about an hour. At the heart of the center is the famous Lions square, like many squares in the city its Venetian fountain is superbly well preserved.
With a rapid expansion in size and historic shifts in the political landscape Heraklion can seem like a modern urban sprawl, but look harder and you will find it is filled with sights where its amazing history shines through. Another fine example of Venetian architecture is The Loggia, a Venetian city hall that has been restored to its former glory, now an ancient building with a modern use. We also recommend a visit to the Archealogical Museum where you can see art from Europe's earliest civilization, the Minoans. The museum is revered worldwide for its collection that has a chronological span of 5,500 years.