Rent a car with Sixt in Santiago de Chile
Our Service
 |  
Traffic Information
 |  
Sixt Tips
 |  
Sightseeing Destinations
 |
Business Travel
|  
FAQs
Clicking on the drop down menu for each location will reveal important details such as branch opening hours, address and the car categories you can choose from. You can also click on the right hand tab to open up a Google Maps view showing all our branches. This will help you decide which branch is best suited for you to rent a car in Santiago de Chile. Please be aware that as specific car models are subject to availability at each of Sixt branches reservations can only be guaranteed for the selected car category.
Our Service
Our comprehensive range of vehicles available for car rental in Santiago de Chile means we have vehicles for every occasion. You will find prestige sedans, which are perfect for business trips, along with comfortable compact cars. Opt for a sporty SUV to explore the city surroundings or add some fun and excitement to a weekend getaway with a convertible. On our online booking page you can do a quick price comparison of the vehicles on offer during your rental period and find the right match for your budget and plans.
When you rent a car with Sixt you can enjoy a number of benefits and options that allow you to customize your rental to your needs. Many of our car rental deals offer free cancellation, so you won't be penalized if you your plans change. Unlimited mileage can also keep costs down on an extended trip, while additional coverage like theft protection and tire and windscreen coverage help you give you more peace of mind. You can also tack on an additional driver, a GPS or a child seat. Please note that Collision Damage Waiver (CDW) is mandatory with car rental in Santiago de Chile and limits diver responsibility in case of an accident or vehicle damage. If you do not want to include CDW then you will be asked to sign a document accepting full responsibility towards Sixt for all possible damages of the vehicle.
Traffic Information
If you are arriving in the city by air, Santiago de Chile International Airport is around ten miles to the west of the city center. The journey takes about fifteen minutes on the Costanera Norte or 22 minutes on either the Autopista Central or Ruta 68. The main north-south highway is Ruta 5, which runs north to La Serena and south all the way to Quellon. The major roads to the west are Ruta 78, which takes you to the coast at San Antonio and Ruta 68, which runs to Valparaiso. Ruta 70 is the main ring road around the city.
Once in the city, you will find the streets laid out in a familiar grid system, so navigation is fairly easy. Rush hours are between 8 am to 9:30 am in the morning and 6 pm to 8:30 pm in the evening. The busiest areas are Downtown, Las Condes and Providencia. Look out for bus lanes on the major city routes, which are indicated by a yellow line. You are not allowed to drive in these. On-street parking is widely available and there are also a number of enclosed parking garages.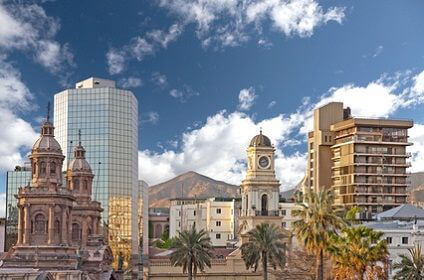 Sixt Tips
For the most spectacular views of the city, drive to the top of Cerro San Cristobal, which is in the vast Parque Metropolitano. There is a huge statue of the Virgin Mary on the summit and on a clear day you can see all the way to the Andes. The park also houses the city zoo, botanical gardens and two swimming pools. Plaza de Armas is the main city square and is home to the national cathedral and central post office. You will also find lots of Peruvian food and restaurants in the area. Another destination for foodies is the Mercado Central. Here you will find countless stalls selling all manner of food, along with several restaurants. Seafood is a specialty. Santiago Centro is the main Downtown area and has many pedestrianized streets ideal for a stroll. You can visit the Presidential Palace a La Moneda for a guided tour. This is free but you have to book at least a week in advance and the tour is conducted in Spanish. Lovers of culture should visit the Centro Cultural Palacio de La Moneda beneath the Presidential Palace and also the Modern Art Museum and National Museum of Fine Arts in the Parque Forestal. Santiago de Chile is also home to a thriving jazz scene and you will find lots of atmospheric jazz clubs across the city.

Sightseeing Destinations
Winemaking is an important industry in Chile and the country offers some of the best wines in the New World. There are many wineries to visit but the Vina Cousino Macul is one of the easiest to get to. It's just 10 miles or so east of the city center via Isabel Riquelme. The winery offers guided tours of the pretty buildings and vines and tastings conducted in both Spanish and English.
Distance to Vina Cousino Macul
From Santiago de Chile International Airport: 27 miles, about 56 minutes
From Santiago La Dehesa: 15 miles, about 51 minutes
From Santiago de Chile Vitacura: 9 miles, about 44 minutes
Chile has some spectacular scenery and much of it is within easy reach of Santiago de Chile when you choose car rental. Take a trip north from the city to Los Andes to experience some of the finest natural landscapes the country has to offer. Los Andes is the access point for the Portillo ski resort and is the gateway to the Rio Blanco National Reserve, where you can find pumas and condors. It is also the starting point for the stunning Uspallata Pass route and has a fascinating Historical and Archaeological Museum.
Distance to Los Andes
From Santiago de Chile International Airport: 56 miles, about 1 hour 16 minutes
From Santiago La Dehesa: 55 miles, about 1 hour 13 minutes
From Santiago de Chile Vitacura: 51 miles, about 1 hour 9 minutes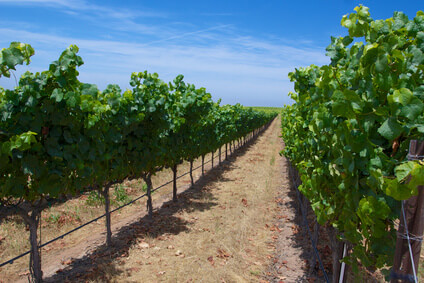 Business Travel
Santiago de Chile is the financial and industrial center of Chile and generates almost half of the country's GDP. The success of the economy is reflected in the new Costanera Center development. This features towering office blocks, including the Gran Torre Santiago, the tallest building in Latin America, along with hotels and shopping malls.
Distance to Costanera Center
From Santiago de Chile International Airport: 18 miles, about 26 minutes
From Santiago La Dehesa: 10 miles, about 19 minutes
From Santiago de Chile Vitacura: 4 miles, about 10 minutes

FAQS
Below are the quick answers to some of our most frequently asked questions. Please be reminded that every country has slightly different rules and regulations, so for the most specific and detailed information pertaining to your desired rental please visit rental information for more information.
Which documents are needed to pick up a rental car?
What is included in the rental charges?
Can I rent a specific car model?
Can I change my booking and do I have to pay a cancellation fee?
Can I cross borders with my rental car?
Can I rent the car at one place and drop it off at another station?
What is Sixt's refueling policy?
What add-ons are available and how much do they cost?
Can I rent a car with unlimited mileage?
Does Sixt deliver and/or collect rental cars?
Do I have to pay a security deposit?