Sixt rent a car offers a large selection of rental cars in Albania if you are looking for a economy car, van, SUV, or luxury car. When you rent from Sixt you will also be able to choose a rental period which is perfect for your trip if you are looking for a weekend vehicle or a long term rental car. So if you are looking for a car rental company in Albania look no further Sixt has all of the rental services to make your vacation a great one in Albania.
With a rental car from Sixt across Albania
Make the most of your trip to Albania and experience the sights up close by renting a car with Sixt. Trusted worldwide, Sixt can make your travel decisions as easy as choosing that evening's dinner. Sixt offers a wide range of rental cars, including convertibles, 4x4s, vans, sports, luxury vehicles, and much more. Our Albanian branch is conveniently located at the Tirana Airport in Rinnas. Drivers with safety in mind will appreciate features such as personal accident protection and supplemental liability insurance with their car rental.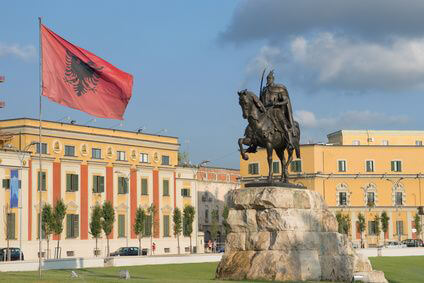 Driving in Albania
Keep in mind every country has different laws concerning vehicle behavior and registration. This is an important consideration when you rent a car in Albania, or anywhere abroad. Here are a few tips to get the most out of your driving time in Albania:
Be wary of minor roads. They are often in poor condition, and sometimes disappear completely. Locals will tell you whether it is safe to travel away from the highway.
Frequently you will encounter changes in speed limits and police will be monitoring your speed. For that reason, make sure you have all necessary insurance paperwork. (Sixt will help with that, of course.)
Though major highways are well-paved and free, you can expect erratic behavior from other vehicles. Pedestrians and livestock cross or walk alongside the roads in Albania.
Greek holiday seasons greatly increase traffic, particularly Orthodox Easter.
There are few other driving regulations that you need to know before you plan to rent a car and drive in the Albania.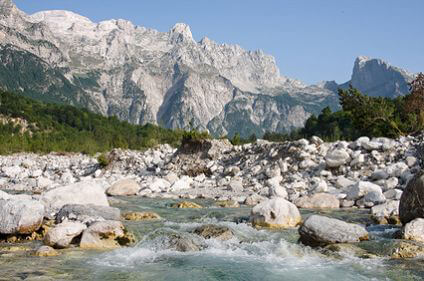 What to see with your car rental in the Albania
Car rental is the preferred method of seeing the countryside in Albania. We recommend taking a leisurely drive along the Vlorė-Saranda mountain road. Considered the gateway to southern Albania, this scenic route offers beautiful views of both mountains and the Ionian sea! There are many opportunities to stop as well. You could visit one of the many villages nestled along this road or stop by Castle of Lekures. Butrint, an ancient Greek city and UNISCO world heritage site, is also on the Vlorė-Saranda. All of this and more is waiting for you when you rent a car with Sixt.