London Stansted Airport Car Rental
Customer Reviews About Sixt





| 19.04.2015 15:37
| 07.04.2015 09:52 Very impressed with the service received, particularly the friendly staff who I dealt with at Stansted. - Martin
| 19.03.2015 11:51 East, efficient, very good value for money.
| 03.03.2015 12:19 This is the first time I've used you recommend by a friend you out shine you competitors hands down, I thought the hole process from start to finish was excellent. - Rolf
| 01.03.2015 13:57 The service I received at stanstead airport was exceptional. The gentleman with the beard in the collection/handover point deserves company recognition. Friendly courteous and not only helpful but Remembered that I was returning with a lot of luggage and came to meet me with a trolley. I fully appreciate that another day...
| 26.02.2015 13:59 Nothing to complain about, car was exactly what I was expecting and took less than 10 mins to collect. My compliments to your efficiency
| 10.02.2015 11:09 The man to whom we returned the car was excellent. He owns a Porsche. His colleague, with whom we had no dealings (I think bearded or at least older) was also very friendly and polite to us.
| 22.01.2015 11:22 The lady who assisted me whilst in the rental office was extremely helpful and knowledgable.The vehicle was immaculate. Excellent all round value and service.
| 06.01.2015 11:30 I had some problem with the car( I thought I did)And I called the office , they called me back in no time and solve my problem straight away. Michalis
| 29.10.2014 20:47 Efficient check in and collection of vehicle
| 25.08.2014 18:35 Real Family Service, Super Car, absolutely Perfect Service. I am renting a Lot, but Never so personally And Real friendly. Stay like that, we come again!
| 24.07.2014 18:54 Trouble free rental from start to finish!!
| 22.07.2014 16:31 It was fairly quick and pain free (unlike some other rental experiences). The employee at Stansted was very clear and helpful and the car was great.
| 20.07.2014 11:35 A good low mileage car in unmarked condition provided. Helpful, friendly staff. A no hassle rental at a great price. No pressure to take out extra insurance etc
| 15.07.2014 10:18 I have tried other companies and I always come back to Sixt. I have never been scammed or taken advantage of by your employees and I trust your company for my visits. I tried a couple of other companies my first trips to the UK and I have only used your company since. I'll always choose Sixt when visiting London Standted!
| 01.07.2014 10:03 I left some personal belongings in the boot of the vehicle. The staff were fantastic at finding and looking after them. When I came to collect they were ready for me. And the gentleman behind the counter helped me to leave the car efficiently.Was deeply appreciated and always nice to see how kind people can be.RegardsSean Scholes
| 20.06.2014 20:17 It was my first time renting a car and literally everything went perfectly that first time. The customer support guys did a great job, the pick up and drop off process was efficient, the car was great, clean and new and there were no hidden charges. Simply the most comfortable way to get around!
| 19.06.2014 13:19 Very good service
| 19.06.2014 10:19 I was taken aback upon arrival at Stansted to find the office closed due to staff problems, however the young man located in the car park office was extremely polite, very thorough and totally professional. I was even offered a choice of vehicles within my chosen group a nice change from the take it or leave it atitude I have...
| 11.06.2014 10:27 Tod employee was a great person and hes attitude and willingness was outstanding thank you
| 11.06.2014 08:06 ~This is the first time I have used Sixt and was very impressed with the service. Also the first time I had been to Stanstead airport - the staff were very helpful and efficient in directing me both within the terminal and also at the car pick up point
| 30.04.2014 21:28 excellent customer service and when I returned the car the man on the outdoor office was a credit to the business!
| 29.04.2014 12:26 Your staff at this location are very professional, friendly, and helpful.
| 27.04.2014 09:44 Having booked the rental by internet my 3 main satisfaction points refer to that interaction which was better than others, hence the collection process was quicker and there was no issues with the staff at the pick up who were efficient and polite at collection and return.
| 10.04.2014 10:57 The service throughout was exceptional and I shall certainly use Sixt again in the not too distant future. Many thanks indeed !
| 16.03.2014 10:51 Although I booked a VW Golf, the vehicle that I received was a Vauxhall Astra Estate, which turned out to be more suitable! Thank you Sixt at Stanstead for the brilliant service. Much appreciated, will definitely use Sixt again on my return to Stanstead.
| 15.03.2014 15:19 just brilliant service from start to finish
| 09.03.2014 11:27 Would definately use Sixt again, I had a brand new, never driven mini cooper countryman. The staff were friendly, polite and above all extremely ptofessionsl ..thank you for a smooth transition.
| 04.03.2014 16:54 i m really pleased with every aspect of renting a car from Sixt.Keep up the good work
| 03.02.2014 09:05 Very friendly guy at the car delivery area and the girl at the front desk was very polite. The car included GPS which is always good.
| 20.01.2014 07:55 The process was very efficient and the guy WHO showed me to the car was very polite and helpful. The only slight gripe I would have was that the car wasn't very well cleaned inside. It was tidy, but there was a lot of dust and grime around the main instruments. But overall, pretty good.
| 08.01.2014 22:00 Everything was great, we opted for upgrade (which made a huge difference to our journey). Sarah at Stansted was very friendly and informative. Would happily rent sixt again and recommend to friends. Thanks
| 20.12.2013 11:11 I have hired cars from different hire firms during my life time, but for this particular hire l was very impressed. From pickup to returning the vehicle, the professional approach from all the staff left me with an overall satisfaction that we can certainly do business again.
| 13.12.2013 11:18 Very professional and helpful staff.
| 09.12.2013 22:39 All good. Nice with a phone call day before pick-up!
| 09.12.2013 07:22 Absolut perfekter Upgrade von Chevrolet Cruze auf Mercedes E-Klasse.
| 08.12.2013 11:21 I left some stuff in the car and the people at Stansted were very helpful in helping me retrieve it. It was that extra service that made such a good impression. Well done to them.
| 02.12.2013 16:02 this is my first rental with Sixt and i was impressed with every aspect of the rental, up until then I had used Europcar whom service was terrible.
| 04.11.2013 08:44 A very good service. Very efficient pick up and drop off. A new car and immaculate. Totally impressed.
| 01.11.2013 11:42 Upgrade was very welcome, many thanks. I look forward to using Sixt again in the future.
| 04.10.2013 16:58 Served by a gentleman who was extremely helpful and also arranged a smashing vehicle for me!
| 27.09.2013 20:15 It's just easy with you guys, I normally have the keys ready there for me and I'm on my way in few minutes. Thanks for you services.
| 13.09.2013 10:26 At first we where disappointed as we booked a vw or Astra station wagon but was giving a Fabia station wagon which is by far smaller then the original vehicle booked. After our complaint the personnel was very helpful and offered us an upgrade for another vehicle of a bigger class for free. This satisfied our requirements.Thanks
| 11.09.2013 19:35 I liked the fact that I could book online and get it all sorted out beforehand so all I had to do was turn up and drive off.
| 14.07.2013 14:27 Quick and simple
| 10.07.2013 06:47 The staff Merv and another lady were very helpful and made the process very easy.
| 07.06.2013 13:19 I just cannot fault the service from the reservation to the return of the mini-bus which was very clean and in excellent condition.
| 28.05.2013 17:16 Good value, very friendly and helpful staff at both the STN rental desk and the pick up/ drop off point. Pity I booked through easy - it would have been even better value directly.
| 27.05.2013 07:46 ms novak at the counter at the airport was extremely friendly and helpful. the dropbox for returning the key is very handy. loved the car.regards,
| 06.05.2013 13:31 I am very pleased with the service. The car has made satisfaction. Next time I would definitely use the services of your company.
| 06.05.2013 11:07 Service and patience of the staff in the carpark kiosk at Stansted were exemplary. Will hire from no other car hire company in future. Good value too. Thank you.
| 02.04.2013 00:00 Excellent process throughout and excellent staff at Stansted - I would not hesitate to come back to SIXT if I need to hire a car again
| 13.03.2013 00:00 Excellent service great truck, someone sensible on the phone to give advice, brilliant, 10/10
| 24.02.2013 00:00 The custmer service priovided by you staff was excellent
| 03.01.2013 00:00 Thank you for you excellent service. It was courteous, fast and great value for money.
| 27.12.2012 00:00 All your staff were very fiendley and efficient making the whole experiance a pleasure.
| 20.12.2012 00:00 Keep up the good work, I now always recommend SIXT to friends and family. I will be booking another car for new year without a doubt. Many thanks. J.B.Lewis.
| 24.11.2012 00:00 Excellent service & Vehicle very clean
| 18.10.2012 00:00 Keep up the good work you were fantastic and all your staff were most polite and friendly, very many thanks. John Knights.
| 07.10.2012 00:00 As usual, very good service from Sixt - we are regular customers and have two upcoming bookings in Austria and Germany.
| 07.08.2012 00:00 We were very happy with the price and the service
| 05.07.2012 00:00 Very positive experience. Good price, great car, very fast and friendly service, highly recommended. I hire vehicles frequently and find that the vehicles from Sixt are of a consistently higher standard (quality of vehicle, specification, age, condition) than many of your competitors
| 14.06.2012 00:00 Excellent customer service from your staff at both the rental desk and the returns area, probably the best customer service I have ever had from the staff at a car rental company. Great car, that even though I only booked the lowest level car was still the best car I have had at that level, a vauxhall Corsa. Excellent value and I will...
| 31.05.2012 00:00 Absolutely professional as always. I have reached a point where I would hesitate before using any other car hire firm. Fast and efficient service with a smile. Competitive pricing and a good vehicle. Thank you.
| 17.05.2012 00:00 Excellent service. Very pleasant staff. Great price. Will definitely use Sixt again.
| 10.05.2012 00:00 extremely efficient and friendly reception/drop off, staff courteous and helpful.
| 30.03.2012 00:00 Without doubt the best car rental experience I have ever had!The car was a pleasure to drive unlike the i30 i recently had from ################.
| 16.02.2012 00:00 This is the third time I have rented a car from Sixt, two times at Stanstead and ones in Malaga. A lot of companies have a lot to learn from you! I will let everyone know about Sixt.Thank You!
| 12.01.2012 00:00 Very kind service and desk employees. I am absolutely impressed by your helpfulness and kindness. You have a very satisfied customer. Thanks again! Anthony
| 13.10.2011 00:00 Well done,The staff member at reception was friendly, helpful and courteous. The van was well presented and exactly where it was supposed to be. Very good thank you!
| 11.10.2011 00:00 Great service. Quick check-in upon arrival was great. Thanks.
| 30.06.2011 00:00 I usually use Hertz, but was much more impressed with Sixt and will definately use you again. thank you.
| 09.06.2011 00:00 Perfect car and perfect customer service! Other companies should benchmark Sixt and learn from you!
| 02.06.2011 00:00 Great Audi A1 the best economy class I've ever rented. V.good price.and 1st class service. Thank you
| 02.06.2011 00:00 Extremely quick pick up and drop off, lovely vehicle,very happy, thank you
| 14.04.2011 00:00 really good service, thanks
| 07.04.2011 00:00 Booking a hire car with Sixt was very simple, the service was outstanding, a very pleasurable experience. Will have no hesitation in recommending Sixt to my friends & colleagues.
| 17.02.2011 00:00 Great Service, thank you
| 10.02.2011 00:00 Everything went well. Thank you for your efficiency.
| 01.12.2010 00:00 Good value. Efficient. Friendly staff. Only bad thing was the extra cost I have to pay because of age.
| 25.11.2010 00:00 The service we received from pick up at the airport onwards was excellent. The whole process was dealt with very smoothly and efficiently. Every member of staff who we came in contact with was polite and efficient and made the whole experience a pleasure. thank you
| 10.10.2010 00:00 all was just tooooo perfect
| 09.10.2010 00:00 It was a pleasure to deal with Sixt, this was my first time as I usually use budget or europcar. The car was excellent and the staff at your stansted depot couldn't have been more helpful. I was asking for some directions and almost immediately a team member produced an atlas and not only showed me what I wanted to know, but also then...
| 16.09.2010 00:00 The person who handledy rental was everso polite and very helpful. Nothing was too much trouble.
|
|
Location Details
Address:
Terminal, Bassingbourn Rd
CM24 1RW Stansted GB +44-844-4993399
Location:
airport
GDS - Code:
STN
SIXT #:
7611
Opening Hours
Mo. - Su.
06:00 - 23:00
Bank holiday
06:00 - 23:00
24 h return

Welcome to the London Stansted Airport Sixt rent a car office
Welcome to Sixt London Stansted Airport! My name is Kristian Staroselskij and I am the responsible for this airport location. Myself and my team are here to help you with anything you may need, and hope that you have an outstanding rental experience with us. We are located just 5 minutes walk from the Stansted Express station and 5 minutes from the bus stands. Our location is open 7 days a week, including Bank Holidays, where we have fully trained staff ready to assit in any way they can. We have a wide variety of cars for all needs, so why not call us to get the best deal possible! We look forward to seeing you at Stansted!
Anja Nowak ( Branch Manager )
Stansted Car Rental with Sixt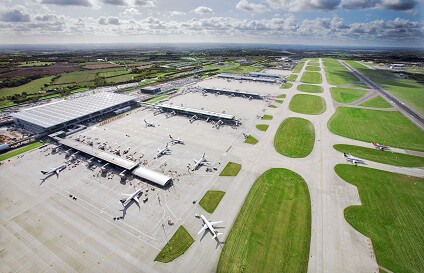 Copyright: London Stansted Airport
Stansted is situated close to the town of Stansted Mountfitchet, a lovely small town, with great things to do including a toy museum for children and adults of all ages, which is also situated next to a reconstructed Medieval Fort. It is also a great connecting point on the M11 Motorway to Cambridge and North-east London, plus Colchester (home to colchester zoo),Chelmsford, and Harwich on the A120.
Cambridge, well known for its academic background, and home to the infamous Pink Floyd, is a university town as well as the heart of England's high-technology centre. Cambridge has lots on offer throughout the year, with a folk music festival taking place annually every summer in the grounds of Cherry Hinton Hall since 1964, whilst for a week in may the Cambridge Beer festival is held, established in 1974, over 90,000 pints of beer and a tonne of cheese is consumed each year. There is also the strawberry fair, which is a free music and children's fair held each summer.
Another notable past time you can re-live in Cambridge is by renting a boat on the river cam and joining the shallow parts of the river to go punting, this is where you use a wooden quant pole to propell yourself through the waters. If you don't fancy the hard work, you can go watch the unviveristy of Cambridge boat club practice along the river. Most races take part at the end of Lent and easter term.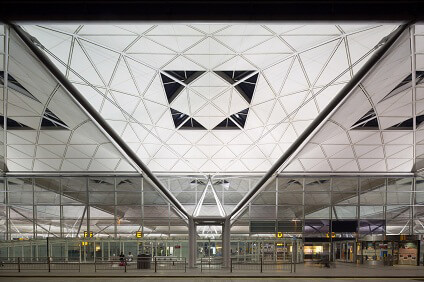 Copyright: London Stansted Airport
Top Five Things to do From Stansted Airport:
1. Cambridge Punting
2. Visit the Stansted Mountfitchet Medieval fort
3. Go to the Annual Beer festival held every summer in Cambridge
4. Visit Colchester Zoo
5. Day trip to sightsee around London
Stansted Airport
Stansted Airport is the third busiest airport in the London area and the United Kingdom, after Heathrow and Gatwick. It is one of the six international airports in London. It is also used by many private companies including Harrods, and is used for both business, freight services and state visits. The modern style of the Terminal was designed by Foster Associates, and is given the illusion of the bulding being contained by a floating roof.
Car Hire at Stansted Airport
Sixt's Stansted Airport branch is based within the grounds of the airport, perfectly situated for travellers seeking car hire and van rental straight from the terminal. Although the branch is based at the airport it also provides car rental and van rental to the local area of Essex and parts of North London. The Airport is situated next to the A120and the M11 just near to Bishop's Stortford and Harlow. Sixt car hire at Stansted Airport offers the ultimate solution for your holiday or business trip. Situated in the terminal, we have a wide range of car in all sizes you'll find the perfect hire car for your requirements. Whether you're looking for a luxury convertible, a large family car or a range of commercial vans and trucks for you to hireif you need to transport something a little more substantial than a car can carry. Our branch can offer something for everyone.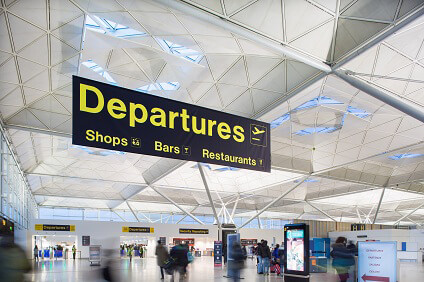 Copyright: London Stansted Airport
Location details
Opening Hours
| | |
| --- | --- |
| Mo. - Su. | 06:00 - 23:00 |
| Bank holiday | 06:00 - 23:00 |
Contacts / Lost & Found
SIXT # London Stansted Airport STN
Terminal, Bassingbourn Rd
CM24 1RW
Stansted
51.889939, 0.262830
+44-844-4993399
+44-1246-506129
SIXT # London Stansted Airport STN
Terminal, Bassingbourn Rd
CM24 1RW Stansted
Phone no.
+44-844-4993399
Fax
+44-1246-506129
Location plan - how to find us
By plane:
Please exit customs and approach the new Sixt desk, which will be to your left in the Arrivals hall. Your car will then be available from the Green on Airport Car park D.
By Bus/Train:
All the buses from local towns like Bishop's Stortford, Harlow or Braintree arrive at the bus and coach area at Stansted Airport. Trains will arrive at the Airport train station. Once you have arrived please follow the general procedure explained in the section "By Plane".
By car:
1. Exit M11 Motorway at Junction 8a, 2. Follow signs for the Terminal and Short Term Car Parks 3. Proceed to the Green Car Park, D. Park then take the covered walkway to the Terminal 4. The Sixt desk is located in the Arrivals Hall.
Return information:
06.00 am - 23.00 hrs MONDAY - SUNDAY Please approach the Terminal from Junction 8a of the M11. Follow signs for the Terminal and then Car Rental Return. Continue past the other short stay car parks until you reach the GREEN CAR PARK, (D). A Sixt representative should be available near to the Sixt Van, on site. If there is no one available please proceed to the Arrivals Hall in the Terminal and deposit the keys at the Sixt desk.
Out of hours pickup & return
Out of hour return possible.
For returns out of opening hours, please park the Sixt vehicle in the Green Car Park and take the key to our Sixt desk in the terminal building where a key drop box is available.
Categories and services at this location
Cars & vehicles
Sports cars & convertibles
4x4 / SUV
Choose vehicle using iPhone for pick up
24 h return