Ljubljana Airport Car Rental
Customer Reviews About Sixt





| 13.06.2015 17:57
| 25.04.2015 16:29 SEK A.: Second times book with Sixt, absolutely happy with the service and friendliness of the employee. The car was clean and parking when return was clear and easy to find. Will use again and hightly recommend.
| 17.04.2015 19:10 ROBERT G.: Uitstekende dienstverlening voertuigen zijn recent en goed onderhouden
| 23.02.2015 09:29 MILAN G.: Overall good experience with polite and well trained staff in attendance.Recommend SIXT
| 10.10.2014 11:22 Natalia K.: I was very glad to receive a better car than I booked because maybe it wasn't available at that moment. The price wasn't changed for me. Everything was so easy and professional during renting the car as well as giving it back. Thank you to your staff at Ljubljana Airport outlet.
| 03.10.2014 05:25 Sen D.: Forgetful, stupid me, totally mixed up the date of my booking and when I arrived at the rental car station in Ljubljana Airport, the young man manning the station was serving his last customer of the night before leaving. In spite of the fact that I was solely responsible for messing up my reservation, the gentleman was able to...
| 01.09.2014 13:57 JEAN-MICHEL B.: J'ai loué pour la 1ère fois un Yaris Hybrid : super !!
| 30.08.2014 17:38 CHARLOT P.: I hope that sixt cars are available in all countries within the EU. I am very happy about the service provided and for being transparent with prices. There were no hidden costs.For sure I will use sixt next time I rent a car
| 02.08.2014 09:28 JANEZ S.: Great experience of car booking in wonderful sLOVEnia! Can only recommend SIXT.
| 31.07.2014 19:45 FRANC G.: I visit Slovenia every year or two. This was the second year I rented the vehicle from Sixt. I live in Canada and am used to driving Volvo which is reasonably well built car. You gave me Audi A3 to drive and I was very happy with the vehicle and mileage.Next time I'm in Europe and need a vehicle I will definitely stop by your...
| 18.07.2014 10:33 RICARDO W.: 2nd time I've rented from sixt. Both have been efficient, good value and no problems.
| 22.06.2014 20:38 Milan H.: Special thx to Mr. Miklavcic Jure,keep up good work. See you next year....You are welcome to post my comments. Thanks again Milan
| 22.05.2014 18:21 MARK M.: I found the whole rental experience simple and hassle free. I commend Sixt for its quality vehicle hire combined with professional customer service.
| 08.05.2014 17:53 The staff are also always very friendly, and in general there is nothing but simplicity in renting with Sixt at the Ljubljana airport.
| 28.04.2014 14:40 ANDREA V.: Solo agradecimiento por hacer me estancia en Eslovenia mas placentera y sin ningún problema de transportación.
| 18.04.2014 17:33 MARTYN G.: Excellent service. I would not hesitate to use Sixt again and recommend them to friends and family.
| 25.01.2014 21:18 Rosemary G.: Thank you SIXT- it was a very easy and pleasant experience. We certainly would use this company again.
| 01.01.2014 16:30 Anton M.:I had great experience in Ljubljana airport. This process was great. I will do it again in July 2014 when I will come to Slovenia again.
| 25.11.2013 11:27 Roman F.: Zelo prijazno in korektno osebje, zlasti zaposleni, pri katerem sem avto prevzel in ga vrnil.
| 13.10.2013 17:14 Safet N.: You are simply the best !
| 14.09.2013 05:50 Pero L.: Everything is nice, easy and simple, it was a pleasure
| 12.09.2013 13:46 Belma B.: I can't say enough how good my rental experience was. From the time I picked up the vehicle, to the time I dropped it off. The simplicity of picking the car up and taking it back.
| 03.09.2013 16:06 Karri A.: Nothing to complain. Everything went very well. We booked Opel Astra or similar size, and we got Opel Insignia. Thank You !
| 20.07.2013 14:30 Aki A.: Most of all, I am satisfied that I was trusted when returning the vehicle. I didn't notice the hit in windscreen when I was receiving the car, it was not mentioned in the delivery form too. I rang to Sixt Slovenia(?) office after one hour drive and told this. I have red about different cases too. Really, the hit was not got...
| 03.07.2013 20:32 Breda M.: Very friendly staff, the Slovenian boys are a rear find in customer service.
| 21.06.2013 07:49 Sergej P.: The vehicle I originally booked was not available, so I got a free upgrade to the next category. The vehicle was new, clean, and the service was first class both on collecting the car as well as upon return. Over the years I booked a car with most car-rental firms, but 3 years ago I "discovered" Sixt, and in future I will...
| 17.01.2013 00:00 Damir A.: Many thanks to company and staff for perfect service!
| 06.12.2012 00:00 Iza C.: Very friendly service, many thanks to the team at Ljubljana airport where I usually take Sixt car!
| 29.11.2012 00:00
| 20.09.2012 00:00 John S.: we received very friendly and professional service upon arriving at the airpot SIXT rental office. all of our questions were answered. the car was clean, performed well throughout our trip and returning the car was also a very smooth procedure. your staff deseves wondeful credit.
| 26.08.2012 00:00
| 09.08.2012 00:00 Henrique S.:I am very pleased to say that I had one of the best services with Sixt rental cars. Congratulations!
| 14.06.2012 00:00 Nigel W.: Helpfull Staff , Quality Cars , Good Price
| 11.05.2012 00:00 Edwin B.:Professional and flexible service, thank you!
| 23.02.2012 00:00 Very helpful staff, good vehicle. Price reasonable, future rentals will always depend on cost, but good service this time will influence too! J.S., GB
| 01.09.2011 00:00 It helped that I got a free upgrade but I must also praise your friendly and helpful staff (car related and return process details thoroughly explained when I asked) and a quick paperwork process.
|
|
Location Details
Address:
Zg. Brnik 130 a
4210 Brnik SI +386-4-2382414
Location:
airport
GDS - Code:
LJU
SIXT #:
7072
Opening Hours
Mo. - Su.
08:00 - 22:00
Bank holiday
08:00 - 22:00
24 h pickup
24 h return

Welcome to Ljubljana Airport Sixt rent a car
Welcome to Ljubljana airport! Sixt Slovenia offers a wide range of vehicles to choose from - you might need an economy or a premium class model. Don't worry, you'll surely find something in our fleet. You can choose from major European brands represented for example by VW, Opel, Renault, BMW, Audi or Mercedes Benz. If you need a van, we can offer 6+1 to 8+1 seaters. If you need to move some furniture or bulky items, rent a cargo Renault Master. Maybe you'll need a driver - well, no problem because the Sixt limousine service is the right choice for you! We are here to answer all your needs!
Dragan Jovanovic ( Branch Manager )
Rent a Car with Sixt at Ljubljana Airport (Brnik Airport), Slovenia
Sixt car rental at the Brnik airport allows you to take advantage of great car hire deals and discounts, as well as a large selection of economy and luxury car hire vehicles to choose from. This ensures that you can enjoy cheap car deals that gives you the perfect city car to make traveling around the beautiful area of Brnik much more enjoyable.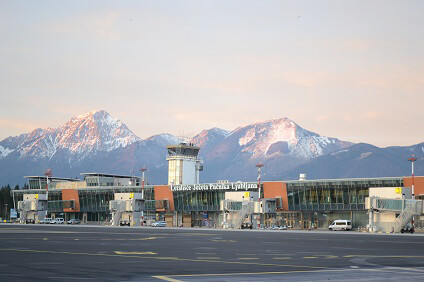 Copyright: Ljubljana Airport
Convenient car hire and Brnik Airport (Ljubljana Airport)
Brnik is an international airport and is located near the village of Brnik, in the north of Slovenia. It was built in 1963, and hosts over one million passengers a year. To hire a car at the Airport is both easy and convenient. The car hire services on offer allow you to save both time and money, and it gives you the perfect mobility to make travelling much easier and enjoyable. The car rental offices are situated directly across from the airport in the parking garage building. You can either rent a car online or at the car hire office, and your vehicle will be available directly after your flight lands.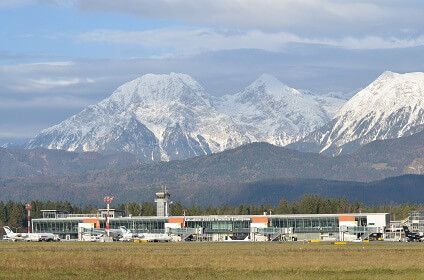 Copyright: Ljubljana Airport
Wonderful places to visit
With Sixt car hire, you will be able to enjoy driving around town and the surrounding areas in luxury, and there are many beautiful and interesting sites to see. The airport of Brnik is a great starting point to see the many landmarks found in Slovenia, and with the great car hire services, flexible options and unlimited mileage, you can visit many wonderful places to make your trip more enjoyable. Some of the unmissable sites to see include the historic John the Baptist Church, the beautiful Lake Bled, the imposing Celje Old Castle and a lot more.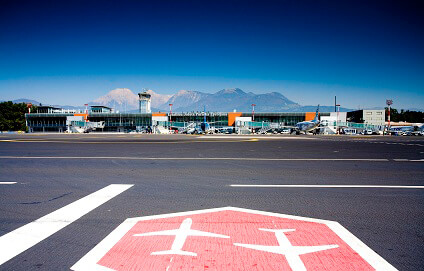 Copyright: Ljubljana Airport
Location details
Opening Hours
| | |
| --- | --- |
| Mo. - Su. | 08:00 - 22:00 |
| Bank holiday | 08:00 - 22:00 |
Contacts / Lost & Found
SIXT # Ljubljana Airport LJU
Zg. Brnik 130 a
4210
Brnik
46.233053, 14.458008
+386-4-2382414
+386-4-2382415
SIXT # Ljubljana Airport LJU
Zg. Brnik 130 a
4210 Brnik
Phone no.
+386-4-2382414
Fax
+386-4-2382415
Location plan - how to find us
Your way to Sixt:
The rental car area, where the Sixt branch could be found, is located in the ground floor of the main parking garage, oposite to the main terminal/airport building. When exiting from the arrivals area go across the street to the building and take the first entrance from the left. The office is located in the middle of the hall on the left side of the entrance.
Return information:
When returing your Sixt vehicle, you can park it in the designated area in the ground floor. Take the left entry ramp to wnter the car return area.
Outside open hours - pick-up & return
Out of hour pickup possible.
Pick-up out of opening hours is possible for an additional charge. Please provide your address and credit card details, e-mail address, flight and mobile number.
Out of hour return possible.
Return out of opening hours is possible for an additional charge. Please provide e-mail address, flight and mobile number. keybox available
Categories and services at this location
Compact Cars & Sedans
Sports cars & convertibles
4x4 / SUV
Truck
Select vehicle for pick-up using iPhone
24 h pickup
24 h return