Vilnius Airport Car Rental
Customer Reviews About Sixt





| 07.05.2015 15:21
| 22.02.2015 14:37 PLEASE PAY ATTENTION TO MR SIMAS who helps us 3d time for the last several years to find the correct car. This person is really high professional and friendly. We really appreciate his help.many thanks for your job, Simas!
| 22.02.2015 09:29 The sixt representative was very professional and helpful. Excellent service and gave me a very professional image on Sixt in Lithuania
| 23.01.2015 11:47 It was a new car and I didn't have any problem. Everything was so easy to take the car even from parking. Thank you
| 12.12.2014 09:44 I couldn't be happier with the service I received from Sixt. The staff were professional and the customer service the best I have experienced for car rental.
| 26.11.2014 17:17 Very easy to get a car from vilnius airport desk, even at 23:30 at night. very fast and friendly service. all specifications according to the order.thank you very much
| 17.10.2014 21:09 Your staff are absolutely delightful.
| 11.09.2014 17:51 Everything OK
| 26.08.2013 13:27 The employees in your Vilnius, Lithuania, airport office were spectacular. You should be very proud of their exceptional ability to deliver such high-quality customer service.
| 13.06.2013 11:03 Toujours très satisfaite des services de SIXT. C'est parfait. Véhicules pratiquement neufs et personnel très sympathique.
| 16.04.2013 00:00 everything was perfect
| 09.04.2013 00:00 la personne qui nous a servis à l'aéroport était très agreable elle mérite d'être reconnue et félicité
| 04.04.2013 00:00 The staff are outstanding! Thank you very much for your professionalism!
| 01.04.2013 00:00 I would especially like to highlight the good and proffesional servce made by service person.
| 26.03.2013 00:00 I love using Sixt whenever I am in Lithuania - I wish they had more locations in the USA also :) Easy to get to the car, quick check in and out, very friendly staff. Excellent service! Aciu Labai!
| 15.02.2013 00:00 The staff helped me a lot, with their positive attitude..
| 05.01.2013 00:00 Excellent staff!
| 17.08.2012 00:00
| 07.06.2012 00:00 Very friendly staff at the Vilnius airport!
| 07.06.2012 00:00 Didelis aciu vadibininkui Simonui Dubauskui uz operatyvu ir malonu aptarnavima.PagarbiaiAndrius Pleskacius
| 12.04.2012 00:00 Your employees at the Vilnius airport location have some of the best English I have found here in Lithuania and are personable and friendly which is a huge plus! I appreciate that you have automatic vechicles, as an American I never learned to drive a manual - and not all rental car companies here offer an automatic vehicles.
| 29.03.2012 00:00
| 05.01.2012 00:00 Miete PKW's möglichst nur bei Sixt, da Fahrzeuge stets sauber und preiswert sind. Zudem ist die Abwicklung einfach und zuverlässig. Die Mitarbeiterin in Vilnius war zudem freundlich und kompetent.
| 26.08.2011 00:00 Your staff are the greatest asset to your company - they what made the rental process to be an experience! Thank you so much!
| 16.07.2011 00:00 The person at the Sixt office at Vilnius airport was extremely helpful. I had to rent a car without prior reservation and the Sixt employee made this experience surprisingly easy. Also, he explained to me some basics of driving in Lithuania and was helpful in other ways.
|
|
Location Details
Address:
Rodunios Kelias 2
2038 Vilnius LT +370-52-395636
Location:
airport
GDS - Code:
VNO
SIXT #:
1841
Opening Hours
Mo. - Fr.
08:00 - 24:00
Sa. - Su.
10:00 - 17:00
24 h pickup
24 h return

Welcome to Vilnius Airport Sixt rent a car
Sixt Vilnius is managed by Andrius Kukta. He is supported by a team of staff who will be more than happy to help you with your car hire.
Andrius Kukta ( Branch Manager )
Welcome to Sixt rent a car!< SIXT is one of the worlds leading rent a car services provider, that offers the best rent a car services deals on the internet- passanger car rental, 4X4, minivans,minibus, sports car, convertible, van or rent of any other type of car to satisfy any level of comfort and quality. In the SIXT Lithuania rent a car fleet You will find business class cars and even limousines. For the comfort of clients we offer transfer and chauffer services, limousine service. Do you need a passanger car? SIXT rent a car will provide your mobility by offering rent a car services on the internet, by phone or in the rent a car office! At the moment company offers more than 170 vehicles in the rent a car in Baltics, which are not older than 2 years. Sixt rent a car offices are located in all three capitals of Baltic States - Vilnius, Riga, Tallinn as well as the airports of these cities.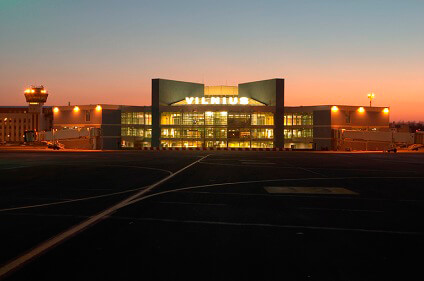 Copyright: Vilnius Airport
Rent a car at Vilnius Airport
By choosing car rental at Vilnius Airport with Sixt, you will be met with outstanding customer service and a delicious supply of brand new vehicles. You may choose a city car if you wish, however if you want to add some class to your Vilnius expedition, you can choose from an excellent selection of sports cars and convertibles too. Larger vehicles including SUVs and 4x4 are available and don't forget that you can tailor your car hire agreement in several ways. By requesting unlimited mileage, you will have the ability to travel through as much of Lithuania as you like. Satellite navigation is available and you can make road trips like this more convenient by including additional drivers.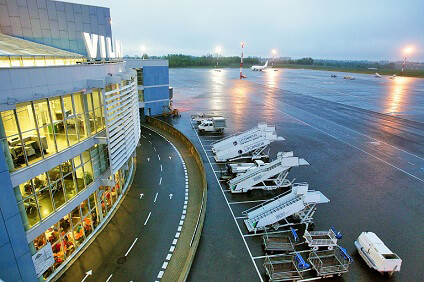 Copyright: Vilnius Airport
Vilnius Airport
Once you arrive at Vilnius Airport, you will be less than five miles from the capital of Lithuania. Vilnius Airport has excellent transportation links to the city centre, including by road and rail. The city of Vilnius is therefore very easy to navigate. At the airport, you will have access to the internet, shops, cafes and a VIP lounge.
Available attractions when you rent a car at Vilnius Airport
Car rental at Vilnius Airport will make it significantly easier to travel around the capital city of Lithuania. Checking price comparsion web sites is a great way to search for hotels, however the local Sixt staff will be able to guide you too. Once you have arrived in the city centre, you will be close to the Gate of Dawn and the Palace of the Grand Dukes, both of which should be visited. The Vilnius Guggenheim Hermitage Museum is an interesting art gallery which has a number of controversial stories cemented into its own foundations. Other attractions include the Green lakes and the Great Synagogue of Vilna.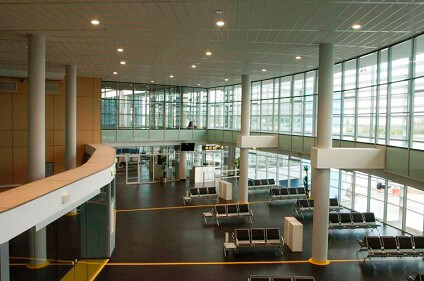 Copyright: Vilnius Airport
Location details
Opening Hours
| | |
| --- | --- |
| Mo. - Fr. | 08:00 - 24:00 |
| Sa. - Su. | 10:00 - 17:00 |
Contacts / Lost & Found
SIXT # Vilnius Airport VNO
Rodunios Kelias 2
2038
Vilnius
54.643058, 25.279446
+370-52-395636
+370-52-133220
SIXT # Vilnius Airport VNO
Rodunios Kelias 2
2038 Vilnius
Phone no.
+370-52-395636
Fax
+370-52-133220
Location plan - how to find us
Your way to Sixt:
The Sixt branch is located inside the Arrival Hall C which you will find on your right side after entering the main Arrival Hall A.
By car:
Coming from the train station, head northwest towards Gelezinkelio str. approx. 200 m. Exit the roundabout onto Gelezinkelio str. and go straight. After 650 m turn right onto Algirdo str. and after 270 m take the 1st left onto Paneriu str. At the intersection take left onto Svitrigailos str. and go straight on the main street. After approx. 2 km turn left on Rodunios kelias str. You will see Vilnius International Airport.
By public transport:
To get to Vilnius International Airport, you can use scheduled buses, scheduled taxi, train and taxi. City buses No. 1 and No. 2 provide a service to the airport. The fares and schedules can be found at www.vilniustransport.lt A special scheduled train runs from Vilnius Railway Station to the airport. The railway stop is just outside the airport terminal. A covered pedestrian walkway connects the airport terminal with the railway stop and is lighted during the night. The train schedule can be found at www.litrail.lt The airport can be reached by cabs of any of the taxi companies servicing the city. Taxis can be found curbside nearby the arrival terminal.
Return information:
Sixt parking is located at parking garage floor E. Please use an elevator to get there. To enter or exit parking garage with your rental car please stop next to the roadblocks (schlagbaums). A camera will scan the number and the roadblocks will be opened. To leave rental vehicle in any other parking garage floor is forbidden! (fee 20 EUR). Please return keys and documents to the Sixt branch (arrival hall C).
Outside open hours - pick-up & return
Out of hour pickup possible.
Pick-up out of opening hours is possible for an additional charge. Please provide credit card, e-mail-adress, flight and mobile number.
Out of hour return possible.
Return out of opening hours is possible free of charge. Keybox available at Sixt counter.
Categories and services at this location
Compact Cars & Sedans
Sports cars & convertibles
4x4 / SUV