Hanover Car Rental Deals
Why rent with Sixt?
4,000+ rental locations worldwide
Affordable car rentals in Hanover
Car Hire in Hanover and worldwide
Long term rentals available
180,000+ vehicles in our fleet
50,000+ premium rental vehicles
5th largest global car rental company
Sixt makes renting a car in Hanover fast and hassle free. Vehicles are available in all different makes, models and sizes in order to perfectly serve all your needs for car rental in Hanover. So whether you need a van or SUV, luxury sports car or just a family economy car, Sixt has many cars in each category for you to choose from.
Rent A Car In Hanover With Sixt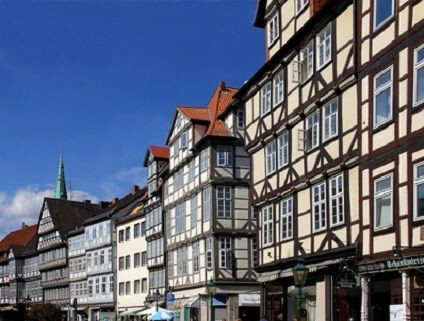 For holiday makers travelling in large groups, we have cars which can hold up to 15 passengers at a time. To guarantee ultimate relaxation and peace of mind on your holiday, we offer a loss damage waiver, personal accident protection or even supplemental liability insurance as options to add to your car rental in Hanover, so you stay covered at all times. Customers who rent a car in Hanover in advance using our website will even have the benefit of their car waiting for them upon their arrival in Hanover, Germany. This way, you will be able to drive straight to your hotel, or any attractions you wish to visit.
Things to do with your car rental in Hanover
Choosing to rent a car in Hanover is a great idea as it will enable you to visit some of the city's top tourist attraction and even explore more of Germany. The Great Garden of Herrenhausen is a must see, modelled after the iconic garden at Versailles. The best way to reach it is by car, so it's the ideal way to test out your hire car in Hanover. History fans may wish to drive out to Castle Marienburg, a neo-gothic building and very important in the area's history. Families with children will definitely enjoy the Aquarius, which also features a rainforest, which will keep everyone occupied for hours. The city park is a great place to relax, or why not drive out to the Tiergarten, to enjoy 112 hectares of lush forest, ideal for taking a picnic and whiling away the afternoon. No matter how you choose to spend your time in Germany, we look forward to helping to get you on your way.
Sixt Airport Locations Nearby