Cologne/Bonn Airport Car Rental
Customer Reviews About Sixt





| 15.05.2015 10:42
| 10.04.2015 16:50 The car was amazing! :)
| 18.09.2013 10:06 I have never been so impressed with a car rental as I have been with Sixt. Brilliant from start to finish. The rental price, a free upgrade, superb staff, fast and efficient counter service as I'd filled in all of my drivers details online the day before. When returning the vehicle the Sixt parking was very well sign posted and the...
| 06.08.2013 10:39 Good Luck, and bee good as you are.
| 29.07.2013 09:42 Very easy and very pleasant. The staff speaking English was a great help to me!
| 11.07.2013 20:07 Please stay always so comfortable. Thank you very much.
| 18.03.2013 00:00 Servizio eccellente nonostante i gravi problemi per neve a Koln-Bonn.Bravi
| 07.08.2010 00:00 I arrived very late in Koln and my booking had been made for the wrong time, but your staff looked after me perfectly and I was soon on my way to my hotel.Thanks you for the excellent service !
| 17.06.2010 00:00 You are very good a job!
| 29.04.2010 00:00 Thank you.It was so easy and comfortable for me!
| 20.04.2010 00:00 excellent service. thank you.
| 19.03.2010 00:00 Very professional service. thank you.
|
|
Location Details
Address:
Kennedystr./Mietwagenzentrum
51147 Köln DE +49-1806-252525
Location:
airport
GDS - Code:
CGN
SIXT #:
17
Opening Hours
Mo. - Su.
06:30 - 23:30
Bank holiday
06:30 - 23:30
24 h pickup
24 h return

Welcome to Cologne/Bonn Airport Sixt rent a car
Welcome to Sixt rent a car at the Cologne/Bonn Airport! My team and I look forward to providing you with excellent customer service and a top quality car rental.
JÖRG PAUELS ( Branch Manager )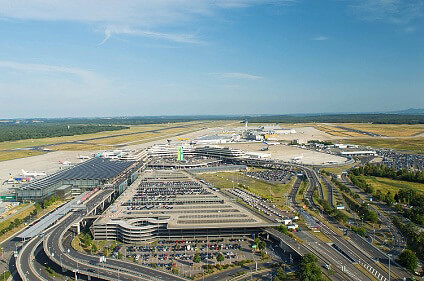 Copyright: Cologne Bonn Airport
Sixt Car Rental at Cologne/Bonn Airport
Sixt offers premium car rental services at the Cologne/Bonn Airport. Available at our branch is a wide selection of vehicles in a variety of styles. Whether wanting an economy or luxury model, something for two or a whole family, we have a rent a car to accommodate. You can choose from our comfy SUVs and sedans, compact cars and convertibles. We also have deals on useful extras that you can include when you book conveniently online or over the phone. Give yourself peace of mind with more insurance coverage like additional drivers or tailor your car rental with a child seat or GPS. Please be aware we can only guarantee your reservation for the car category and not for a specific car model.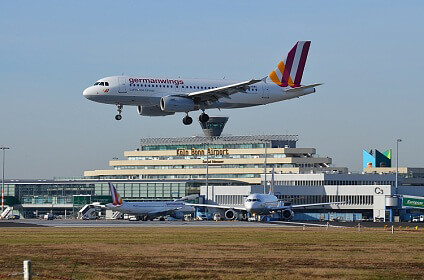 Copyright: Cologne Bonn Airport
Rent a car at Cologne/Bonn Airport
You can find our Cologne/Bonn Airport (CGN) services between terminal 1 and 2 on the arrivals level. Our airport location offers 24 hour pick up and return plus express counter services. With our iPhone app you can try and reserve the vehicle of your choice shortly prior to collection. Once behind the wheel, both Cologne and Bonn are just a short drive away.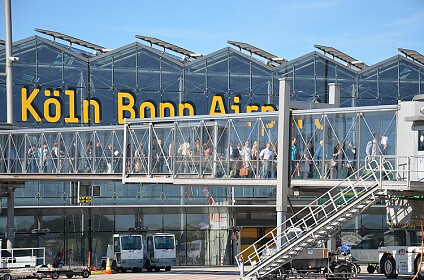 Copyright: Cologne Bonn Airport
Explore Cologne with Sixt
Located on both sides of the Rhine River, Cologne is a major cultural hub of Germany home to a multitude of cultural institutions, including more than thirty museums. With your car rental from the Cologne/Bonn Airport you can experience all this vibrant city has to offer. Check out its most famous landmark, the Cologne Cathedral, before touring around the different districts. You can also take your rent a car on a drive see the UNESCO listed palaces in Brühl or into the area surrounding Cologne to sites with Roman ruins. Wherever you wind up going, enjoy the ride with Sixt!
Location details
Opening Hours
| | |
| --- | --- |
| Mo. - Su. | 06:30 - 23:30 |
| Bank holiday | 06:30 - 23:30 |
Contacts / Lost & Found
SIXT # Cologne/Bonn Airport CGN
Kennedystr./Mietwagenzentrum
51147
Köln
50.879473, 7.121378
+49-1806-252525
+49-1806-2229300017
SIXT # Cologne/Bonn Airport CGN
Kennedystr./Mietwagenzentrum
51147 Köln
Phone no.
+49-1806-252525 *
Fax
+49-1806-2229300017 *
* 0.20 ¤/call from german landline network, 0.60 ¤/call from german mobile network
Location plan - how to find us
Via motorway:
Forthcoming from Frankfurt/Düsseldorf/Oberhausen: A 3 motorway junction Heumar towards the A 559 Bonn. Forthcoming from Aachen/Olpe: A4 towards the A 559 Bonn.
Public transport:
You can reach the Sixt Airport station with the following busses and trains: Forthcoming from Köln/ Porz: bus no. 161. Forthcoming from Bonn: bus no. 670. Forthcoming from Köln/ Deutz: S 13 and RE8(from Moenchengladbach). Forthcoming from Koblenz: RE8 (from Koblenz) ICE: you can reach us from Dortmund/Berlin/Suttgart/Frankfurt.
Car Rental Return:
The car rental return is located in Car Park P2. Drive towards arrival area and stay on the left hand side. The car return is signposted by car park 2. A petrol station is also signposted (nearby car park 3).
How to find the Sixt Airport station:
Our Sixt counter is positioned between terminal 1 + 2 on the level of arrival. Car rental is singposted with "Mietwagenzentrum". In the airport building it's signed with a symbol of a car and a key.
Outside open hours - pick-up & return
Out of hour pickup possible.
It's possible to rent a car outside our opening hours and on request. Therefore state explicitly your credit card, adress, driving licence, passport, your e-mail, flight and mobile number. You will receive the key and contract at the car park administration office in the car park 2 Level 4. You can find a detailed map at our counter or you can ask our station and we can send to you in an email.
Out of hour return possible.
The Check-In close at 9pm. The key return safe after hours is located opposite of the return lines in car park 2 at the Sixt Service Point.
Categories and services at this location
Compact Cars & Sedans
Sports cars & convertibles
4x4 / SUV
Select vehicle for pick-up using iPhone
24 h pickup
24 h return
Express counter