Helsinki Airport Car Rental
Customer Reviews About Sixt





| 28.01.2015 11:01
| 10.11.2014 21:52 I try and always use sixt while travelling abroad. I travel to Finland a lot and have used them many times here. Always great service. Great cars and very efficient and friendly.
| 30.10.2014 14:09 I have never used Sixt before. Your company provided the cheapest option for me after an international flight so I selected you. I was not disappointed in any way. The next time I need to rent a car I will check Sixt out first.
| 13.01.2014 11:57 As usual, a smooth & effective rental from Sixt Helsinki Airport. I received a customary upgrade with my status and all paperwork was quickly processed on check-out. Likewise, my invoice arrived promptly by e-mail after the rental. Sixt is my rental company of choice in Finland.
| 09.12.2013 09:03 The Staff at Sixt Helsinki airport are very helpful & friendly; the cars are always to a high standard of cleanliness & the car hire charges reasonable in comparison to the competitors. I'll book again for Summer 2014!
| 08.12.2013 20:15 Quick, friendly, helpful experience. The whole experience of dealing with Sixt at Helsinki airport is a positive one.
| 04.09.2013 20:03 Palvelu pelasi hienosti ja ystävälliset työntekijät auttoivat kaikissa kysymyksissä! Auto pelasi myös hyvin, ilman minkäänlaista ongelmaa.Kiitos!
| 29.08.2013 18:43 Excellent & efficient service from start to finish, thank you.
| 29.08.2013 07:51 Great service, a beautiful car which was a dream to drive,an upgrade what else would one want. Thank you for an enjoyable holiday vehicle.
| 26.08.2013 17:19 Best part was the staff, polite efficient and helpful. Thanks
| 26.08.2013 13:32 Fast and clear, correct car and easy collect/return without problems
| 16.08.2013 12:38 I just want to say thank you very much again.
| 12.08.2013 22:58 Very good service from your employees.
| 11.08.2013 15:05 You have a nice team in Helsinki airport, this is my second rental experience with them.
| 01.08.2013 13:02 We will certainly recommend SixT to my friends and relatives. We also will use your services again when we visit Finland.
| 30.07.2013 10:03 Many thanks. Next time I will choose SIXT.
| 26.07.2013 13:08 I'm regular customer for Sixt and in general I like to use you for my rentals. Very good points for Sixt from easy and straight forward booking process through your web site. Much better than some other companies.Staff in i.e. Helsinki airport are friendly and efficient.Even though I know Sixt is not always cheapest option, your cars...
| 25.07.2013 10:44 Excellent car for the money. Clean and good performance. Much easier pick up than at many airports we have visited. Petrol top up nearby is very convenient at the end of the trip.
| 12.07.2013 10:53 I received an upgrade to a larger (and more luxurious) car, which was very welcome as I was travelling with a number of large suitcases and four passengers (including a baby). I also really appreciated the simplicity of the billing process (paying upfront, no 'hold' placed on my credit card).
| 08.07.2013 00:20 Had some minor problems ...... your agents were quick to respond ... everything resolvedgreat service ... you've got my business and will recommend you to friends ... Thanks
| 04.07.2013 22:44 Very satisfied overall and will return in the future.Thanks
| 29.06.2013 15:57 Great service both at Helsinki Airport (at the desk and by the turn of the car) and Oulu (while adding an extra driver) as well as service via telephone before I got the car and needed to made changes to the booking were of high professionality and friendly. Just great experience overall this time; great customer service, high quality...
| 27.06.2013 20:20 Was very happy with my first Sixt experience. Had flawless service at both the airport and on the phone. Would definitely recommend.
| 27.06.2013 10:22 Moreover to the things already mentioned as satisfactory, the return process was very swift. A big thanks to the staff for clear and timely instructions and a very pleasant manner. Keep up the good work!
| 25.06.2013 02:36 The airport team were very efficient and thorough. We even unfortunately had an accident in our hire car and the matter was dealt with very efficiently and professionally and the team made a very distressful situation comfortable. Thank you to the team.
| 24.06.2013 10:53 There is always a pleassure picking up a rental car at six in Helsinki airport. The staff is very friendly and service minded. Localisation and car park is also very good. Return of the car just streight forwsrd from the petrol station is the best in Europe.
| 21.06.2013 14:03 Booking in to collect the car was very efficient. The car was great. The return procedure including the petrol garage just outside the "Return Car" building and the check of the vehicle was incredibly efficient. Good work all round.
| 21.06.2013 11:26 Allways very friendly service, prompt and fast. I get the car that wanted. Price and quality is well balanced. Sixt is the only car rental I'll use. I'm a faitful customer already for few years.
|
|
Location Details
Address:
Terminal 1, Car Rental Center
01510 Vantaa FI +358-20-1122515
Location:
airport
GDS - Code:
HEL
SIXT #:
2240
Opening Hours
Mo. - Fr.
07:00 - 01:00
Sa.
08:00 - 20:00
Su.
12:00 - 24:00
24 h return

Welcome to Helsinki Airport Sixt rent a car
Welcome to Sixt at Helsinki Airport! Helsinki is the capital of Finland and also the World Design Capital 2012 with lots of interesting projects and events happening in the city throughout the year. Helsinki Airport is one of the main partners for WDCH2012 and visitors as well as travelers can feel the airport's goal to improve customer experience through service design in many different ways during the year. One example of this are the rocking chairs close to our counter where anybody visiting the airport can take a relaxing break. A truly Finnish experience! The easiest way to travel in Finland is by car; network of well maintained roads covers the whole country and by car you get to go to places that would otherwise be unreachable - the hidden treasures of Finland. Our Sixt counter is located on a corridor between T1 and T2 and thus we are right in the middle of the airport. Near to us is also the information counter of the airport. We look forward seeing you soon!
Tiina Rantala ( Branch Manager )
Sixt Car Rental in Helsinki Airport, Finland
Sixt Rent a Car service comes useful for everyone who wants to rent a car to move around easily when visiting Helsinki. Driving - whether you use your own vehicle or rent a car - is the most convenient way of travelling in Finland due to the extensive network of good roads that let you explore all the hidden treasures of the city and its surrounding areas on your own chosen schedule. Sixt car rental fleet includes a wide variety of vehicles - whether you want a city car, sports car, convertible or an SUV, you are sure to find car rental for your needs, no matter if your priority is luxury, comfort or you just need a cheap car. Make a price comparison to see that Sixt Car Rental offer will satisfy your needs. Our car rental counter is located in a corridor between terminals T1 and T2, right in the middle of the Helsinki airport, so it's easily accessible when you arrive and leave Helsinki.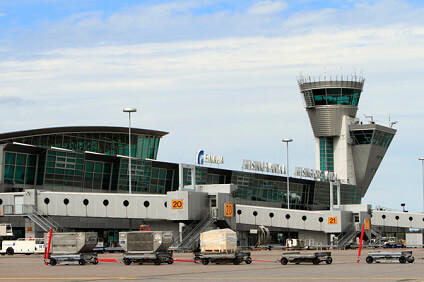 Copyright: Helsinki Airport
Airport in Helsinki, Finland
Helsinki Airport, known also as Helsinki-Vantaa Airport (HEL), is located 17 km (10.6 miles) north of Helsinki city center, so you should really rent a car if you want the freedom of travelling. The airport, built in 1952, is divided into two terminals and is considered to be one of the best airports in the world.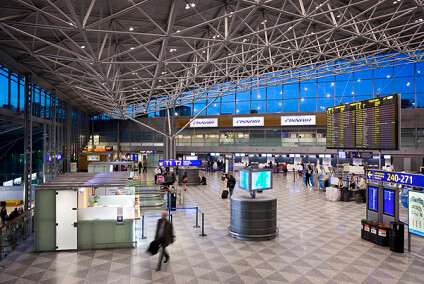 Copyright: Helsinki Airport
What to see in Helsinki and how car rental can facilitate that
Helsinki is a capital of Finland and a city of many cultural and artistic attractions. Some of them, like Ateneum Art Museum, National Museum of Finland or Parliament building are easily accessible by public transport or a bike, but if you are planning day trips outside the city, to see places like the fortress of Hamina, car rental is the best solution.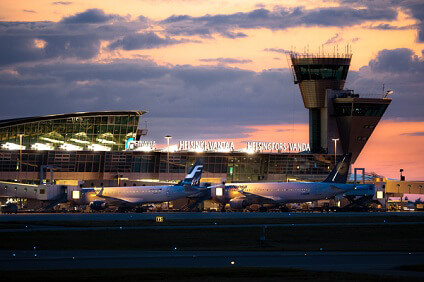 Copyright: Helsinki Airport
Location details
Opening Hours
| | |
| --- | --- |
| Mo. - Fr. | 07:00 - 01:00 |
| Sa. | 08:00 - 20:00 |
| Su. | 12:00 - 24:00 |
Contacts / Lost & Found
SIXT # Helsinki Airport HEL
Terminal 1, Car Rental Center
01510
Vantaa
60.310967, 24.969520
+358-20-1122515
+358-20-1122516
SIXT # Helsinki Airport HEL
Terminal 1, Car Rental Center
01510 Vantaa
Phone no.
+358-20-1122515
Fax
+358-20-1122516
Location plan - how to find us
Your way to Sixt:
Our Sixt branch is located next to arrivals hall 1 (Corridor between arrival halls 1 and 2).
By car:
The airport is located about 20km from the city center. Follow the directions of %u201CParkkikuja%u201D or %u201CParkkitie (Vantaa) to get to the Airport.
Sixt Parking:
Parking in parking house P3B rental car parking area. Sixt Check-In service available from Monday to Friday between 10:00 and 18:00.
Outside open hours - pick-up & return
Out of hour pickup possible.
Pick-up out of opening hours is possible for an additional charge. Please provide e-mail address, flight and mobile number.
Out of hour return possible.
You can park the Sixt vehicle to any Sixt parking spot in parking hall P3B. Please leave the GPS and child seat in the car and lock the doors. Then return the keys to the Sixt counter between Terminals 1 and 2 and drop them into the key box, which is located on the left side of the Sixt counter.
Categories and services at this location
Compact Cars & Sedans
Sports cars & convertibles
4x4 / SUV
Truck
Select vehicle for pick-up using iPhone
24 h return