Miami Van and Truck Rental with Sixt
Sixt offers premium truck rental as part of our goal to provide the Miami area (including Miami Beach!) customers solutions for all their mobility needs. Successfully complete a range of transportation tasks with our reliable cargo vans. Whether renting a truck for personal or commercial use, our diverse van rentals can accommodate. No job is too big or small for our up-to-date fleet of top quality trucks.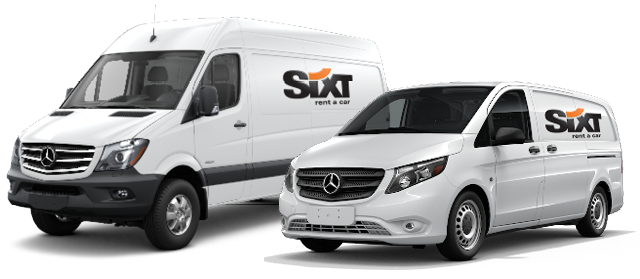 Affordable Miami Van Rental Solutions
Miami business owners can rent a van and take advantage of our attractive rates and get delivery or decorating jobs done with less overhead costs with a small truck rental.
Whether relocating or redecorating a moving truck rental or cargo van can make the effort less stressful. Rent a van to transport furniture or personal items yourself and take away the worry they will not be treated with care during in transit.
A rental truck is also ideal for those who are working on a home improvement project or setting up for a big event. Instead of having to make many small trips, you will have enough room to buy and drop off supplies all at once in a van rental.
11 ft. Truck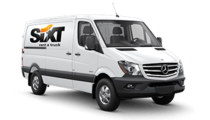 14 ft. Truck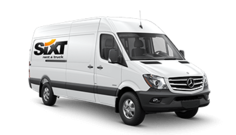 16 ft. Truck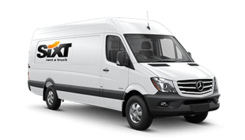 Benefits of a Truck Rental in Miami
Truck rental with Sixt in Miami comes along with its advantages. Besides the low rates on top quality van rental, we make it easy to upgrade your truck rental as well. Great deals are offered on numerous add-ons so you can equip your truck or van with everything and anything you might need for an optimal experience. Share responsibility with an additional driver or include a GPS to stay on course in your van rental. When booking a moving truck rental consider making use of our helpful moving accessories. Any optional features you select can be conveniently added on to your van rental as you make your reservation online or over the phone. Before hitting the road our team will gladly explain how to handle your rental truck so you can feel more confident behind the wheel.
Rent a truck with Sixt
When you rent a van, we provide you with 24/7 customer and roadside assistance in case you should encounter any difficulties with your truck rental. You can also give yourself more peace of mind while driving your rental van in Miami with our coverage options. Rental packages with protections like LDW or personal accident insurance can help you drive more relaxed and reassured. Whatever your plans, our Miami services are here to help carry them out!
Van and Truck Rental Options at Sixt
Mercedes-Benz Metris 9 ft.
Preferred for small deliveries or amounts of cargo, the Mercedes Metris cargo van rental is sure to get the job done. With easy handling and the reliability of the Mercedes-Benz brand, choose this small truck rental for your next job! Vehicle Specifications.
Mercedes-Benz Sprinter 11 ft.
This small truck rental is ideal for those moving items and furniture from a studio or small apartment. The 11 ft. Mercedes Sprinter is available in regular height as well as an extra high roof version to fit your tall items. Vehicle Specifications.
Mercedes-Benz Sprinter 15 ft.
This medium truck rental is perfect for larger loads and the standard items contained in a one bedroom apartment. Rent this Mercedes-Benz Sprinter cargo van for a spacious, safe and comfortable drive. Vehicle Specifications.
Mercedes-Benz Sprinter 16 ft.
Whether needing a truck for personal or commercial use, the Mercedes-Benz Sprinter is the perfect solution. This cargo van handles like a dream and can fit all the items you need to transport. Vehicle Specifications.
Chevrolet Silverado Crew Cab
We offer the classic Chevrolet Silverado pickup truck to rent when you need to haul large loads and trailers. This multi-purpose truck rental makes it easy to transport people or belongings.