Welcome to the Fabulous Las Vegas McCarran Airport Sixt rent a car
Las Vegas is a destination that offers something for everyone. Whether you are taking a family vacation, business trip or just trying to get away, Sixt rent a car has great car rental deals for every occasion. Our vehicle fleet consists of a large selection of premium vehicles in both economy and luxury models from some of the best manufacturers in the world. Find the vehicle that fits your travel plans and budget from our large selection of top quality compact cars and sedans, exotic cars and convertibles, and full-size SUVs and minivans too. For an easier and more convenient car rental experience, be sure to download the Sixt App, which has been designed to add an extra layer of intuitiveness and customization.
Convenient location at Las Vegas Airport with free shuttle service
High quality rentals from a wide choice of vehicles including exotic models
Great prices with affordable deals, no hidden costs or credit card fees
24/7 opening hours for flexible pick up and drop off
Complimentary refreshments in our modern lobby
Unlimited Mileage comes as standard with most vehicles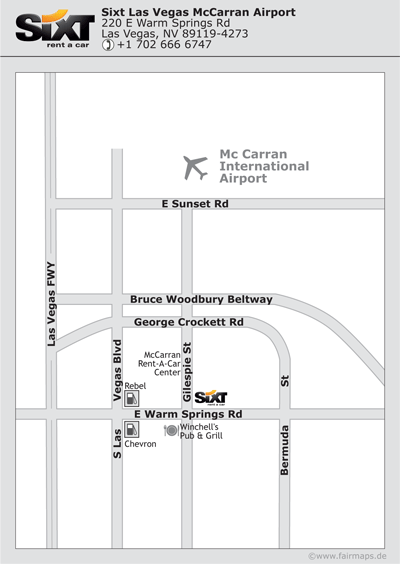 How to Find Us in the Las Vegas McCarran Airport
Our McCarran International Airport car rental services are located off site and can be quickly and easily reached 24 hours a day with our courtesy shuttle. Upon arrival at the airport, please board the shuttle bus departing from outside the Baggage Claim area to the McCarran Intl Airport's Car Rental Center. Once at the car rental center, proceed to sign number 4 at the Taxi pick-up waiting area where our Sixt bus will be waiting to drop you off at our branch location just across the street. It runs 24 hours a day and can be viewed via our live shuttle tracker.
At our branch, relax in our spacious lobby and refresh yourself with free coffee, tea and water offered by your rental agent. There are also great amenities on site, including a gas station for returning the tank full and a convenience store. Once behind the wheel of your rental car, the famous Strip is just a 10-minute drive away.
What is the right vehicle for your trip?
Our large selection of passenger van or minvan rentals are perfect for a family vacation. An van rental from Sixt allows large groups to travel quickly and easily in comfort.
Arrive at one of the numerous conventions held at the Las Vegas Convention Center in style with a full-size SUV. Large luxury vehicles are great for business travel groups.
Sixt rent a car at McCarran Airport offers travelers a selection of exotic car rentals, including the Range Rover Sport, Mercedes E400 Convertible, and Mustang GT. You can make your trip to Las Vegas one of luxury by selecting from our large range of exotic cars from the world's top automotive manufacturers.
Whether traveling for business or pleasure, Sixt allows you to make a lasting impression in one of our premium sedans. Drive in style to your destination by selecting a Cadillac or Mercedes-Benz to experience the Vegas luxury lifestyle.
Sixt offers a large selection of convertible rental deals so that no matter where you travel in the Entertainment Capital of the World, you will be sure to arrive in style.
Experience Las Vegas by car
Known for its casinos and nightlife, there are many other reasons to visit Sin City. Sixt rent a car at McCarran Airport allows you to find the perfect vehicle for your trip. Along with the many must-see sites in and around the city, travelers also have the opportunity to visit attractions such as Death Valley National Park and the Hoover Dam! If you're still unsure about where to head to, our Lobby Ambassador will assist you with local recommendations and valuable tips for your stay
Road Trip: Las Vegas to Grand Canyon
The Grand Canyon is one of the most impressive national parks in the world. Often people are surprised at just how wide the Grand Canyon is... So if you are planning a trip to the Grand Canyon there are some things you need to decide before you go.
If you're planning on exploring the awe inspiring natural beauty of the Grand Canyon, then you should read our Grand Canyon guide on our Sixt magazine for tips about how to drive there and whether to visit the North or South rim.
Find out what our customers say about us!
Additional Sixt Services