Sixt rent a car in Glasgow
Our Service
 |  
Traffic Information
 |  
Sixt Tips
 |  
Sightseeing Destinations
 |
Business Travel
|  
FAQs
Use our drop down branch menu to find out more about our Sixt rent a car Glasgow branches. You can see about important information like the opening hours and car categories at each location. For example you can see that our Glasgow Downtown branch allows 24 hour returns. Click on the second tab to open a Google Maps overview get a better idea of where each branch is located and what is nearby. Choose which branch suits your plans best and head to our booking page where you can do a quick price comparison of the rental cars on offer. Please note, as specific models are subject to availability reservations are only guaranteed for the selected car category.
Our Service
Besides our attractive rates on car rental in Glasgow we offer an extensive selection of leading brand vehicles. No matter if you are on weekend getaway, a business trip or a family vacation you can find the right kind of rent a car to accommodate. Choose from our array comfortable compact cars and sedans, fun sports cars and convertibles, and spacious SUVs. Minivans and passenger vans that can seat up to 15 are also on offer at most of our Glasgow branches. We also offer deals on add-ons and so you can tailor your rental vehicle to your exact needs. Child seats, GPS, additional driver coverage, protection plan packages and more can be included while booking online.

Traffic Information
If renting a car after your arrival to Glasgow Airport (GLA) you will only be eight miles west of the city center. There are many easily accessible roadways running into and through Glasgow. The M8 travels through the city center and will connect you to the M77, M73 and M80. If wanting to head to the western Highlands you can connect by the A82, while the M74 can be used to reach southern destinations.
Although the city center is laid out in a grid system it unfortunately does not make for easy navigating. Driving in the city center may take some getting used as you will often encounter one way streets, bus lanes and pedestrian-only districts. Parking in the city center is limited and can be rather expensive. It might be better to either park and ride from a subway station or to leave your car in one of the many multi-story parking lots which are easy to spot and will even display how many spaces are available.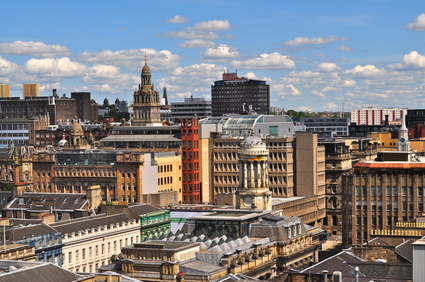 Sixt Tips
Tour around with your rent a car in Glasgow and be able to see all the amazing attractions. Spend time in the city center and be sure to visit its many museums, shopping and dining destinations. Hit up the so-called Style Mile of Buchanan Street or drive east to the creative district of Merchant City. The West End is also a fun bohemian district, home to the University of Glasgow and Glasgow Botanic Gardens. Heading to the East End allows you to check out the famous Glasgow Barrowland market and Glasgow Necropolis Cemetery. For some time outdoors take a ride to the South Side's Pollok Park.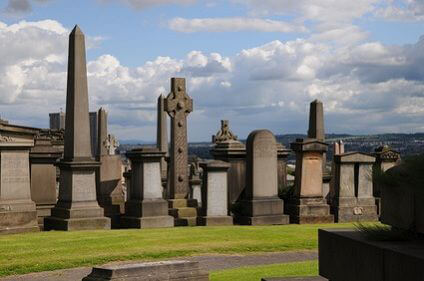 Sightseeing Destinations
Take a drive to the largest loch in Scotland, Loch Lomond. Spend time getting to know this beautiful landscape, which is part of the Loch Lomond and the Trossachs National Park. A visitors center at the southern end in the town of Balloch can help you plan your visit.
Distance to Loch Lomond
From Glasgow Airport via A82: 24 miles, about 33 minutes
From Glasgow Central Station via M8/A82: 32 miles, about 45 minutes
From Glasgow Downtown via M8/A82: 31.6 miles, about 40 minutes
Head south the Kilmarnock to spend a wonderful day at the Dean Castle and Country Park. Here there are activities for just about everyone to enjoy. You can keep yourself busy outdoors with lovely woodland walks and the urban farm, or indoors in the tearoom and the castle's world-class historical collections.
Distance to Dean Castle and Country Park
From Glasgow Airport via M77: 26.7 miles, about 30 minutes
From Glasgow Central Station via M77: 21.6 miles, about 30 minutes
From Glasgow Downtown via M77: 21.2 miles, about 25 minutes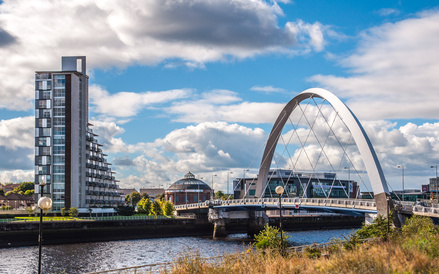 Business Travel
Glasgow is the largest economy in Scotland and an important player in many sectors. It is a home base or head office of eight of the ten largest UK insurance companies as well as numerous other major corporations. Most of these firms, such as Royal Dutch Shell, can be found in the Glasgow International Financial Services District. The Scottish Exhibition and Conference Center (SECC), located in the Finnieston district is the largest exhibition and conference center in Great Britain. Glasgow is also part of the Silicon Glen, Scotland's high tech sector.
Distance to the Scottish Exhibition and Conference Center (SECC)
From Glasgow Airport via M8: 7.9 miles, about 13 minutes
From Glasgow Central Station via A814: 1.6 miles, about 10 minutes
From Glasgow Downtown via A814: 1.4 miles, about 7 minutes

FAQS
Below are the quick answers to some of our most frequently asked questions. Please be reminded that every country has slightly different rules and regulations, so for the most specific and detailed information pertaining to your desired rental please visit rental information for more information.
Which documents are needed to pick up a rental car?
Sixt Airport Locations Nearby
Your benefits with Sixt
Sixt Best Price Guarantee
New cars - on average 3 months old
Free cancellation and reservation changes when you pay on arrival
Miles & More - Earn miles
No hidden costs
Germany's largest and best car rental company
No credit card fees
Excellent 24/7 customer service