Car rental in Zurich with Sixt
Our Service
 |  
Traffic Information
 |  
Sixt Tips
 |  
Sightseeing Destinations
 |
Business Travel
The branch menu provides important information about our Sixt rent a car Zurich locations. You can see about our opening hours, addresses and a list of vehicle types available at each branch. Click on the second tab of the menu to display an overview of where our branches are situated on Google Maps. Once you pick where you want to arrange your car rental in Zurich, head to our booking page. When you have selected your dates you can do a quick price comparison between models. Please be aware that Sixt can only guarantee your reservation for the selected car category and as specific car models are subject to availability at each location.
Our Service
Whatever budget or plans, our Zurich fleet offers an impressive collection of vehicles ready to get you around, and out of, the city. Choose a sedan or a compact car for some serious city exploring or a roomy SUV for when extra space is a must. In the mood for something more exquisite? Indulge in a sleek BMW convertible or a top of the line Mercedes-Benz. Whichever rental vehicle you choose you can enhance your experience with our deals on useful add-ons. Upgrade your Zurich adventure with extras like a GPS, a child seat, additional drivers or coverage plans.
Some of our available extras
Tire and glass coverage
Personal accident protection and Loss Damage Waiver
Roadside Protection
Winter equipment such as snow chains and ski racks

Traffic Information
Arriving by plane, you will most likely land at Zurich Airport, which is located less than 10 kilometers northeast of the city center. Our Sixt office is strategically located at the parking area, close to the airport exit, which means you will be on your way to the historic city core before you know it. The A1L motorway will take you downtown in less than 15 minutes.
For those looking to explore the rest of this stunning country, why not rent a car in Zurich and take the A1 west towards Bern and Geneva or eastwards towards St. Gallen. The A4 northwards will lead you to Schaffhausen and southwards to Altdorf, and the A3 northwest towards Basel and southeast along Lake Zürich and Lake Walen. Driving is the best way to discover and enjoy the scenery of the breathtaking countryside, especially with such outstanding roads present.
Our Zurich Hardbrücke car rental branch is located in the western part of the city, a former industrial area now turned into a trendy neighborhood. One stop away from Zurich's main train station, it can be reached by taxi or simply hop off at the Hardbrücke stop for a short walk.
Parking in Zurich is relatively easy, as long as you stick to the rules. Parking is generally permitted only on marked parking places. White zone spots with parking meters are for short stays only and are limited from 30 minutes to 2 or 4 hours. Parking cards for parking in blue zones can only be obtained at www.parkkarten.ch. However, the most convenient option is to simply park your rental vehicle in one of the 10 park-houses. Up-to-date signalization boards at traffic junctions show the number of vacant parking places and the way to the park-houses. And if you're visiting late, parking between 9.00 pm and 8.00 am is practically free of charge everywhere on-street.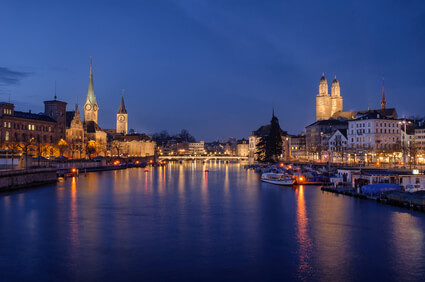 Sixt Tips
Switzerland's largest city and main financial center, Zurich, is world-renowned for its vibrant culture, impeccably clean streets, beautiful scenery and regularly tops the list of most livable cities. Historically seen as business oriented with a serious streak, the wealthy metropolis has recently flourished into a trendy destination with a cool post-industrial edge that serves as a fertile ground for a blossoming art scene.
In contrast is the ancient center, with its elegant lanes, historic buildings and iconic churches. Fraumünster, the 13th-century cathedral, is a good example of Zurich's rich legacy. Renowned for its stunning, distinctive stained-glass windows, it was designed by the Russian-Jewish master Marc Chagall (1887-1985). And when in the mood for something modern, head to Züri-West, the epicenter of the city's nightlife, where its old factories have been turned into cultural centers and creative new living spaces.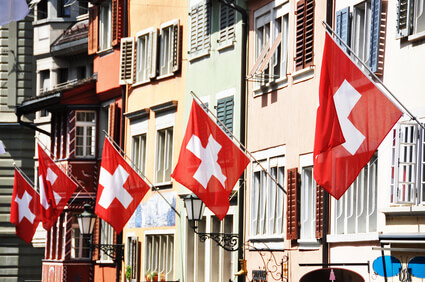 Sightseeing Destinations
For some fresh air and amazing views, head to Üetliberg. A lush-green mountain in the Swiss plateau, it rises 869 m (2,851 ft) and offers beautiful walking trails and panoramic views of Zurich and the Lake of Zurich. And if that's not high enough for you, there are two look-out towers present, both accessible, for an even higher experience.
Distance to Üetliberg
From Zurich Airport via A4: 19 miles, about 42 minutes
From Zurich Hardbrücke via Hatzentalstrasse: 9 miles, about 41 minutes
If you have time, why not head out further with one of our rental cars and go for a ski excursion at the quaint resort Flumserberg, located in the heart of the Swiss Alps. Experience the authentic local atmosphere while soaking up the Vitamin D-filled rays.
Distance to Flumserberg
From Zurich Airport via A3: 61 miles, about 1 h. 21 minutes
From Zurich Hardbrücke via A3: 9 miles, about 1 h. 16 minutes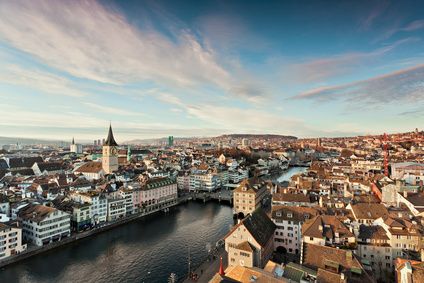 Business Travel
Home to many international companies, Zurich is a leading financial center and global city. Important sectors include service, light industry, machine, textile, and tourism. Living up to its reputation, Zurich hosts most Swiss banks, and several foreign banks call the lake city home. Another focal point of business in the city is Kongresshaus Zürich, which regularly hosts conventions, trade fairs, exhibitions, and a variety of business events. In combination with the spectacular panoramic view of Lake Zurich, this world-class conference hall is definitely worth a visit.
Kongresshaus Zürich
From Zurich Airport via A1L: 7 miles, about 20 minutes
From Zurich Hardbrücke station via Hohlstrasse: 2 miles, about 10 minutes
Additional Sixt Services