Car rental in Ibiza from Sixt means let's you see more
Our Service
|
Traffic Information
|
Sixt Tips
|
Sightseeing Destinations
|
Business Travel
The Balearic island of Ibiza is renowned for its vibrant club culture and beautiful landscapes. There is a plethora of hidden beaches and coves that can be accessed easily with a car rental in Ibiza. On this page you can gather more details about how to rent a car in Ibiza and customize your rental car with add-ons and extras as you book online. Our sightseeing tips highlighting Ibiza's hotspots and secluded beaches can help you plan your vacation. If your traveling for business be sure to check out our final section with information about co-working spaces on the island.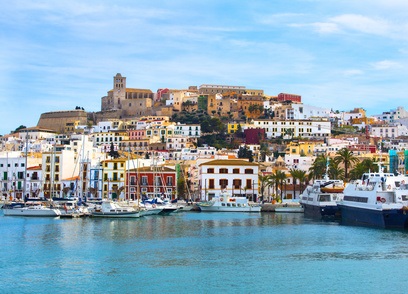 Our Service
At our Sixt rent a car Ibiza Airport branch you can collect a rental vehicle seven days a week and we offer 24hr pick up and returns for more travel flexibility. No matter where you rent a car in Ibiza you can choose from a diverse selection of up-to-date, leading brand rental cars. You can find the right vehicle for your mobility needs in our array of compact cars and sedans, sports cars and convertibles, SUVs, minivans and passenger vans. You can also check out our range of luxury car rentals in Ibiza. While booking online you can make a quick price comparison between the available models and see how a premium Mercedes-Benz or BMW can be within your reach. We recommend to reserve your car rental in Ibiza in advance to ensure the availability of your chosen rental vehicle and optional add-ons.
Optional features include:
Roadside Protection and Tire and Windscreen Protection
Additional drivers
Child, baby and booster seats
GPS guaranteed

Traffic Information
It is only six miles from Ibiza Airport to the center of Ibiza Town, the heart of Ibiza's club culture, and the journey typically takes around fifteen minutes on the E-20. In general, the roads in Ibiza are well signposted and in excellent condition which makes sightseeing easy. As the island is relatively small a weekend road trip can mean visiting many top attractions. The North is connected to the South by the E-10 highway running from San Antonio to the small fishing village of Portinaxt.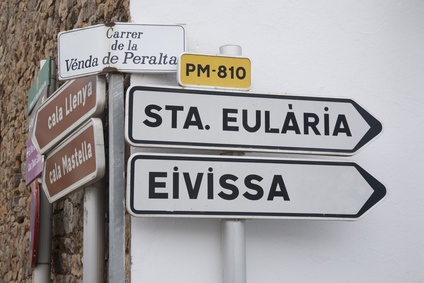 Sixt Tips
Ibiza is unique for its mix of high octane clubbing, bohemian beach culture and natural beauty. If you want to dive right into the club culture expect world-class DJs, hefty entrance fees and incredible sound systems. While the south of the island around Ibiza Town is pretty much a 24hr party throughout peak season, to the north there is enough remote nature and secret beaches to offer a totally different kind of vacation. If you take your rental car on Route 19 out of Ibiza Town you will find idyllic villages in no time, olive groves line the hills and there are stunning vantage points with great views of the Mediterranean. Ibiza has been popular since the 50s for people seeking an alternative lifestyle and has many alternative communities. A great way to experience this side of Ibiza is the Sunday lunch at Casita Verde, which is cheap, homegrown and vegetarian. Afterwards you can have a guided tour of the community with eco information.

Sightseeing Destinations
Ibiza's coasts are dotted with extraordinary beaches and coves, some more hidden than others. We recommend Cala Vedella, Cala Codolar and Es Torrent. You will often find the beaches have a laid back, bohemian atmosphere with bars selling drinks and snacks.
Distance to Cala Vedella
From Ibiza Airport: 11.5 miles, about 25 minutes
From Ibiza Port 15.5 miles, about 35 minutes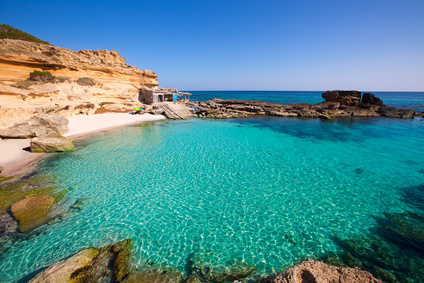 Ibiza's legendary Las Dalias has been selling bohemian paraphernalia since the 1950s, but its more than just a market. The venue hosts a plethora of live acts and events. Check their schedule for what's on and you will find a party or a market happening on most nights.
Distance to Las Dalias:
From Ibiza Airport via E-20: 17 miles, about 30 minutes
From Ibiza Port via E-10: 12.5 miles, 25 minutes

Business Travel
The main industry on the island is tourism with over 6 million visitors annually. This has given way to a big start up community for a relatively small island. There are many hotels on the island catering to the business traveler as well as a number of co-working spaces where you can hire a desk and meet fellow freelancers. The first of its kind was Cowork Ibiza founded by Salva & Sandra. The space includes high speed internet and a coffee corner. Other co-working spaces include Coworking Ibiza, Casa Del Rey and Think Creative Hub.
Distance to Cowork Ibiza:
From Ibiza Airport via E-20: 4 miles in 10 minutes
From Ibiza Port via E-10: 2.5 miles in 10 minutes