Sixt rent a car in Johannesburg, South Africa
Our Service
 |  
Traffic Information
 |  
Sixt Tips
 |  
Sightseeing Destinations
 |
Business Travel
Use our drop down branch menu to find out more about our Sixt rent a car Johannesburg locations. Clicking on the arrow next to each branch will expand the menu and display information like opening hours and the kinds of rental cars. The second tab opens a Google Maps overview of our locations allowing you to easily see which branch suits your plans best. Business travelers can benefit from our car rental at Lanseria Airport and in Sandton, as these branches put you in proximity to the Sandton business hub. Our Johannesburg Park Station branch is perfect for those looking to make the most of the miles in a sports car or convertible and the train station is easy to reach from just about anywhere in the city. If traveling with a group and needing a larger passenger van check many of our branches can accommodate with vehicles like a VW Transporter 8-seater or a similar model. Book easily online but please be aware that reservations can only be guaranteed for the chosen car category as specific models are subject to availability at each Sixt Johannesburg branch.
Our Service
Opt for a car rental in Johannesburg from Sixt and have plenty of top quality rental cars to choose from. You can select from our array of premium compact cars and sedans, sports cars and convertibles, SUVs and vans. Make a price comparison and see about our attractive rates on vehicles from prestige manufacturers such as BMW and Mercedes-Benz. Tailor your rental vehicle to your requirements with our great deals on useful add-ons. You can give yourself an optimal drive with an additional driver, a GPS, or more coverage like Glass Damage Waiver. We also offer extras like E-Toll Service and baby and child seats so you can have all you need for a more seamless experience.
Traffic Information
Driving in Johannesburg is an ideal way to get around and most city roads are in good condition. Having a map, or even better a GPS, will greatly facilitate your journey and be aware that often times street names are only visible on the curb. Planning your route ahead of time is recommended as this way you can steer clear of less safe areas of the city. Leaving your car is generally secure as typically there will be guards to look after parked cars. Do remember to tip something when retrieving your vehicle.
If picking up your car rental in Johannesburg from the O.R. Tambo International Airport, stay on the freeway between the airport and Sandton while driving into the city. This way you avoid going through the any townships. While driving around you will most likely be making use of the Johannesburg Ring Road, a 50 mile orbital made up of three converging freeways. These are:
N3 Eastern Bypass linking Johannesburg with Durban
N1 Western Bypass linking Johannesburg with Pretoria and Cape Town
N12 Southern Bypass linking Johannesburg with Witbank and Kimberley
Dissecting the ring is the north/south running M1 freeway and the East/west running M2

Sixt Tips
Johannesburg is a fascinating metropolis and is typically referred to affectionately by one of its several nicknames such as Jo'burg or Jozi. Despite a few areas that are better left off your itinerary there are many parts of the city and attractions to visit where you should feel just as safe as in any other big city in the world. There is a ton to do and see in Johannesburg, and much in the way of learning about its storied past. Take the time to plan visits to places like the Apartheid Museum, Constitution Hill and the Old Fort Prison Complex or to join a tour of Soweto.
You also have fun enjoying the contemporary side of the city, especially the areas that have experienced inner-city regeneration. Hang out in hip districts like Maboneng and stop by the Arts on Main art center. Or check out the action at Joziburg Lane in south-central Johannesburg where you can try tasty bites from the Foodhall or see what's happening in the warehouse style events hall.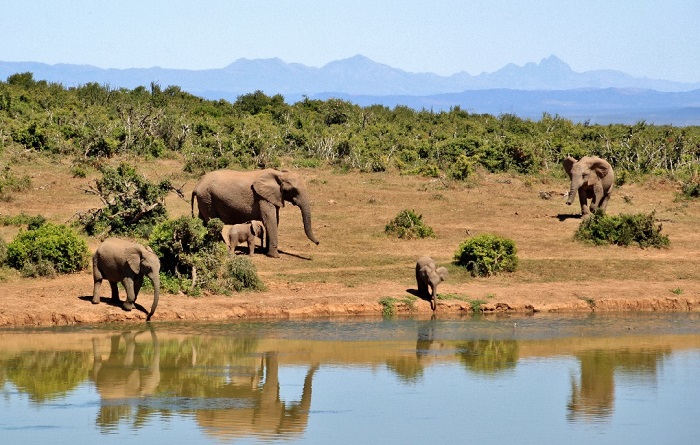 Sightseeing Destinations
A day trip to the Cradle of Humankind is highly recommended. At this UNESCO listed World Heritage Site you can partake in a number of activities. Take a tour through the Sterkfontein Caves or learn more about the origins of humankind at the exhibitions found at the Maropeng Visitor Centre.
Distance to Cradle of Humankind
From O.R. Tambo International Airport via N3: 44 miles, about 1 hour and 25 minutes
From Lanseria International Airport via R540: 12.5 miles, about 30 minutes
From Johannesburg Park Station via N1: 41 miles, about 1 hour and 15 minutes
From Johannesburg Sandton via M5: 28.4 miles, about 1hour and 20 minutes
A trip to South Africa is not complete without a visit to one of its amazing game or nature reserves. From Johannesburg you can take a weekend trip Sun City and visit the nearby 150,000 acre Pilanesberg National Park, also called the Pilanesberg Game Reserve. Here you have the chance for all kinds of birding and wildlife viewing, including the opportunity to spot the Big Five. This incredible reserve, centered on the caldera of an extinct volcano, offers the chance to really get to know this unique and precious landscape.
Distance to Pilanesberg National Park
From O.R. Tambo International Airport via R512/R556: 119 miles, about 2 hours and 20 minutes
From Johannesburg Sandton via R512/R556: 108 miles, about 2 hours and 35 minutes
From Johannesburg Roodepoort via R24: 94 miles, about 2 hours and 10 minutes

Business Travel
Johannesburg is the commercial center of South Africa and its main hub can be found in the suburb of Sandton. Its economy has a long history of being propelled by the gold mining industry, and most mining companies maintain headquarters in Johannesburg. Manufacturing, media, and banking are other big sectors and Sandton is home to the Johannesburg Stock Exchange (JSE), the largest stock exchange in Africa. Global firms such as Coca-Cola, Toyota, McDonalds, and Nokia also have head offices in Johannesburg. Big industry events are often held at the Sandton Convention Centre.
Distance to Sandton Convention Centre
From O.R. Tambo International Airport via R24 and M40: 16.5 miles, about 40 minutes
From Lanseria International Airport via R552: 19 miles, about 40 minutes
From Johannesburg Park Station via M9: 8.6 miles, about 35 minutes
Additional Sixt Services