Rent a car in Mexico City, Mexico
Our Service
 |  
Traffic Information
 |  
Sixt Tips
 |  
Sightseeing Destinations
 |
Business Travel
|  
FAQs
Use the dropdown menu to inform yourself about the details of our Sixt rent a car Mexico City branches. You can find the addresses, opening hours and rental cars provide by each location. Click on the right-hand tab and open an overview of where our branches are situated on Google Maps. Choose where you want to arrange your car rental in Mexico City and head to our booking page. Please be advised that we can only guarantee you to receive a rental vehicle in your selected car category as specific models are subject to availability at each individual Sixt branch.
Our Service
Our diverse options for car rental in Mexico City allow you to find the right vehicle for your budget and plans. If you are looking to enjoy a little driving excitement during a weekend break in Mexico City, a price comparison of our sports cars and convertibles may put one of these premium vehicles in your price range. Alternatively, you may prefer a compact car or a larger SUV or minivan. Browse our up-to-date fleet and then make your reservation easily online. You can also include a number of useful add-ons to enhance your rental experience. A GPS, additional driver or child seat can help you have an optimal drive. Below are some more of the extras you can tack on to tailor your rent a car.
Optional features for car rental
Loss damage waiver
Personal accident protection
Supplemental Liability Insurance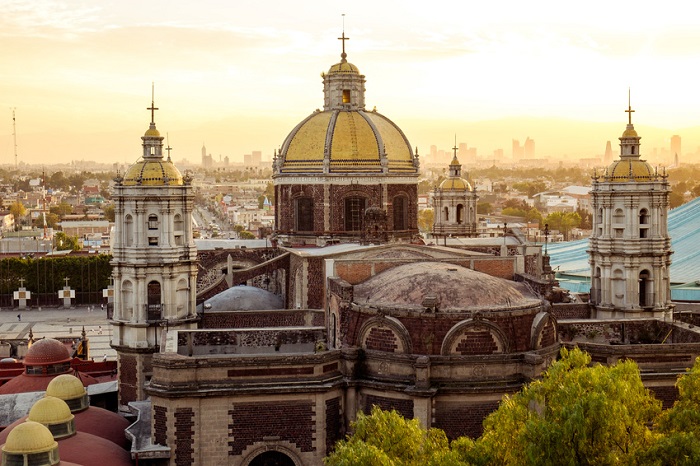 Traffic Information
From Mexico City Benito Juárez International Airport, you can take Cto. Interior to the city center, which will take you around 19 minutes to cover the 6 miles. An alternative route in times of heavy traffic is the Eje 2 Nte. From the German Centre at Santa Fe, you can take the Avenue Constituyentes to the city center, which is around 11 miles and takes 32 minutes in normal traffic conditions. To avoid tolls on that route, take the Prolongacion Paseo de la Reforma, which is slightly longer at 12 miles and 35 minutes into the center. The Hotel Krystal Grand is only 2 miles from the city center on the Paseo de la Reforma.
Federal Highway 85 is the major route from Mexico City to the US, while Federal Highway 57 connects the city to Piedras Negras. The city's major ring road is the Anillo Periferico (peripheral ring). It is important to remember that Mexico City operates a congestion relief system. This means that access to the city is restricted at certain times of day according to the last digit on your number plate. Parking around the city varies between 12 to 18 pesos per hour, with some hotels also offering parking deals. On-street parking meters usually charge around 10 pesos per hour.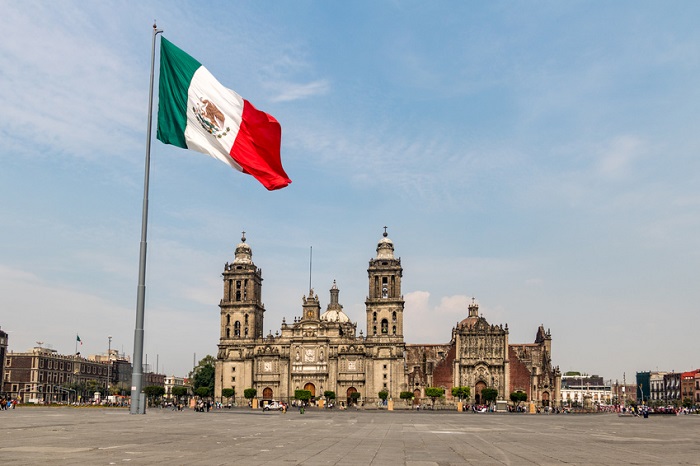 Sixt Tips
Mexico City is a huge urban center and the largest city in North America. It is built on a dried lake bed and is surrounded on three sides by towering mountains. The Plaza de la Constitucion,also known locally as the Zocalo, is at the center of the Centro Historico. It is one of the largest city squares in the world and is the focal point for some of the city's most important buildings. One of these is La Catedral, which is the largest cathedral anywhere in the Americas and has an amazing solid gold alter. The Basílica de Guadalupe, meanwhile, is regarded as the most holy catholic site in the Americas and attracts pilgrims from all over the world. Coyoacan is the city's arts district and was home to Frida Kahlo and Diego Rivera. Plaza Garibaldi-Mariachi is the place for pavement cafes and street entertainers and has pop up cocktail stands in the evening. For the best views of the city, visit the observation decks of the Torre Latinoamericana or the newer and even taller Torre Mayor.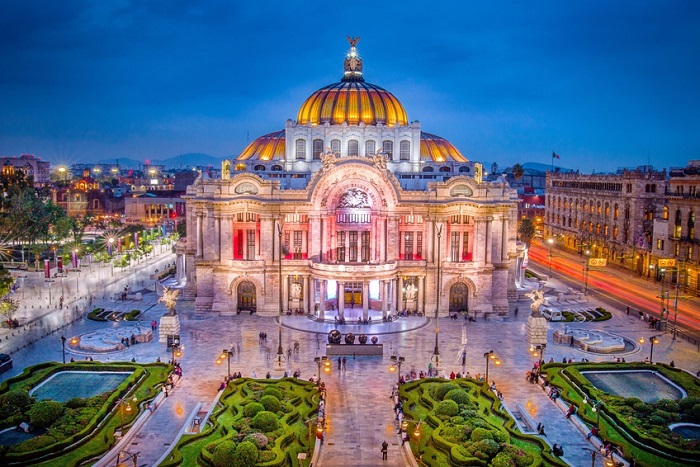 Sightseeing Destinations
Texcoco
There is no doubt that Mexico City is a hugely exciting city but if you need a change of pace, the town of Texcoco is within easy reach when you rent a car. It has a historic downtown area with a notable cathedral and the remains of the Acolmiztli-Nezahualcoyotl palace. Molino de Flores National Park preserves 19th century buildings and the Tetzcotzinco archaeological zone has many fascinating sites, such as one of the oldest public baths in the world. It is around 31 miles east of the city on the Lecheria-Texcoco highway.
Distance to Texcoco
From Krystal Grand: 31 miles, about 1 hour 36 minutes
From Santa Fe German Centre: 40 miles, about 2 hours 3 minutes
From Mexico City International Airport: 16 miles, about 37 minutes
Teotihuacan
The astonishing Aztec ruins of Teotihuacan include the Pyramid of the Sun, Pyramid of the Moon and the Avenue of the Dead. When you rent a car in Mexico City you can drive 30 miles or so from the city center to the northeast to visit the site.
Distance to Teotihuacan
From Krystal Grand: 30 miles, about 1 hour 22 minutes
From Santa Fe German Centre: 40 miles, about 2 hours 30 minutes
From Mexico City International Airport: 33 miles, about 1 hour 5 minutes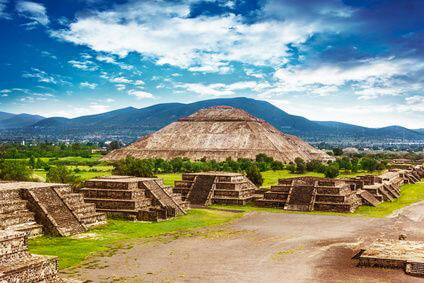 Business Travel
Mexico City has a huge economy and is the 8th largest city in the world in terms of its GDP. It has a large number of multinational corporations, many of which are headquartered in the Polanco business district. The Centro Internacional De Exposiciones y Convenciones World Trade Center is one of the city's major exhibition and conference centers.
Distance to Polanco
From Krystal Grand: 5 miles, about 23 minutes
From Santa Fe German Centre: 8 miles, about 32 minutes
From Mexico City International Airport: 10 miles, about 21 minutes
Distance to Centro Internacional De Exposiciones y Convenciones World Trade Center
From Krystal Grand: 6 miles, about 22 minutes
From Santa Fe German Centre: 8 miles, about 35 minutes
From Mexico City International Airport: 7 miles, about 15 minutes

FAQS
Below are the quick answers to some of our most frequently asked questions. Please be reminded that every country has slightly different rules and regulations, so for the most specific and detailed information pertaining to your desired rental please visit rental information for more information.
Which documents are needed to pick up a rental car?
What is included in the rental charges?
Can I rent a specific car model?
Can I change my booking and do I have to pay a cancellation fee?
Can I cross borders with my rental car?
Can I rent the car at one place and drop it off at another station?
What is Sixt's refueling policy?
What add-ons are available and how much do they cost?
Can I rent a car with unlimited mileage?
Does Sixt deliver and/or collect rental cars?
Do I have to pay a security deposit?