Rent a Car in La Reunion with Sixt
Our Service
|
FAQs
|
Driving Tips
|
Places of Interest
|
Crossing Borders
Rent a car at La Réunion Roland Garros Airport and get your journey underway quickly after your arrival. Read on more down this page and gather some great tips on how to make the most of your trip. We provide further details about our services and provide insights on what to see and do with your car rental in La Réunion. There are driving tips to help you navigate the island as well as our suggested Top 4 architectural and natural sights.
Our Service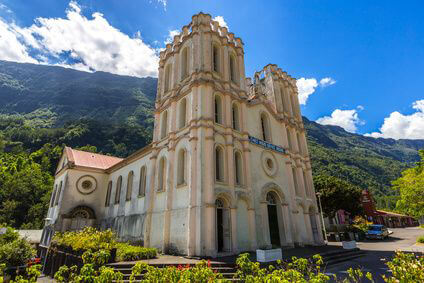 Browse our variety of car categories and see all our diverse, up-to-date vehicles before making your reservation securely online. Whichever model you choose can be further customized to your needs with our useful add-ons. Make the most of our car rental deals in La Réunion and consider tacking on numerous extras. We offer coverage protections such as Tire and Windscreen Coverage, Theft Protection, Collision Damage Waiver and Roadside Protection. We also have options for GPS, additional driver coverage, and child seats.
Which vehicle class is right for my trip?
Our compact cars are perfect for city breaks on this compact island.
Sedans are well suited for longer trips between cities and offer extra comforts along with ample leg and luggage room.
SUVs and up to 9-seater minivans are great for larger groups and those with extra gear.
Driver's license
The renter and the driver have to be in possession of a valid driving license and you must present a valid ID card or passport when you pick up your rental vehicle.
Age restrictions
The minimum age to rent a car in La Réunion is 23. For drivers under 25 a surcharge is applicable. In some vehicle categories there are age restrictions for drivers under 25.
Payment Methods
With our car rental in La Réunion we accept payments from all internationally recognized credit cards such as Visa, MasterCard and American Express. We do not accept prepaid cards or debit cards such as VISA electron. Please present your payment card when picking up your vehicle, your card PIN may also be required for payment.
Accidents
In the event of an accident, please inform the police straight away. It does not matter whether the rental car is only slightly damaged, the accident was self-inflicted or if no other vehicles were involved. Any damage must be reported to Sixt during the rental period. In La Réunion you can call the police on 17, the fire brigade on 18 and emergency medical services on 15. You can also use the European emergency number 112 for all types of emergency.

FAQs
What is included in the price?
Can I rent a specific car model?
What documents do I need to rent a car?
Can I pick up a car and return it somewhere else?
Do I have to pay a deposit?

TIP: It is generally cheaper to rent a car at least three months before any high season. Free cancellation up to 24 hours before collection is almost always possible, but is dependent on the chosen tariff.
Driving Tips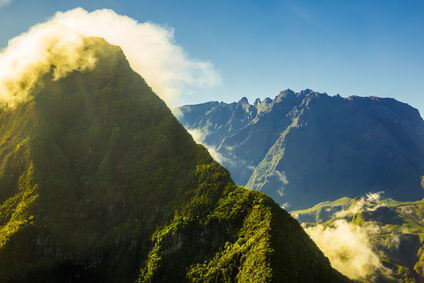 Major routes in La Réunion are well maintained with excellent signage. Driving is on the right side of the road and in general, driving regulations closely resemble those in continental Europe. The terrain is hilly and varied, some people find our automatic vehicles ideal for these conditions. Many roads have deep storm drains on the sides that are good to be aware of. With an excellent coastal network and breathtaking scenery on this small island, you will find a car rental in La Réunion is an efficient way to get around while taking in the sights. The main routes connecting the island's coastal towns are the N1, RN1 and the N2.
Tips for driving safely in La Réunion
Speed limits are generally posted but in urban areas it is 50 km/h and 90 km/h on major routes.
Always wear your seatbelt.
Most driving hazards arise from weather conditions, keep an eye on travel advisories when planning your journeys.
It is not allowed to use a mobile phone while driving, except with a hands-free kit.

Places of Interest
Top 4 Architectural Sights
Temple Narassingua Perournal, Saint-Pierre
Saint-Anne's Church, Saint-Benoît
Maison Folio, Hell-Bourg
Cimetière Marin, Saint-Paul
Temple Narassingua Perournal in Saint-Pierre is a bright and colorful Hindu temple that can be visited. The decorative multicolored exterior is spectacular, but before visiting be sure to check the guidelines for tourists when entering the temple. Saint-Anne's Church is a Catholic church in Saint-Benoît adorned with countless cherubs, gargoyles and decorative motifs. The building has been listed as a historic monument since 1982, and François Truffaut's famous film "La Sirène du Mississipi" used it as a backdrop. The Maison Folio in Hell-Bourg is famed for its Creole architecture and lush tropical gardens. The guided tour includes fantastic insights into 19th century household objects and the diverse garden flora. The Cimetière Marin, or Marine Cemetery, in Saint-Paul is almost like a history museum with many important figures from the island's past buried here. Gravesites include those of the famous pirate Olivier 'La Buse' Levasseur and the poet Charles Marie Rene Laconte de Lisle.
Top 4 Natural Sights
Cirque de Mafate
Piton de la Fournaise
Jardin des parfums et des épices
Boucan-Canot Beach
To visit the Cirque de Mafate you will have to park your rental car and hike one of the Caldera%u2019s many trails, it is a large area that covers the central wild part of the island. The Col des Boeufs is probably the easiest trail with parking lots at the pass for easy access. The Piton de la Fournaise is one of the most active volcanoes in the world with frequent eruptions. While access is limited and the available trails quite hard going, you can also visit by helicopter from one of the many tour operators. The Jardin des parfums et des épices, or garden of perfume and spices, is located on the south of the island near the Piton de la Fournaise. This garden is one of the best ways to experience La Réunion 's plant diversity and their amazing scents. Boucan-Canot Beach is one of the island's most beautiful sandy white beaches, perfect for a relaxing walk or sunbathing opposite the Indian Ocean.

Crossing Borders
Cross border rentals in La Réunion are not allowed. Details can be found here: Rental Information.