Car rental in Jordan with Sixt
Our Service
|
FAQs
|
Driving Tips
|
Places of Interest
We offer convenient pick up locations in Amman, including at the Amman airport. Some of the best sights can be quite remote, so opting for car rental in Jordan is an excellent choice. The country has been visited by countless civilizations over the centuries and has left their mark. You can still see the ruins of many temples, amphitheaters and ancient cities.
What to Do in Jordan in Winter 2019
Visiting Jordan in winter means avoiding the stifling summer heat. When traveling here in the winter, however, be aware that the weather can get cold. Enjoy the outdoors and go for a hike like the one from Little Petra to Petra to see the landscape of this desert country. Visit Mount Nebo outside the city of Madaba to see a view over the Holy Land. And in Amman you can escape the cooler weather in a museum like the Royal Automobile Museum or the Jordan Archaeological Museum. Those looking for a bit warmer weather can visit the Dead Sea outside of Madaba to float (if the weather allows) and relax.
Our Services
Whatever you requirements for car rental in Jordan, you are sure to find a vehicle in our fleet to meet your needs. We offer a range of car categories that can accommodate a variety of travel. Check out our selection of luxury rental cars from prestige brands. Book your rental car online and customize your vehicle with our numerous add-ons. You might prefer enhanced coverage, such as Tire and Windscreen Protection or our Roadside Assistance option to increase your peace of mind on your travels. A navigation system will help you find your way and stay on track and additional driver coverage allows you to share time at the wheel, which is especially helpful on longer journeys.
What kind of vehicle is best for your travels?
Compact cars make for easy city travel and are economical on shorter trips.
Sedans are a good choice for those who want to enjoy extra comforts and amenities.
SUVs are ideal for those wanting more leg and luggage room.
Minivans are the answer for family vacations or larger groups looking for a convenient way to travel and stay together.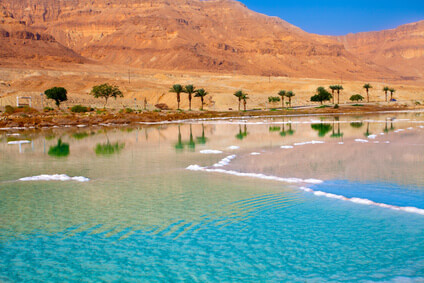 FAQs
Driver's license
In order to rent a car in Jordan with Sixt, you will need to show a valid ID card or passport at time of collection. The renter and driver will need a valid driving license and an International Driving Permit (IDP) will be required if the license is printed in a non-Roman alphabet (such as Chinese, Russian or Arabic). Driving licenses from countries not part of the Geneva/Vienna Convention on Road Traffic, (e.g. China) will need to be accompanied by a Self-Translation Form provided by Sixt.
Age restrictions
Car rental in Jordan with Sixt requires that you be at least 21 years old and have held your license for a minimum of one year. Further age restrictions may apply depending on the vehicle model.
Payment Methods
We accept all major credit cards, such as American Express, Eurocard/Mastercard and Visa. Cash payments are also accepted.
Accidents
You must report any accident to the police, even if no other vehicle was involved. The police can be reached by calling 911 and you must not leave the scene of an accident before the police arrive. You must also inform Sixt immediately of any damage to the rental vehicle and complete the Accident Report Form provided with your vehicle's documents.
Driving Tips
In Jordan driving is on the right. The major highways are generally in good condition but smaller rural roads can be less well maintained and care is needed when driving on these routes. Routes 65, 35 and 15 are some of the main north-south highways, while Route 437 runs west from Amman towards the border with Israel.
Additional tips for driving in Jordan:
Police checkpoints are common and you should keep your ID and rental documentation with you at all times.
Look out for road flooding in the rainy season (November to March).
Use extra caution when driving at night as roads are often poorly lit.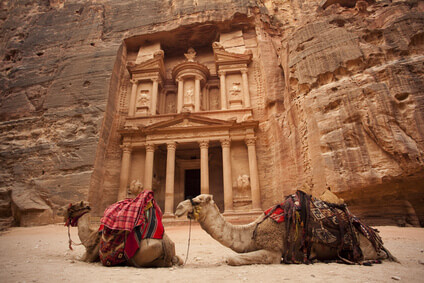 Places of Interest
Top 4 Architectural Sights
The Treasury, Petra
Roman Amphitheater, Amman
Jerash Ruins
Al Beidha
Petra is one of the most famous archaeological sites in the world. The ancient city was founded in 312 BC and carved out of the desert rock. The Treasury, or Al-Khazneh, is one of the most stunning temple 'buildings' carved from the rock face. The Roman Amphitheater at Amman is one of the city's top attractions and has been painstakingly restored. Cut into a city hillside, the 6,000 seat structure still holds cultural events today. The Jerash Ruins are the impressive remains of a Roman city, dating from around 100 AD. This extensive site features a Triumphal Arch built by the Emperor Hadrian, a hippodrome for chariot races, the Oval Plaza and Temple of Zeus. Al Beidha is an important Neolithic archaeological site dating from 11,000 BC. It is part of the Petra UNESCO World Heritage Site and is situated a few miles north of the ancient city. It is thought to be one of the oldest known sites of human habitation.
Top 4 Natural Sights
Burdah Rock Bridge
Wadi-al-Mujib
The Dead Sea
Siq
The Burdah Rock Bridge at Wadi Rum is the largest rock arch in the area. It straddles a gorge 80 meters above the valley floor and is accessible to adventurous trekkers. Wadi-al-Mujib, also known as Arnon, is renowned as Jordan's Grand Canyon. It connects with the Dead Sea more than 410 meters below sea level and is the location for the world's lowest nature reserve, an internationally important area for bird life. The Dead Sea on Jordan's western border is almost 10 times more salty than the ocean. It has been a health resort since the time of Herod the Great and is famous for the floating effect it has on bathers, caused by the increased buoyancy of the salt water. The Siq is the mile-long gorge that forms the entrance into the ancient city of Petra.