Sixt rent a car offers affordable car rental at Pointe-à-Pitre International Airport. We offer a large selection of latest model vehicles and provide both luxury and economy car rental options. Browse our premium fleet and choose from compact cars and sedans, to sports cars, convertibles, SUVs and minivans. Book online and include useful add-ons like unlimited mileage, GPS, coverage protections, child seats, additional drivers and more. You can also request a rental car with automatic transmission. The minimum age to rent a car at Pointe-à-Pitre International Airport with Sixt is 21 and there are numerous car rental deals for young drivers.
Car rental at Pointe-à-Pitre International Airport (PTP)
Pointe-à-Pitre International Airport, also known by its French name Pole Caraibes Airport, is located in Abymes on the southwest side of the island of Grande Terre. The largest of the six airports in the archipelago, Guadeloupe Pointe-a-Pitre Airport is a main hub for Air Caraibes and Air Antilles Express. For an even faster pick up of your Sixt rental car make use of our Express Counter at our Pointe-à-Pitre International Airport car rental location in the Arrivals Hall. For more travel flexibility we allows for 24 hour vehicle returns, especially convenient for those leaving on an early or late flight.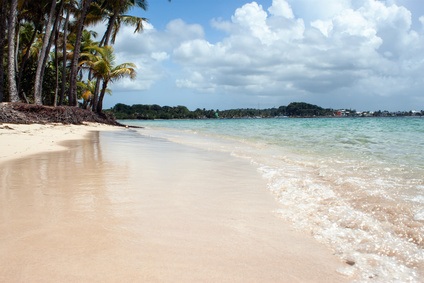 Plan a winter vacation in Guadeloupe
Getting to Guadeloupe has never been easier with numerous nonstop flights every week from the US. The islands are It is the perfect spot for a warm winter getaway, offering beautiful beaches and lots of activities for every kind of traveler. The Guadeloupe Islands are an overseas territory of France and thus, French is the official language. English, however, is spoken by many working in the tourist industry.
Flying into Pointe-à-Pitre International Airport puts you on the island of Grand Terre, one of the main islands. Here you can enjoy white, sandy beaches and beautiful landscapes perfect for a relaxing family vacation or romantic trip. With your car rental you can tour around the city of Pointe à Pitre and visit fun markets like daily one at St Anne or the night market in Le Gosier. If you enjoy playing a round, The Golf International of Saint Francois is your spot while those who want to catch some waves should head to Le Moule.