Car rental with Sixt in Mannheim, Germany
Our Service
|
Traffic Information
|
Sixt Tips
|
Sightseeing Destinations
|
Business Travel
|
FAQs
Available at our Mannheim branches is a wide selection of vehicles available for all traveling purposes. Whether wanting a luxury car rental from leading brands such as Mercedes-Benz and BMW, or are looking for a more budget-friendly rental vehicle, we can accommodate. Find out exactly where our Mannheim rental locations are by clicking on the second tab of the menu to display an overview of our branches on Google maps. You can also scroll through our drop down menu to see about useful information such as the opening times, addresses and vehicles on offer at each branch. Once you have chosen your pick up location head to our booking page to reserve your car online. Please note we can only guarantee you to receive a vehicle in your chosen car category as specific models are subject to availability at each of our Sixt rent a car Mannheim branches.
Our Service
No matter your mobility needs our extensive fleet can cater to your budget and plans. For weekend getaways make a price comparison and see how you could try out a sleek Maserati or other sports car for less than you think. We also provide a range of rental cars that are perfect for business trips, family vacations and group outings. Our choice of diverse compact city cars, comfortable sedans and minivans to large passenger vehicles and SUVs make it easy to find a model to match your trip.
Once you choose your rent a car, book ahead online or over the phone. While you make your reservation you can select from our useful extras to enhance and customize your car rental experience. We offer various add-ons at great prices to help you have an optimal ride like additional driver coverage or a GPS.
Some of our available extras
Child seats for babies, toddlers and small children
Loss Damage Waiver
Winter equipment such as snow chains and ski racks
Tires and Windscreen coverage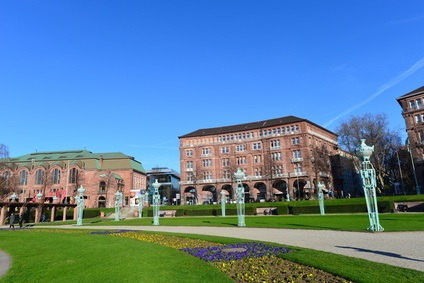 Traffic Information
If flying into Mannheim you will land at the regional airport, which is very close to the city center. Picking up your car at our Mannheim Airport location means you will be downtown in about ten minutes. Parking your rental vehicle whether in the city center, or elsewhere, should be rather easy. Make use of the numerous parking lots and garages which allow maximum flexibility with round the clock operating hours.
Those who are arriving at the Mannheim Central Station can find our branch on the ground floor. If you want to start sightseeing right away you can conveniently leave your car at the station and hit up top attractions like the Mannheimer Schloss which is now part of the university. Our Mannheim Neckarau car rental branch is located in the southern part of the city about a fifteen minute's drive from the city center. You can find out detailed directions from the branch page.
Because of its manageable size and central location driving around Mannheim is relatively stress-free. Located in Southwestern Germany in the region of Baden-Württemberg, you can easily access many of the top German cities from Mannheim such as Frankfurt, Stuttgart, and Nuremberg. Germany is known for their high-quality motorways and also for taking safety seriously, so don't forget to buckle up!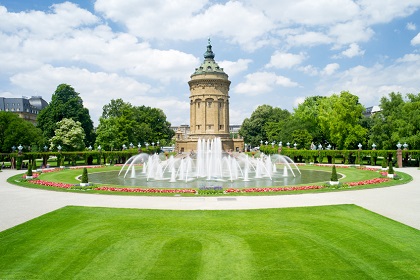 Sixt Tips
Mannheim's city center, set in the Quadratestadt, is laid out like a grid and has no official street names. Rather, blocks have names like Q3 and Q2. Originally built to surround the city's fortress in 1606, the city is located directly along the Rhine and Neckar rivers. Once famous for its beauty and industrial significance, Mannheim was unfortunately largely decimated during World War II. As a result, Mannheim today is now a mix of old and new. For those who are interested in architecture, Mannheim, like many German cities, is a mixture of industrial landscapes and historical charms that tells the history of both past and present.
Upon arriving in Mannheim, there is plenty to do as soon as you pick up your vehicle. The centrally located Luisenpark is a great place for a stroll or a scenic gondola ride. The fully landscaped park is lined with sculptures from various artists and includes an exquisite butterfly house. In addition to Mannheim's natural attractions, a visit to the Mannheim Schloss, a Baroque palace is also recommended. Constructed in 1720, the structure runs an impressive 450 meters along the central area all the way to the city's main square, Paradeplatz.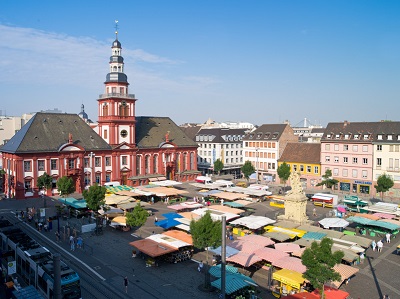 Sightseeing Destinations
Not far from Mannheim is Speyer, one the one of the oldest German cities, and is home to a charming Old Town. Besides strolling around you can visit the Historisches Museum der Pfalz, the Technical Museum, IMAX Dome cinema or the Sealife aquarium.
Distance to Speyer
From Mannheim Airport via A6: 17 miles, about 26 minutes
From Mannheim Central Train station via B9: 16.6 miles, about 28 minutes
From Mannhein Neckarau via A6: 15 miles, 21 minutes
Also worth the trip from Mannheim is driving to see the Heidelberg Castle. Visitors from all over the world come to marvel at the beautiful castle ruins which are some of the most important of its kind. Set in a striking location you can enjoy a day walking around the grounds and gardens of this magnificent, historical gem.
Distance to Heidelberg Castle
From Mannheim Airport via A656: 11.8 miles, about 33 minutes
From Mannheim Central Train station via A656: 13.4 miles, about 36 minutes
From Mannhein Neckarau via A656: 12.8 miles, 34 minutes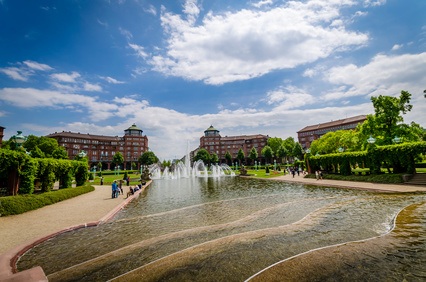 Business Travel
When on business, rent a car in Mannheim and have an affordable and convenient way to get around. You can arrive on time and relaxed to important meetings or to functions and be able to set your own schedule. The city is home to several large offices and factories from companies such as Bombardier, Siemens, and John Deer. As it is in close proximity to Frankfurt those who come to do business in Mannheim often attend major industry Congress Center Messe Frankfurt as well.
Congress Center Messe Frankfurt
From Mannheim Airport via A5: 49 miles, about 55 minutes
From Mannheim Central Train station via A5: 50.5 miles, about 59 minutes

FAQS
Below are the quick answers to some of our most frequently asked questions. Please be reminded that every country has slightly different rules and regulations, so for the most specific and detailed information pertaining to your desired rental please visit rental information for more information.
Which documents are needed to pick up a rental car?
What is included in the rental charges?
Can I rent a specific car model?
Can I change my booking and do I have to pay a cancellation fee?
Can I cross borders with my rental car?
Can I rent the car at one place and drop it off at another station?
What is Sixt's refueling policy?
What add-ons are available and how much do they cost?
Can I rent a car with unlimited mileage?
Does Sixt deliver and/or collect rental cars?
Do I have to pay a security deposit?