Sixt rent a car in Belgium
Click to jump to: Our Service | FAQs | Driving Tips | Places of Interest
Make the most of your visit to Belgium with a car rental. The country has something to offer everyone, with stunning ancient architecture, cosmopolitan cities, seaside resorts and breathtaking natural beauty. Our conveniently located branches ensure all of these attractions are readily accessible when you choose car rental in Belgium with Sixt.
What to Do in Belgium in Winter 2019
Christmas markets, palaces and cathedrals are all reasons to visit Belgium in the winter. Yes, the weather will be cold and gray, but the architecture, hearty food and festive lights will give you a trip to remember. If you are in Belgium during December or over the New Year, you can find Christmas markets (Kerstmarkten) in Brussels, Antwerp, Bruges, and Ghent as well as many other towns. The Winter Wonders Festival in Brussels is the largest market in the country and includes a sledding and ski slope, and ice skating. Also be sure to check out the Grand Palace light show around Christmas. The ice sculptures at the winter market in Hasselt are worth a visit and open through the first week of January. Downhill skiing is even possible in Belgium at resorts like Mont des Brumes, Hautes Fagnes for cross-country skiing, and Baraque de Fraiture. Renting a 4-wheel-drive vehicle like an SUV is a good idea when traveling to more hilly or mountainous areas, and be sure to ask about the availability of winter tires and ski racks.
Our Service
Browse the rental cars in our extensive fleet featuring a wide variety of car categories which are suitable for a range of mobility needs. From luxury to economy rental cars, we have something to accommodate just about any budget. You can easily and securely book online and customize your rental car to your requirements. We have numerous useful add-ons to choose from. Some of our extras include GPS, child seats, additional driver and coverage options. If you're planning a road trip or extended vacation, we also offer long-term car rentals in Belgium.
What vehicle class is right for my trip?
A compact car is great for navigating through city streets and is often easier to park.
A sedan or minivan provides top quality comforts and amenities which make family road trips more enjoyable.
SUVs are the perfect choice for traveling with more gear or a group and can handle a variety of road and weather conditions.
FAQs
Driver's license
Upon collection the renter and driver must present a valid driver's license and an identity card or passport. Those coming from the US can use their driver's license as long as you ther is no EU visa in your passport, or if so then you have not been in the EU for longer than 6 months. An International Driver's Permit (IDP) is not required unless your driving license is issued in a non-Latin alphabet such as Arabic, Chinese or Russian.
Age restrictions
You must be 21 or older to rent a car in Belgium from Sixt and you must have held your license for a minimum of two years. Further age restrictions may apply depending on the model of vehicle and these will be explained in the booking engine during the rental process.
Payment Methods
Sixt accepts all major credit cards but payment by prepaid cards, cash or debit cards is not accepted.
Accidents
In the event of an accident or emergency dial 112 to reach the emergency services. In the case of an accident, even if no other car is involved please call the police. Any damages need to be reported to Sixt immediately during the rental period and fill out the enclosed accident report form.
Crossing Borders
Belgium is centrally located in Europe and can make a perfect base from which to explore other European countries. Our car rental deals in Belgium allow you to travel to neighboring countries such as France, Germany and Luxembourg, as long as you first notify Sixt of your plans. If you don't do this, your coverage could be invalid. Restrictions may apply to other countries and certain models of car. You can check out conditions for specific countries and cars on our Rental Information page.

Driving Tips
Car rental in Belgium is made easier by an extensive and well-maintained network of toll-free motorways. However, keep in mind Belgium is a densely populated country and traffic congestion is common around the major cities, especially during morning and evening rush hours. The E40 is the major west-east route, running from Ostend on the coast, through Ghent and Brussels and on to the German border in the east. The E19 runs north-south between Brussels and Antwerp. Our car rental deals in Belgium make it simple and affordable to visit many top destinations and lesser known locations.
Tips for driving in Belgium:
In general speed limits are 50 km/h on urban roads, 70 km/h outside built up areas in Flanders, 90 km/h outside built up areas elsewhere in Belgium, and 120 km/h on motorways.
Belgium drives on the right and priority is given to drivers coming from the right.
All drivers and passengers must wear seatbelts.
Be aware of cyclists, they are allowed to use the entire breadth of one-way stress and the right lane of two-lane streets.
Do not drive, stop or park on the hard shoulder. Only in the event of a breakdown is this permissible.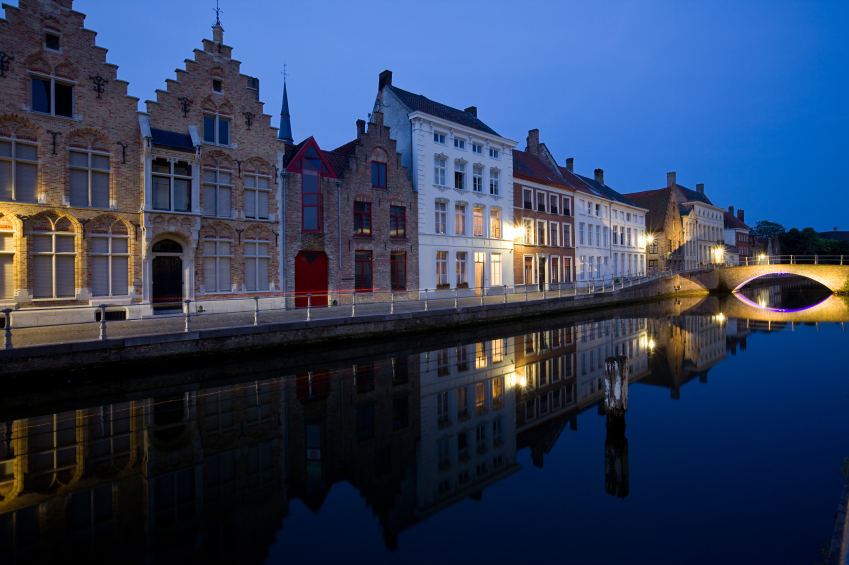 Places of Interest
Top 4 Architectural Sights
Le Grand Place, Brussels
Royal Greenhouses of Laeken, Brussels<7li>
Rubenshuis, Antwerp
Bouillon Fortress
Brussels is a wonderful architectural city but perhaps the finest area is its main square, La Grand Place. Here you can sip a coffee on a cafe terrace and admire the 17th century baroque buildings and the 13th century Gothic town hall. The Royal Greenhouses of Laeken were built between 1874-1895 and are also found in Brussels. Designed by Alphonse Balat the grounds feature monumental heated greenhouses and its royal botanical collection can only be paid a visit during a two-week period in April-May when the flowers are in full bloom. In Antwerp one can visit the Rubenshuis, or Rubens House, the former home and studio of the great painter Peter Paul Rubens that is now a museum. The Bouillon Fortress is one of the most ancient examples of Belgium's history and military architecture. Built built on rocky outcrops over the Semois river it features a labyrinth of corridors and huge vaulted halls.
Top 4 Natural Sights
Knokke-Heist
Zwin Nature Reserve
Hoge Kempen National Park
Natural Park of the Valleys of the Burdinale and of the Mehaigne
Knokke-Heist is an affluent seaside resort located along the North Sea in an area that borders the Netherlands. The Zwin Nature Reserve is located in this area and its salt marshes provide shelter for many types of birds such as white storks. The Hoge Kempen National Park opened in 2006 and is the first of its kind in the Flanders region of Belgium. It is home to mostly heathland and pine forest and is currently being considered to be listed as a UNESCO World Heritage Site. Natural Park of the Valleys of the Burdinale and of the Mehaigne is an area of Liège province that includes 23 villages. The natural park is a great place for eco-friendly travel where you can enjoy hiking, events about the regional gastronomy and visit places like the Pitet Plant heritage garden.