GPS Navigation For Your Car Rental
You won't have to worry about getting lost on your vacation or trip with a GPS in your Sixt car rental. Even if you don't know the address of your destination, a GPS can recommend nearby places to visit and is guaranteed to get you where you want to go. Optimize your rental car experience with GPS upgrade from Sixt.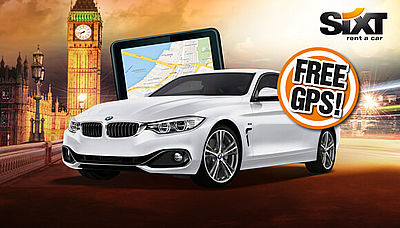 Stay on track with a GPS in your Sixt Rental Car
As well as directing your rental car, your GPS can recommend certain routes - advising you of the quickest, most direct path to save time and gas costs. It can also guide you past landmarks if you prefer a scenic route.
GPS is able to alert you of upcoming traffic delays and suggest alternative routes. This feature is perfect to make sure no time is wasted on your trip
Many units will also advise you on local speed restrictions and warn you when you are going too fast. The GPS will also notify you if there is a speed camera coming up, saving you from unexpected fines.
With Sixt you can add GPS to all Rental Cars
When you are driving unfamiliar roads it can be difficult to navigate with a standard road map, as driving conditions may be different and unexpected. The GPS will keep you on track and will make driving to a new destination feel easy. Find out more about our top quality rental car categories below. **Subject to availability, these Add-ons are available at participating worldwide Sixt locations.