Malaga Airport Car Rental
Customer Reviews About Sixt





| 18.05.2015 13:34
| 11.05.2015 11:31 All went well - Thanks.
| 04.05.2015 10:05 the staff were very friendly and helpfull you have a fantastic team at malaga will always use sixt car rental
| 21.04.2015 10:11 Exellent job! Many thanks!
| 09.03.2015 08:04 Friendly staff, efficient pick up and drop off procedure. Easy to find way to pick up and drop off points.
| 02.03.2015 16:06 All was good Thanks
| 25.02.2015 08:07 Very good serviceFree upgrade on car and the whole process was very easyThank you
| 11.02.2015 20:07 and I like the efficiency of the employees - handling time is within 5 minutes. And they provided me a brand new car! Great!
| 11.02.2015 11:32 Competitive and efficient with clean well maintained cars.
| 11.02.2015 11:22 Quick, easy and professional.
| 04.02.2015 11:21 Great customer service, really friendly and helpful. The car was brand new which was a great bonus. The return process was surprisingly quick and stress-free!
| 03.02.2015 11:04 I like the the cars are always fairly new, and how easy it is!
| 28.01.2015 11:23 Have always used Sixt over the last few years in France and Spain, found it to be a very straightforward and fair company to deal with
| 26.01.2015 08:57 A very pleasant experience from start to finish. Top marks!!
| 16.01.2015 07:08 The staff were so friendly and helpful it was a delight to use Sixt
| 30.12.2014 11:51 all employees at Sixt malaga airport were friendly and helpful.
| 24.12.2014 07:20 Everything about the rental experience was very good.
| 22.12.2014 10:49 Keep up the good work
| 19.12.2014 12:42 My flight from London was very late. There were 2 very friendly ladies at SIXT desk in Malaga at about 11.15pm. I loved the SmartCar I booked. It was available when I got to the desk (does not always happen with other companies). This is my first SIXT experience. She explained the insurance waiver very well to me and I even spoke a bit...
| 19.12.2014 11:35 great economical car. NIce people on check out.Thank you
| 27.11.2014 12:44 Staff helpful and friendly. Car as ordered with easy pickup. No concerns
| 24.11.2014 13:07 The young woman at the desk when we arrived in Malaga was extremely pleasant. the car was perfect and every little scratch was pointed out to us before we left the lot.a very good experience
| 19.11.2014 11:24 Great friendly people easy procedure. The best of the car hire companies I have dealt with and I have used many over the years. Keep up the good work.ThanksK.S.
| 07.11.2014 10:40 i always use Sixt and will continue to do so
| 05.11.2014 18:07 We were in our car very soon after landing.
| 04.11.2014 21:30 THE CARS ARE CLEAN AND OF NEW AGE.PEOPLE ARE FRIENDLY. YOUGETTHE CAR YOU BOOKED FOR.
| 04.11.2014 11:55 Also, I like to be given the option to return the vehicle with a full tank of petrol. Sixt's prices can be a little more than other car hire firms, but it is worth paying the extra to have the fuel option and also to know that I won't have to queue when picking up and returning the vehicle! I love walking past the long queues of people...
| 04.11.2014 11:16 Quick process, friendly staff. :-)
| 29.10.2014 09:40 I was impressed by all aspects of the service from booking on line to final return of the car and subsequent invoice. This is the first time that I have used Sixt but will undoubtedly do so again.
| 22.09.2014 09:04 I was very satisfied with the whole renting experience from beginning to return of the vehicle.
| 18.09.2014 03:41 I've never had a bad experience with SIXT and would not rent from any other of your competitors. Your cars and staff have always been superb. Thank you
| 08.09.2014 17:39 Excellant as usual - always quick & easy , particularly if online booking done in advance, very helpful courteous staff, always happy with quality of vehicles -virtually brand new every time and very well presented.Will definitely continue to use SIXT again- far ahead of the others in Malaga ! Thanks +++Dr G. J., Dorset UK.
| 03.09.2014 10:45 much better than Gold Car and probably the best rental experience I've had
| 03.09.2014 09:44 Generally speaking all was fine and quickly arranged.No problems at all.
| 27.08.2014 11:01 Generally very happy. I particularly liked having the option to return the car either empty or full.
| 22.08.2014 00:31 Fast service. Car was great and used a tiny amount of fuel. Easy to find the return parking. Friendly people at start and finish. Very efficient
| 14.08.2014 12:25 Liked the very simple process and no queues!
| 31.07.2014 07:19 A lost valet was returned immediately.
| 09.07.2014 09:18 Very easy, very nice and friendly staff
| 01.07.2014 17:48 Simple, quick an easy check-out and check-in, reasonably priced. Have always been very happy with Sixt rentals.
| 25.06.2014 10:51 We were very impressed with the whole experience of your renting your car. We noticed how clean and unmarked your cars were (compared to other company's we have used). The cars stood out. Your customer service was excellent. I received a phone call advising me that the key collection desk may be closed as we were a late arrival. The...
| 25.06.2014 10:41 No hidden catches or hard sell of other extras
| 27.03.2014 20:32 The rental process through the website was straightforward. The pricing was very competitive. The pick up process at the airport was very quick, efficient and friendly and the return process was also very efficient. The staff I had contact with - both at pick up and return - were very friendly and handled the pick up and return very...
| 26.03.2014 19:10 Very straightforward pick up and simple return plus an added advantage of a brand new vehicle plus important fuel policy agreement which allowed me to take away full and return full.
| 19.03.2014 10:40 It was a professional and trouble free service
| 18.03.2014 20:57 Been in Costa del Sol since 2000. Our first time renting at SIXT. Always had the impression that SIXT was expensive. Not this time
| 18.03.2014 18:59 all the service is very good
| 17.03.2014 11:51 Fast polite service , simply the best on site facilties for pick up and drop off and very nice new cars
| 17.03.2014 09:32 Compared to other rental companies, there are less "hidden fees" and add-ons with Sixt. Therefore, I have another rental from Sixt planned within only a few weeks. :-)
| 13.03.2014 18:58 Superb customer service at Malaga airport from your employees - friendly and professional.
| 13.03.2014 13:40 the best so far.. quick professional service
| 12.03.2014 14:06 The procedure from start to finish waws easy to understand and I thought the fees charged fair and competitive. The Auto BMW I hired was delightfulto drive and very economical on diesel
| 09.03.2014 21:37 perfect
| 07.03.2014 07:55 I would to like to thank Mercedes M. for responding, on a Sunday, to my mail regarding my lost set of keys. Mercedes and her team found the keys and informed the crew to progress with their return to me on the Monday. Many thanks to Mercedes. On the Monday the keys were despatched to me in a professional and efficient manner. Thanks to...
| 05.03.2014 13:33 Slight delay sorting out the rental when arrived at Malaga - considering I also input all our details on-line beforehand to make it a quick pick up.Once all sorted we located the car quickly and it was very neat and tidy. Return of the car was quick, simple and efficient. Also good value for money. Would rent again.
| 05.03.2014 11:50 Some times it takes a long time to take out and bring back a hire car, this time was quick and easy with no fuss.
| 26.02.2014 22:21 I have used Sixt many times from Malaga and have always been very pleased with the experience. No long queues, a very simple pickup process, friendly and polite staff, and the ability to return the vehicle with a full tank of fuel is a huge bonus.
| 19.02.2014 12:53 Initially when collecting vehicle I was convinced by employee to get full insurance, I was sort of not fully happy that I needed to pay additionally (actualy seller was prefesionally persuading me). Yet later after an accident it fully paid off. What I also liked is that accident was not only my problem and sixt spain people helped me...
| 19.02.2014 11:00 Efficient an pain-free rental process. The location had the car I requested and it was perfect. Will use again.
| 13.02.2014 10:52 best cars best rental company
| 12.02.2014 20:14 Lovely people, easy process, no queuing, great little car only a week old. Not the cheapest but you get what you pay for. Pleased with the free upgrade too!Thanks guys!
| 11.02.2014 14:10 I think you have the best service ever. It has to be one of the best experiences with a car rental company that I have ever had. I rent 2-4 cars a month with a number of your competitors.
| 06.02.2014 16:25 I have nothing to complaint.Thank you to the staffs of Sixt Malaga Airport Office.
| 16.01.2014 16:39 I appreciate the staff being efficient, well-trained and friendly.
| 16.01.2014 14:07 The entire rental process was simple and efficient. I didn't have to wait long and the staff was very friendly and professional. The car was very good.
| 09.01.2014 20:49 the process in malaga was very smooth. staff very professional. problem with burst tyre handled well.
| 07.01.2014 11:00 Very easy to find and quick turn around both in pick up and return
| 02.01.2014 08:13 Very Professional.Not the cheapest but that is why we get and expect the improved car and service quality. we have rented from others and Sixt are clearly the best.
| 31.12.2013 12:25 I have used Sixt before mainly in Portugal . Once again you lived up to my expectations . Many Thanks . I have had far less quality service from some of your competitors . Job Well Done Thanks PWJ
| 13.12.2013 12:05 Very positive experience, was delighted with the car and the service from the staff!
| 11.12.2013 15:28 I have booked with Sixt before and did not hesitate to use them again.
| 11.12.2013 10:44 Used most of the car hire companies, yours is the best, we will be back, thanks.
| 02.12.2013 14:50 Everything worked very well. The car was exact what I expected, and so was the service with baby chair and others. See you next time in Spain.
| 28.11.2013 11:40 we were amazed that late at night and early on sunday morning the staff and vehicles were available without any hassle. great job
| 14.11.2013 18:17 liked the email saying i had left a pair of glasses in the car
| 06.11.2013 12:53 Bettina et Carmen sont deux merveilleuses jeunes femmes, souriantes, belles et efficaces. Un vrai bonheur que de les croiser. Mais d'une façon générale tout le personnel est parfait.
| 05.07.2013 10:54 Your employees were a pleasure to deal with
| 01.07.2013 17:25 The employees were very accommodating to my request to change the vehicle
| 01.07.2013 14:33 I got exatly the car I needed with all the equipment I wanted. :)
| 26.06.2013 15:29 Thank you for asking me, and for the next travel I will be again your customer
| 26.06.2013 12:08 The man at reception very pleasant and helpful considering the time of night
| 24.06.2013 18:19 You provide really wide range of very good vehicles and the whole experience was pleasant - starting from booking, pickup and then returning the vehicle. I like the ability to provide my personal data via online service and then don't spend time of filling in papers during the car collection process. Thank you.
| 19.06.2013 22:19 excellent. walked past the queues at other desks and straight to the car park and the car!
| 17.06.2013 19:29 I'll definitely choose sixt for my next car rental
| 17.06.2013 16:59 On arrival at Malaga Airport the Sixt office was easy to find and the staff were very helpful and efficient as were the staff when I went to collect the vehicle. The vehicle supplied was ideal for our needs, very clean and full of fuel. On returning to the airport, the return of the vehicle to your staff was handled with maximum...
| 10.06.2013 10:06 Fantastic service. No waiting around...the express booking service meant we were driving within 10 minutes of claiming our bags!
| 09.06.2013 06:19 Good professional attitude by staff and quality vehicles provided**Based on experience of Malaga, Barcelona & Valencia
| 06.06.2013 19:50 Hi, everyone we dealt with was really helpful and there was no language problem! I would definately use you again. You did come recommended to me.regardsS.
| 30.05.2013 13:10 Alles war ok. Danke.
| 23.05.2013 18:48 We paid a bit more for the same car as would have been available through other rental agencies but a number of factors made this worthwhile; convenient pick up and drop off point, fair fuel policy, fast and efficient process, good quality low mileage vehicles, good reputation giving peace of mind that any problem would be appropriately...
| 23.05.2013 11:51 Keep up the good work!
| 22.05.2013 06:57 very happy with your service
| 14.05.2013 14:33 The service was fantastic, thank you very much !
| 13.05.2013 10:05 All Sixt people very courteous. No long waits. No lineups.
| 10.05.2013 09:15 Everything was perfect. Thank you!
| 01.05.2013 00:00 sehr kompetente Bedienung, auch bei der Rückgabe des Fahrzeuges
| 30.04.2013 00:00 Your service was excellent.
| 30.04.2013 00:00 excellent service thank you
| 29.04.2013 00:00 your staff is well informed and polite.
| 29.04.2013 00:00 EXCELLENT SERVICE VERY PLEASED MANY THANKS ,
|
|
Location Details
Address:
Terminal 2 & 3 Arrival Hall
29004 Malaga ES +34-902-491616
Location:
airport
GDS - Code:
AGP
SIXT #:
6994
Opening Hours
Mo. - Su.
00:00 - 24:00
Bank holiday
00:00 - 24:00
Welcome to Malaga Airport Sixt rent a car
Sixt Rent a Car Málaga, one of the biggest airports in Spain, is managed since March 2012 by Ioana Maria Bucur. Ioana began her Sixt Career as a Rental Agent in Madrid Airport. Later she formed part as Supervisor and Trainer in the department for trainings for Sixt employees. After finishing her Branch Manager Training Programm as a Trainee in Barcelona, Ioana moved to Malaga to direct one of the biggest Sixt branches in Spain. She is supported by a team of dedicated staff who will be happy welcoming you at Málaga Airport. Ioana and her team will be happy to help with any questions you may have. Make Sixt your choice for your car hire in Málaga.
Ioana Bucur ( Branch Manager )
Car Rental Malaga Airport
Sixt rent a car is located inside the Malaga Airport where Sixt makes it easy to fly and drive. Within just minutes of reaching the Sixt rent a car counter you will be able to get the keys to your rental car in Malaga. Sixt not only makes it easy to rent a car Sixt also has one of the largest car hire fleets to choose from to make it really easy to get the right car for you. If you are looking for vans, mercedes, convertibles, SUVs or any other type of vehicle you can bet Sixt has it or will have that car very soon. Sixt has locations all over Spain so no matter where you are going to for a holiday think of Sixt for you car rental needs in Spain.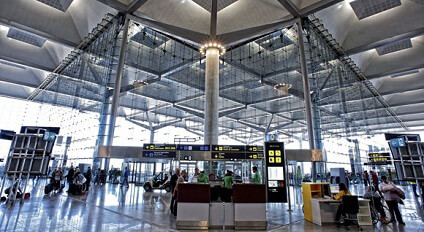 © aena-aeropuertos.es
Malaga, Spain
Malaga is the sixth largest city in Spain and is regarded as the capital of the Costa del Sol, one of the most popular holiday destinations for Brits.
Located on the southern coast of Spain Malaga has a population of 566,450. Every year thousands of holidaymakers fly into Malaga Airport to enjoy a sun soaked break by the Mediterranean Sea.
Malaga is a city with a rich history, with records of the settlement dating back to 770 BCE. The name Malaga is believed to have originated from the term Malaka, which meant salt, due to the fact that the harbour was used to salt fish that had been caught locally. Over time Malaga has been governed by various powers and acted as an important trade centre.
Today Malagas main industry is tourism attracting visitors from across theworld to what is regarded as one of the world's most beautiful cities, offering a perfectly balanced blend of urban and coastal life.
As well as a relaxing stroll on the beach, enjoying the rays,there are also many other activities available in this vibrant city. During the month of August the Feria de Malaga festival is held, where the streets are transformed into symbols of traditional Spanish history.
Flamenco shows
are held and sweet wine and tapas is served. Actor Antonio Banderas and famous artist Picasso were also born in this beautiful City. Malaga has also been put forwardfor nominations for the 2016 European City of Culture
Top Five things to do in Malaga:
1. Take a stroll on the beautiful beaches
2. Visit San Juan Church
3. See some live flamencoshows at the Feria de Malaga Festival
4. Enjoy the local delicacies Tapas
5. Visit the Museum of wine for some wine tasting!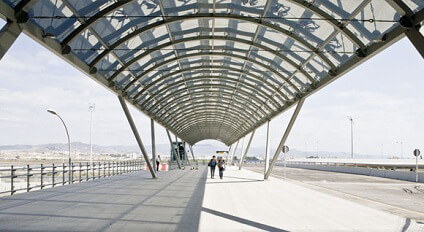 © aena-aeropuertos.es
Malaga Airport - AGP
Malaga Airport is located eight miles from the center of Malaga and as the only major international Airport in the Costa del Sol region it serves travelers visiting popular local resorts including Marbella,Benalmadena, Rincon de la Victoria, Torremolinos, Alhaurin de la Torre and Fuengirola.
Car Hire at Malaga Airport
SIXT car hire at Malaga Airport offers the ultimate solution for your holiday
car hire with a wide range of car in all sizes you'll find the perfect hire car for your requirements.Whether you're looking for a luxury convertible, a large family car or a small economy car to get you around SIXT offer something for everyone.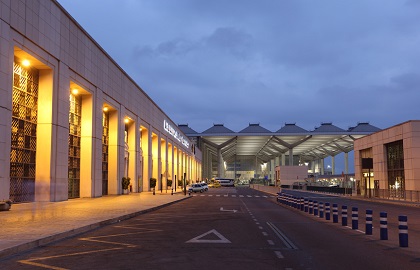 © philipus - Fotolia.com
Location details
Opening Hours
| | |
| --- | --- |
| Mo. - Su. | 00:00 - 24:00 |
| Bank holiday | 00:00 - 24:00 |
Contacts / Lost & Found
SIXT # Malaga Airport AGP
Terminal 2 & 3 Arrival Hall
29004
Malaga
36.674934, -4.488935
+34-902-491616
+34-951-235702
SIXT # Malaga Airport AGP
Terminal 2 & 3 Arrival Hall
29004 Malaga
Phone no.
+34-902-491616
Fax
+34-951-235702
Location plan - how to find us
From baggage collection terminal 2 & 3 to the Sixt branch:
Once you have collected your luggage, follow the directions for Rent a Car to go down to level -1. For this, take the elevator or escalators which are situated in front of luggage belt 35. In this floor is situated our office, where our staff will be happy to attend you.
Return information Sixt car rental Málaga:
Follow the signposting for Málaga aeropuerto/San Julian. In the airport area follow the signs "car rental". In the carpark you will find the Sixt car return in level 0 (Parking P2) where you also picked up the keys. There are signs posted for the return area. Give the keys to a Sixt staff member or out of hours put it in our key return box which is situated just next to the Sixt office. During the opening hours a Sixt staff member will escort personally the return of the car.
Sixt Express Counter - the fast way to the rental car
From Terminal 2: Follow the signs for Rent-a-car.Walk through the hall and tak e the exit on the right.Pass security and take the lift on your left to level 0.Exit the lift, turn left into the parking and then turn right.Walk straight ahead to the area marked Sixt.There you will find our office and receive your contract and key. From Terminal 3: Follow the signs for Rent-a-car,down the escalator,through the walkway to car rental offices.Entering the main hall,turn left and go up through the corridor.Pass security and take the lift on your le ft to level 0.Exit the lift,turn left into the parking and then turn right.Wal k straight ahead to the area marked Sixt.There you will find our office and re ceive your contract and key.After 23:30 please be aware the parking office is closed! Go directly to the main office in level -1, main hall, folowing signs to rent a car area.
Categories and services at this location
Compact Cars & Sedans
Sports cars & convertibles
4x4 / SUV
Select vehicle for pick-up using iPhone
Express counter
Save with Sixt Car Rental Deals & Specials