Madrid Barajas Airport Car Rental
Customer Reviews About Sixt





| 26.06.2015 20:08
| 28.04.2015 01:31 Very pleasant and efficient
| 27.04.2015 13:23 Everything was perfect. We get new clear car. The staff was very helpful and gave us full information at the pick up station in Madrid airport, also suggested which car better to hire. Sixt rental station at Madrid airport is easy to find. It is just few minutes from 1 Terminal. Looking forward to rent a car in the nearest future.
| 01.04.2015 07:46 Easy, simple and efficient, all that I want
| 15.03.2015 11:00 Everything was perfect and satisfactory...
| 12.03.2015 13:21 The girl at the desk was professional and very nice to talk to. The car was clean and convenient. I wish all car rental companies were good as Sixt. I would definitely use Sixt again.
| 07.03.2015 16:41 Simpel booking, Meget fin betjening, Flot bil - Perfekt!
| 28.04.2014 13:55 alquilamos en abril en dos oportunidades, y en ambas el servicio fue muy bueno. sumamente recomendable. facil , sencillo y agil! los coches responden a lo contratado!
| 03.04.2014 14:46 Proximity to the terminal, helpful employees, and a clean quality car
| 23.02.2014 19:34 Estoy muy satisfecho con el servicio recibido tanto por parte del personal como por el vehículo asignado
| 06.01.2014 01:01 Friendly staff, simple procedures and very good vehicle.
| 04.01.2014 12:39 excellent customer care thank you very much
| 02.01.2014 10:58 Soy usuario de sixt y siempre he quedado muy satisfecho del servicio. Agradecerles el trato y el servicio afectuosamente. Samuel Brime
| 11.12.2013 20:40 Renting a car from Sixt made our vacation more enjoyable and comfortable.
| 02.12.2013 16:22 Couldn't be better.
| 22.10.2013 15:48 todo muy bien
| 24.09.2013 15:25 Thank you
| 19.09.2013 10:25 The booking was easy, we were given the option of an upgrade when we arrived in Madrid, the marks on the car were already noted on our documentation and the drop off was seamless.
| 02.09.2013 23:02 Sixt, a excelent option
| 29.08.2013 12:25 SIXT is my favorite rental car company, however, sometimes they are higher priced than others. If all else is equal I will always favor SIXT because their cars and service are superior to all other companies. I am glad to see that you are finally making more rental locations available in the US.
| 26.08.2013 16:50 Sixt company really helped us when we arrived to Madrid and had not been getting car from other rent-a-car company. Sixt's staff were friendly and solved out our issue immediately. Thanks a lot to all Sixt team!
| 29.07.2013 10:06 Good company, good service!
| 11.07.2013 19:29 It was my first trip in Spain, it was my first car rental.everything was so successful and nice.
| 10.07.2013 11:48 Nothing at all, everything went very well and our experience with Sixt was FANTASTIC!
| 02.07.2013 11:46 If I would not have been limited to 3 items, I would have selected ALL entries for #3, except "Sixt responded to my complaints quickly and provided useful support.", as I had no complaints whatosever.
| 07.06.2013 00:13 Very efficient and friendly service, great car, will definitely recommend to friends.
| 24.04.2013 00:00 Staff was very friendly. Everyone was so helpful and made the experience of renting a car in a foreign country super easy! Thanks so much!
| 22.04.2013 00:00 Excellent customer service,no waiting at pick up or return,have used sixt before and will again.
| 10.04.2013 00:00 Good service from attentive staff. Car was well prepared.
| 08.04.2013 00:00 Verdaderamente un muy buen servicio.
| 07.04.2013 00:00 I was very satisfied with the car suggested by your agent, particularly while driving during the rainy weather. Thanks.
| 02.04.2013 00:00 Thanks for great people in Madrid airport
| 02.04.2013 00:00 Hi!I was very happy with the car and your service!Kindly send me your website link, that next time I can book the car directly from your website and not through the third party.Thanks and my best regards,
| 02.04.2013 00:00 The staff were very friendly - bueno!
| 21.03.2013 00:00 The Sixt Team at Madrtid Barajas Airport on arrival and on returning the vehicle were excellent. I would also like to thank Beatriz for her assistance in returning my wife's hat which we left in the car.Many thanks to all of your Team.
| 14.03.2013 00:00 thought the whole process was very easy, nice car, staff were pleasant. Would use again
| 09.03.2013 00:00 Great rental
| 04.03.2013 00:00 I have used Thrifty for a number of years for both business and pleasure and this is my first rental from Sixt. I am extremely pleased with your pricing policy, check-in procedure, the condition of the vehicle and your return staff. I will be using your firm going forward!Thank you,
| 16.02.2013 00:00 service was goodthe vehicle was as describedI will rent again from sixt
| 14.02.2013 00:00 Perfect service. Thank you!
| 07.02.2013 00:00 muy bien....
| 18.01.2013 00:00 good luck, best regards!
| 18.01.2013 00:00
| 29.11.2012 00:00 We were very pleased with our rental experience with Sixt. We were especially impressed with your staff.
| 22.11.2012 00:00 the staff at the airport counter and the return lot were very friendly and very helpful and very efficient! the car was spotless and ran beautifully. we were very pleased with our experience with sixt. thank you!!
| 06.11.2012 00:00 Muy buen servicio.Excelente condicion del vehiculo.
| 05.11.2012 00:00 I would particularly like to commend the courtesy of your staff at Madrid Airpost, especially the very helpful chap on the car park itself to whom we gave the keys back at the end of our stay. He spoke good English and is an excellent ambassador for Sixt 'service with a smile'!
| 30.10.2012 00:00 Thank you very much for the excellent work of your employees
| 26.10.2012 00:00 Excellent service overall. The employees were warm and attentive. Very helpful with my rental experience. Car was clean and almost new. Will definetively recommend it!!!
| 25.10.2012 00:00 Very nice helpfull staffThanks
| 22.09.2012 00:00 Sixt ia an up-front company with no hidden extras. No hassle on renting and no hassle on returning.
| 20.09.2012 00:00 Definetely, the most beautiful stand among all rental companies in Madrid T1. It is regrettable que the stand in Madrid T3 is not open anymore. Great staff at the main desk and in the outside parking desk.
| 06.09.2012 00:00 Todo perfecto, gracias por el coche colegas.
| 31.08.2012 00:00 Exellent service level by the staff on Madrid airoprt.In the pick up and return point.Really congratulation.
| 31.08.2012 00:00 Very happy with the service on collection and return in Madrid.
| 30.08.2012 00:00 We have been so pleased with the brilliant service this year and will use your service again next year.Thank you
| 30.08.2012 00:00 perfect reception and support
| 30.08.2012 00:00 Everything was perfect. Check in and check out was excellent and the people were pleasant. The car was exactly what I had booked, very clean and fun to drive. I intend to rent a car in Germany in October, but I am wondering why it is more expensive in Germany than Spain. The reason I chose Sixt is for the price & quality of the cars.
| 29.08.2012 00:00 perfect service, thanks!
| 23.08.2012 00:00 Best offer ever
| 17.08.2012 00:00 The service was really effective.
| 17.08.2012 00:00 Very Happy with the service. The only problem was that The GPS was loosing signal most of the time and it was difficult to find my way around especially inside the tunnels. Other than that We were very happy with SIXT and the service. I will certainly use SIXT again on my next trip which will be Rome.
| 09.08.2012 00:00 Nice car, nice price, no problems
| 07.08.2012 00:00 It was our first time rental from SIXT and will definately not hesitate to rent again or recommend SIXT to our friends as we got excellent service.THANKS and keep up the good work
| 26.07.2012 00:00 The entire experience was very nice. The car was brand new and the people working there was responsive and very kind!
| 26.07.2012 00:00 Everithing were perfect.Only about twice last locations I didn't get the best price direct with sixt, I took a sixt`s car but with a agent.
| 26.07.2012 00:00 I loved the car i got. Good service at the desk.Lokking forward to rent a car from u aigin :-)
| 26.07.2012 00:00 More expensive than other companies for the same vehicle, however taking out the rental was fast and efficient. There were no issues with returning the vehicle and it performed well for the duration of our rental. One suggestion would be to update the sound system in the cars so that they are compatible with mp3 players - CDs have...
| 26.07.2012 00:00 Great desk service (although I fail to understand the additional credit card guarantee and paperwork given the prepaid, online check-in process). But i understand the opportunity seized to offer a bigger car and insurance cover... Fair enough. A bit disappointed, however, to have had to ask for, carry and install the baby seat on my...
| 19.07.2012 00:00 We booked a VW , upon arrival in Madrid was upgraded to a sports a Mercedes Benz. Will definitely rent from Sixt again.Staff were extremely friendly and very helpful - thank you!
| 19.07.2012 00:00 Excellent Man on the madrid desk great manners. Great car and price definitely use sict again
| 12.07.2012 00:00 Car was fantastic. VW Touran.
| 12.07.2012 00:00 Todo fue estupendo!!
| 07.07.2012 00:00 Excellent service! Thank you!
| 30.06.2012 00:00 service is efficiency.Special thanks to staff of Sixt for the polite & delight servies to clients.Please keep it up.Many thanks!
| 29.06.2012 00:00 I really liked the service. It started with attention to detail from the pre-pickup SMS, the staff at Madrid airport at the start of out journey, the vehicle we rented and the ease with which we dropped the vehcile off again on our return. It was a pleasant experience, thanks to all the staff at Madrid airport who are obviously...
| 28.06.2012 00:00 since I rent in Sixt, there is no other company for me to ask for price or nothing....the service is great, the counter is always perfect, the Romanian girl who was that day , she was incredible, my congratulations!!! please to her!! also please, if you can send me the final receipt, because I drop the keys and didnt have time to wait,...
| 23.06.2012 00:00 It was brilliant to be able to return the car full of petrol, and thus avoid the usual high charges that your competitore make.
| 22.06.2012 00:00 HI I HAVE NEVER SEEN LIKE THIS THE WAY YOUR COMPANY SERVE AND YOUR CARS ARE SO BEATUFUIL..I LOVE IT I ENJOY IT..AND PLEASE I WANT HAVE MEMBER SHIP CARD IF YOU CAN SEND ME OR ISSUE ME A ONE CARD I WILL BE VERRY HAPPY..THANKSTHANKS
| 22.06.2012 00:00 This was my second rental from Sixt. First time was in Schiphol in Amsterdam. At that time, I was impressed from Sixt'sHoliday rental system. And so again I had second choice from Sixt and also give me large satisfaction.Next time I will definitely choose Sixt.Thanks.
| 21.06.2012 00:00 No. Great car at a great price
| 14.06.2012 00:00 we would like to book with you directly in future rather than go through a middle agent.
| 31.05.2012 00:00 Keep up the good work. You are doing great. Keep those economical and fancy cars at current prices and you will do get a lot of clients, certainly from my reccomendations.
| 31.05.2012 00:00 Keep up the good work. )
| 28.05.2012 00:00 We rented a car from you in Germany in 2010 and in Spain in 2012. We will rent from you again. Great company with very nice employees.
| 27.05.2012 00:00 It's a real pleasure to deal with your staff they are so friendly and helpful. The service is so much more efficient than other rental companies I have dealt with. Please keep doing what you are doing it's great for customers!
| 21.05.2012 00:00 overall very satisfied.
| 03.05.2012 00:00 Thank you!
| 19.04.2012 00:00 No suggestions, first experience with Sixt, definitely positive. Well done!
| 08.03.2012 00:00 The Young Women at the Madrid airport was very friendly and helpful. As well the car was new and extremly clean inside. Thank You
| 01.03.2012 00:00 No...from the reception desk onwards all was perfect....thank you
| 01.03.2012 00:00 no the service was brilliant.
| 01.03.2012 00:00 Thanks, it was nice to meet someone who could communicate in english in SPAIN :)I had a nice weekend and it was a brilliant ride.As far as its concerned if i ll choose sixt again, then my answer is i am thinking to get a customer card and get me a membership in sixt.I m from transport branch as well so i do appreciate ur services.Once...
| 27.01.2012 00:00 Keep up the good work, you are just perfect!
| 26.01.2012 00:00 Congratulations for your exellent service.....New car,very clean,exellent personel service !!!
| 26.01.2012 00:00 Congratulations!! I'm very happy with the car I rented and with your service.I will rent with you definitely next time I have the chance.
| 05.01.2012 00:00 The vehicle was booked wth Sixt in Sept.11 and also a child seat which I had to collect from the car park office and fit myself.I was able to do this ,no problem,but there maybe those who could not.
| 31.12.2011 00:00 Very good and helpful service
| 17.11.2011 00:00 Todo muy claro al alquilar el coche y al devolverlo. El coche también me gustó.
| 31.10.2011 00:00 Thanks. Everything was ok. I have already booked another car in SIXT for my NY trip in Germany.
|
|
Location Details
Address:
In-Terminal Counter T1 & T4
28042 Madrid ES +34-902-491616
Location:
airport
GDS - Code:
MAD
SIXT #:
8027
Opening Hours
Mo. - Su.
07:00 - 01:00
Bank holiday
07:00 - 01:00
24 h pickup
24 h return

Welcome to Madrid Barajas Airport Sixt rent a car
Azahar Raigón Martinez leads the offices of Sixt Madrid Airport T1 & T4. Azahar began her career in Sixt in February 2010 as a rental agent at Sixt Madrid Atocha. She continued developing her career as a supervisor in the company's offices at Sixt Madrid Centre. In August 2012, after completing her training as a Branch Manager Trainee, she led the Bilbao Airport office for three months and from January 2013 she is in Alicante to take over the stations of Sixt Alicante Airport and Alicante Hotel Melia Center. In 2014 Azahar leaded a new project opening the 3rd Sixt station in Alicante, Sixt Alicante Renfe. Azahar is accompanied by a great team that will welcome you to Madrid and will be at your disposal for any questions that you may have. Choose Sixt as your car rental company in Madrid.
Azahar Raigon Martinez ( Branch Manager )
Car Rental in Madrid
Sixt rent a car has 5 car rental locations in Madrid making it easy to get a car hire no matter where you might be in Madrid, Spain. One of Sixts rental locations is located inside the Madrid Aiport at Terminal 1 and terminal 4 making the car renting process go faster no matter what terminal you fly into in Madrid. Once you arrived to our rent a car counter you will get the choice between several rental vehicles from SUVs, vans, sports cars and even economy car rentals. Sixt makes it really easy to get rental car for what ever your needs are in Madrid.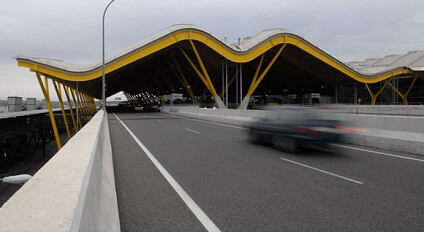 © aena-aeropuertos.es
About Madrid, Spain
Madrid is the capital of Spain, located on the River Manzanares in the centre of Spain. As the third largest city in Europe Madrid is an important financial district and a tourism hotspot. Madrid is also the political centre for Spain and the residence of the Spanish monarch. It's prominence is highlighted by the number of large Spanish companies thathave headquarters in the city as well as three of the worlds largest 100 companies. The center of Madrid is packed with historic buildings alongside some for the finest modern architecture.There are also plenty of green spaces including the large central Parque del Retiro park.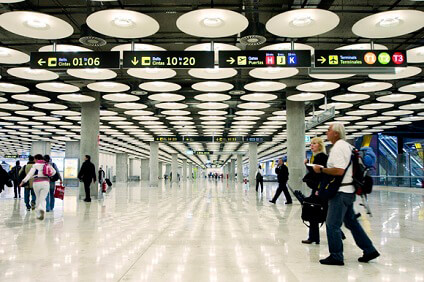 © aena-aeropuertos.es
Madrid Airport -MAD
Madrid-Barajas Airport is the main airport serving the Madrid area andis ranked as the 11th busiest airport in the world and the 4th in Europe. Madrid airport is the primary hub and maintenance base for Iberia Airlines. The airport handles over 50 millionpassengers each year through it's four terminal buildings. Terminals T1, T2, and T3 service flights from Air Europa and Spanair, as well as all member airlines of Skyteam and Star Alliance. Whilst Terminal 4 caters for Iberia flights and all Oneworld alliance member airlines including British Airways, American Airlines, LAN Airlines, amongst others.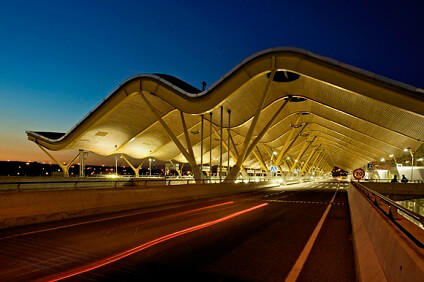 © aena-aeropuertos.es
Rent a car at Madrid Airport
SIXT is located within terminals 1 and 4 at Madrid International Airport. Renting with Sixt is easy, simply book
online and when you arrive you can enjoy a quick and easy check-out service. Our large fleet and insurance options ensure there is a car for all requirements and all budgets. With our zero-excess product you can rest assured that you won't receive any extra charges. Our brake-down service is available 24hrs and is free to call. If you choose to use our online check-in service you can minimise any waiting by providing all relevant license numbers before you arrive.
Location details
Opening Hours
| | |
| --- | --- |
| Mo. - Su. | 07:00 - 01:00 |
| Bank holiday | 07:00 - 01:00 |
Contacts / Lost & Found
SIXT # Madrid Barajas Airport MAD
In-Terminal Counter T1 & T4
28042
Madrid
40.463243, -3.571935
+34-902-491616
+34-911-414361
SIXT # Madrid Barajas Airport MAD
In-Terminal Counter T1 & T4
28042 Madrid
Phone no.
+34-902-491616
Fax
+34-911-414361
Location plan - how to find us
Pick-up:
The Sixt offices are located at arrivals in Terminal 1 and Terminal 4. If your flight is landing in Term. 1, 2 or 3 we are happy to attend you at our office in Term. 1 on the ground floor. It will take you 5 min walking to get there, following the indications at the airport. You also have the option to take the free shuttle bus that connects all Terminals. This bus depart s from the departure area on the 1st floor in each terminal. It leaves every 5 min from 06:00-23:00 and every 20 min from 23:00-06:00. If your flight is landing in Term. 4, please follow the airport indications towards floor -1, where you will find our counter.
Airlines per terminal at Madrid Barajas Airport (no guarantee): Terminal 1
AERLINGUS, AEROLINEAS ARGENTINAS, AEROMEXICO, AEROSUR, AIR CANADA, AIR EUROPA, AIR MOLDOVA, AIR TRANSAT, AMV AVIATION, BLUE AIR, CIMBER AIR, COMPAGNIE AERIENNE DU MALI, CONTINENTAL AIRLINES, CONVIASA, CUBANA AIRLINES, DELTA AIR LINES, EASY JET, EGYPTAIR, GERMANWINGS, IBERWORLD, ICELANDAIR, KOREAN AIR, LIBYAN ARAB AIRLINES, MINT LINEAS AEREAS,S.A., PRIVILEGE, QATAR AIRWAYS, RYANAIR, SAUDI ARABIEN AIRLINES, SBA, SIBERIA AIRLINES, SMART WINGS, TAM AIRLINES, THAI AIRWAYS, TUNISAIR, TURKISH AIRLINES, US AIRWAYS, WIZZ AIR HUNGARY
Airlines per terminal at Madrid Barajas Airport (no guarantee): Terminal 2
AEGEAN AIRLINES, ADRIA AIRWAYS, AIR BALTIC, AIR BERLIN, AIR EUROPA, AIR FRANCE, ALITALIA, ANDALUS, BRUSSELS AIRLINES, KLM, LOT-POLSKIE LINIE LOTNICZE, LUFTHANSA, SAS, SWISS AIR, SPANAIR, TAP PORTUGAL
Airlines per terminal at Madrid Barajas Airport (no guarantee): Terminal 4
AIR ALGERIE, AIR NOSTRUM LINEAS AEREAS DEL MEDITERRANEO, AIR ROYAL JORDANIAN, AMERICAN AIRLINES, AVIANCA, BRITISH AIRWAYS, BULGARIA AIR, CITYFLYER EXPRESS, COMPAñIA MEXICANA DE AVIACION, CSA CZECH AIRLINES, EL AL-ISRAEL AIRLINES, EMIRATES, FINNAIR, IBERIA, LAN ARLINES, LAN PERU, LUXAIR, MALEV HUNGARIAN AIRLINES, MERIDIANA, ROYAL AIR MAROC, SIBERIA AIRLINES, TAROM, TRANSPORTES AEREOS DE CABO VERDE, UKRAINE INTERNATIONAL, UZBEKISTAN AIRWAYS, VUELING
Vehicle drop-off
Sixt parking is located in Terminal 1 Arrivals (Llegadas), inmediatly after the curve you will see the entry to the car Rental Parking: you will find a barrier that opens automatically when you put the car. Once inside the parking you can park your car in any free place in the Sixt car return area and give the key to the Sixt agent who is in the parking.
Remember that you dont need to get a ticket when you go into our parking, if you take a ticket, you will be in the public parking that is situated just next to our parkin
Outside open hours - pick-up & return
Out of hour pickup possible.
The Sixt branch at Madrid Airport offers you the opportunity to collect your vehicle outside the opening hours for an extra charge which you can consult at our website.
Out of hour return possible.
Out of opening hours please leave the key in our secure key box at the Sixt counter in Terminal 4 or in the key box in our parking office in Terminal 1.
Shuttle Info
Due to the good positioning inside the Terminals 1 & 4 of the Madrid Barajas Airport Sixt dosn't offer a shuttle service here. But who feels the way coming from Terminals 2 and 3 is to long to walk can enjoy the free 24h airport shuttle that connects all Terminals. It leaves from the respective arrival level and brings you within a few minitues to Terminal 1. Here the bus ends on the departures level so that you only have to go one floor down to reach our counter.
Sixt Express Counter - the fast way to the rental car
Online Check-In Info Madrid Airport Our car hire desks are located in Terminal 1 and 4. Should you be arriving in Terminal 2 or 3 please proceed through the terminal building to Terminal 1 - Arrivals. At our rental desks you will be served preferred with a speedy check out. Thank's for using Online Check-In.
Categories and services at this location
Compact Cars & Sedans
Sports cars & convertibles
4x4 / SUV
Truck
Select vehicle for pick-up using iPhone
24 h pickup
24 h return
Express counter