Oulu Airport Car Rental
Customer Reviews About Sixt





| 04.09.2013 06:28
| 27.08.2013 10:52 Best thing was being able to purchase full insurance up front on line with zero excess. I have been stung by other companies charging me extra on pick-up even though I had thought I had bought full insurance already on line. Very good
| 28.06.2013 19:12 I am very thankful to Sixt for salvaging what was a terrible start to a trip. We were supposed to fly from Helsinki to Oulu, but our flight was cancelled due to a strike and we decided to take the train. The Sixt employee in Helsinki called the Oulu office to let them know we would be delayed, and they decided the car would meet us at...
|
|
Location Details
Address:
Lentokentaentie
90461 Oulunsalo FI +358-20-1122592
Location:
airport
GDS - Code:
OUL
SIXT #:
2247
Opening Hours
Mo. - Su.
05:00 - 01:30
Bank holiday
05:00 - 01:30
24 h return

Welcome to Oulu Airport Sixt rent a car
Welcome to Sixt Oulu! Oulu is one of the northernmost larger cities in the world. It combines Northern hospitality, nature and culture together with modern technology. Oulu Airport is the second busiest airport in Finland. The new extension of the airport was introduced at the end of September 2011. At the same time major renovations in the existing area of the airport were launched. At the moment renovations are coming to an end and we are happy to welcome you the modern, well-lit and spacious Oulu airport. The newly renovated Sixt counter is located on the corridor connecting the arrival hall and the check-in area. See you at the Sixt counter!
Joonas Keränen ( Branch Manager )
Car Rental in Oulunsalo, Finland
It is important to rent a car when flying to Oulunsalo Airport that is situated in the north of Finland. If you need car rental and Oulunsalo Airport is your next stop, either book online or visit the Sixt car rental branch that serves the airport to get access to great offers on modern, economy cars. A car rental from Sixt is available 24/7 as we provide the option to arrange an out of hours pick up and drop service for your car rental in Oulunsalo. Rent a car from the Sixt fleet which includes a range of economy cars from top manufacturers such as Citroen, Lexus, Ford, Toyota, BMW and Mercedes-Benz. You will be able to find the city car that's right for your budget, by utilizing a price comparison service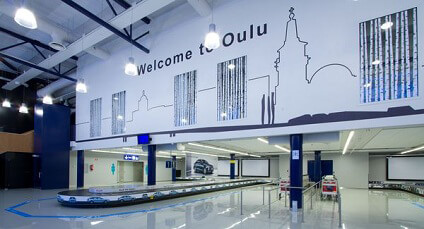 Copyright: Oulu Airport
About Oulunsalo Airport
Oulunsalo Airport, commonly abbreviated to Oulu Airport (OUL), is approximately 10km from the city of Oulu. Therefore, a cheap car would be extremely beneficial to travelers who wish to explore the city and the surrounding area. Oulu Airport is Finland's second busiest airport with approximately one million passengers per year traveling through it. The airport has as many as 20 daily flights to Helsinki and other destinations. The Sixt car rental counter is located between the Arrivals area and the check-in area in the main terminal building.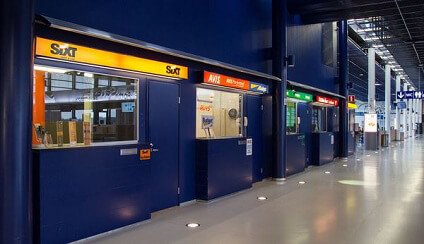 Copyright: Oulu Airport
Things to See and Do in Oulu
Oulunsalo, previously a town with municipal status and part of Oulu city, has many attractions for visitors. Rent a car and visit the numerous attractions that are found in the estuary of the Oulu river: the Rapids Center, Hupisaaret Park and many more in the surrounding area. Alternatively, visit the Northern Ostrobothnia Museum before taking a stroll through Ainola Park. A car rental will enable visitors to utilize the main highway in Oulunsalo to access other nearby cities including Kemi. Rent a car and you are guaranteed to see everything that Northern Finland has to offer.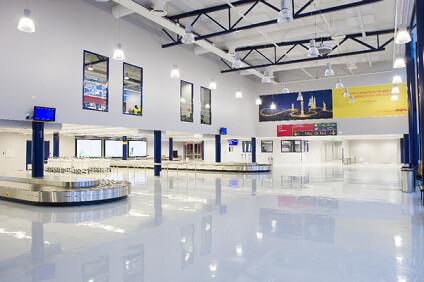 Copyright: Oulu Airport
Location details
Opening Hours
| | |
| --- | --- |
| Mo. - Su. | 05:00 - 01:30 |
| Bank holiday | 05:00 - 01:30 |
Contacts / Lost & Found
SIXT # Oulu Airport OUL
Lentokentaentie
90461
Oulunsalo
64.928830, 25.372480
+358-20-1122592
+358-20-1122591
SIXT # Oulu Airport OUL
Lentokentaentie
90461 Oulunsalo
Phone no.
+358-20-1122592
Fax
+358-20-1122591
Location plan - how to find us
Your way to Sixt:
The Sixt branch is inside the terminal in front of the security check.
By car:
Sixt Oulu Airport is located in Oulunsalo, about 15km away from Oulu downtown and well guided from the main roads.
With public transport:
There is a bus connection to the branch from Oulu center. Bus number 19 runs four times in hour on weekdays and two times in hour on weekends.
Sixt Parking:
Sixt parking places are located in rental car park which is located appr. 200m away from the terminal, on the right side when you are arriving from Oulu.
Outside open hours - pick-up & return
Out of hour pickup possible.
Pick-up out of opening hours is possible for an additional charge. This service is bookable on request. Please provide e-mail address, flight and mobile number.
Out of hour return possible.
Sixt parking places are located around 200m from terminal on the right side when you are arriving from Oulu. Key return box is available inside the terminal at the Sixt branch.
Categories and services at this location
Compact Cars & Sedans
4x4 / SUV
Truck